Is Demi Lovato in rehab? Not anymore.
On July 24, the 26-year-old singer and actress was rushed to the hospital after overdosing on Oxycodone laced with fentanyl. She stayed at Cedars-Sinai for about two weeks and was released on August 4 to an out-of-state facility.
Following 90 days in rehab, PEOPLE reports that Lovato is now out and sober.
"She just got back to L.A. a couple days ago," a source told the magazine. "She seems to be doing well so far."
The inpatient facility where Lovato stayed reportedly offers "intensive, long-term" treatment for dugs and alcohol. While there, she was able to leave during the day with other patients and was even spotted at a nearby Starbucks.
Lovato's mother, Dianna De La Garza, disclosed in September that the artist was doing well.
"She's working on her sobriety and she's getting the help she needs, and that in itself encourages me about her future and about the future of our family," De La Garza said to America Talks Live of Demi Lovato in rehab.
The following month, De La Garza revealed that her daughter was 90 days sober.
Now, having completed her program, Lovato is reportedly out of rehab. She was seen Saturday at a Beverly Hills sushi restaurant with designer Henri Alexander Levy, TMZ reports. The two reportedly went to an AA meeting together Sunday night as well.
A few fans claim they saw her at Universal Studios' Halloween Horror Nights on Friday, where she arrived around 9:00 p.m. local time, according to U.S. Weekly.
yo demi lovato is at Halloween horror nights why did I not go pic.twitter.com/KwnMlUrnmA

— jojo (@jojogreenn) November 3, 2018
.@ddlovato just walked past us at Halloween Horror Nights looking healthy as ever. heard she's almost 100 days clean. ??

— Phil Shaw ? (@PhilShaw) November 3, 2018
One source, Phil Shaw, said that Lovato "looked great" and "was smiling and greeting" people passing by.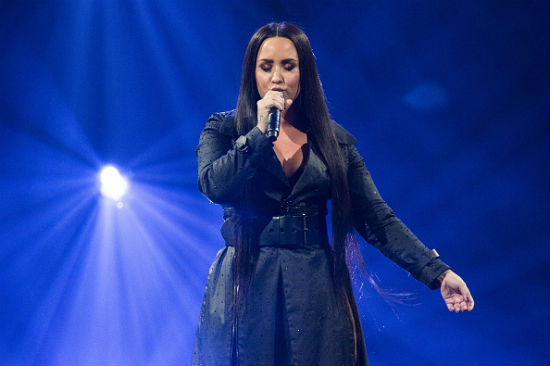 Demi Lovato in rehab: Has she said anything since?
This 90-day stint in rehab was the third time Lovato publicly sought help for addiction.
As of today, Lovato has not posted to social media since she was cleared from the hospital and entered rehab. Her last tweet is dated July 21.
Lovato last posted to Instagram on August 5. In a message to fans she wrote: "I have always been transparent about my journey with addiction. What I've learned is that this illness is not something that disappears or fades with time. It is something I must continue to overcome and have not done yet."
She continued on to thank "God," her family, team and hospital staff for helping her through recovery prior to entering rehab.
"I now need time to heal and focus on my sobriety and road to recovery," Lovato concluded. "The love you have all shown me will never be forgotten and I look forward to the day where I can say I came out on the other side. I will keep fighting."
Here's to a healthy and happy Demi Lovato.