Ever since Donald Glover surprise released the music video for the song "This is America" during his dual hosting gig on SNL as both Glover the movie star and Childish Gambino the musical act back in May — it's safe to say that the song has been deemed a classic.  With over 300 million views on YouTube, the video — coupled with the song's message — creates a timely satire of the state of our nation and the proposed "grin and bear it" approach to violence in both our communities and from the police that are supposed to protect us. The whole thing is very powerful. But, speculation has been growing on the internet that some of Glover's ideas for the song may not have been all his own. Did Childish Gambino plagiarize This is America?
[Photo Credit: Getty Images]
Did Childish Gambino Plagiarize "This is America?"
This idea started to pick up traction on a Reddit thread recently citing that the Gambino song sounded a lot like the 2016 song "American Pharoah" by Jase Harley. The song goes through similar changes and themes.
Glover and member of the Childish Gambino team, Fam Rothstein, have denied that "This is America" was directly lifted from "American Pharoah" saying that the song is over three years old. In a Twitter post that has since been deleted, Rothstein even said he had the Protools files to prove it. The tweet has since been uploaded to Imugr and you can see it below: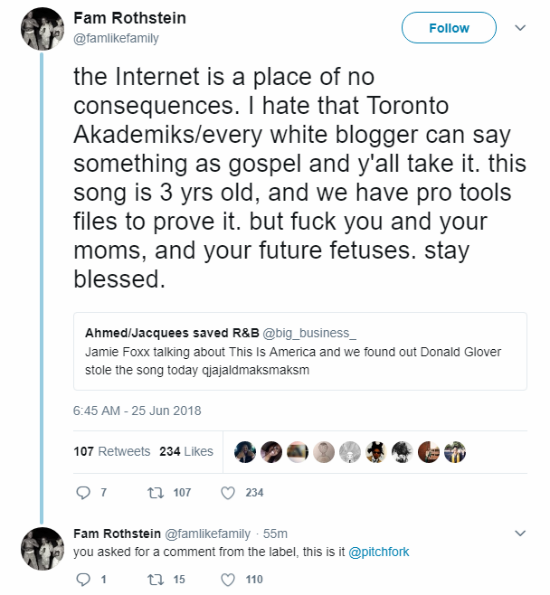 Harley has already taken to his own Instagram account to address the issue and to calm the angry internet-mob to remind them to pay-attention to the message both he and Glover are trying to get accross in their music. 
"I feel extremely humbled to be recognised and labelled as one of, or the original inspiration, for one of the most important pieces of music and visual art of our time," he explained in his post, adding "I appreciate all the love and support! But please don't let this controversy dilute the message me and Childish Gambino are trying to convey."
Here is his full post:
So, did Childish Gambino plagiarize "This is America"?
While there are similarities, this is hardly the case of Robin Thicke ripping off Marvin Gaye or Vanilla Ice ripping off Queen. It's easy to spot the inspiration. But like Harley explained in his post, that kind of musical nod should be taken with flattery. 
Check out the videos for both "This is America" by Childish Gambino and "American Pharoah" by Jase Harley below and judge for yourself! 
Childish Gambino – "This is America" 
Jase Harley – "American Pharoah"