Noah Cyrus is the Miley Cyrus of generation Z — and it's not just because the two are related.
Miley's 18-year-old sister is making a name for herself with her hard-hitting, emotional ballads and Instagram videos that broadcast a single message: it's ok to cry. (I.e. She will quite literally take to social media when she's upset and document her experience.)
Cyrus just released her EP entitled "Good Cry," which fittingly showcases her raw talent and ability to tune into emotions fans know all too well (lyrics to the titular song go: "I'm loveless, feeling so loveless/ Darling, the sky makes me sad/ The blues got me bad/ Oh, I just need a good cry). 
"I'm, like, super happy," Cyrus tells Entertainment Tonight of the Good Cry release. "I wrote a whole album already a year ago, and life kinda smacked me in the face a little bit and I rewrote a ton of stuff and made this EP on its own as a side thing. I realized that this EP and this type of music is the kind of music I want to be making."
She recently went through a very public breakup with rapper Lil Xan. It was messy and featured accusations from both sides — neither Cyrus nor her former beau held back on social media.
Lil Xan reportedly wrote in an Instagram Story post, which has since been deleted, "I feel like I'm probably being cheated on." Cyrus then shared a screenshot of texts between the two confirming Lil Xan had accused her of cheating.
It was a lot of he-said, she-said — that's all you need to know.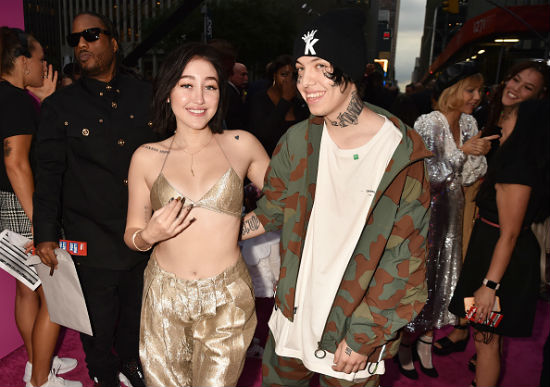 On Thursday, Cyrus announced that, for a period of 48 hours, she was selling merchandise in collaboration with Pizza Slime (which is indeed a store). The sale includes Billy Ray Cyrus shirts and "sry I'm trash" hoodies. And, one of the items is a $12,000 vial of tears.
Yes, Noah Cyrus is selling her tears for $12K
"This is approximately 12 tears made by Noah Cyrus as a result of sadness," reads a description of the droplets on Pizza Slime's website. (We've contacted the store asking if they are in fact real — though, given that they're worth more than some used cars, we sure do hope they're authentic Noah Cyrus tears.)  
The store continues on to issue this warning: "Human digestion of these tears is not suggested causes tears are generally pretty salty and that would just be super f–king weird if you drank someone else's tears."
One fan commented on Cyrus' Instagram post that announced the Pizza Slime collaboration, "NOAH I NEED TO KNOW: WHY R U SELLING UR DNA BABE?" Good question (also, the all caps seems very necessary in this circumstance). 
Another wrote, "If somebody doesn't get me a bottle of Noah Cyrus tears for 12k, I'm going to have a good cry."
And, this Twitter user made a compelling point:
are you telling me i can make money off of my tears? because i cry at least three times a day and i'd really like some compensation for that

— ? (@epanouiharry) September 20, 2018
Maybe Cyrus wants to show that her tears over Lil Xan mean nothing to her — so much so that she'll sell them away to the public (albeit for thousands, which would ultimately mean she's getting money for her breakup blues). Maybe it's to promote the new EP. Perhaps it's both.
​If you don't want to spend $12K on this vial of celebrity status salty water, there's also a "Noah Cyrus Tears" mug that, as Pizza Slime states, "makes it look like you're drinking her tears."
Because, well, "Noah Cyrus cries a lot (like a lot)," according to the store. She's just like us — though our tears are priceless.