We know you're already counting down the days to the midseason premiere of your favorite post-apocalyptic show, but the excitement doesn't come without anxiety. We know which characters you love, so we also know you're wondering does Daryl die in The Walking Dead? Will you lose him in the back half of the eighth season?
As terrible as the possibility seems, the people behind the hit AMC series have made it clear that absolutely no one is safe, not even the crossbow-wielding bad boy you've grown to love. But what would The Walking Dead be without Daryl and his signature brand of rebellion, and are you ever going to have to find out?
Does Daryl die in The Walking Dead? What about the comics?
With other characters, the comic books upon which the AMC series is based can act like a set of clues to figure out the potential fate of your favorites. Though the creative team behind the show sometimes deviates from the comics, the books and the TV show do have considerable overlap. But does the comic series give any hints to answer the question does Daryl die in The Walking Dead?
Sadly, no. That's because there is no Daryl in The Walking Dead comics. Since no equivalent character exists in the comics, we have no hints as to whether he'll be killed off. We also have no guarantees of his safety. Like Daryl himself, the character's fate is a wild card. And "Kirkman has made it clear that he has no plans to bring Daryl into the comics," according to The Hollywood Reporter.
Does Daryl die in The Walking Dead during season 8?
Since we can't project out to future seasons because we have no comic book hints, we can only really solidly talk about the current season, or The Walking Dead season 8. So, does Daryl die in The Walking Dead during the current season? As of the midseason finale, the entire original crew of The Walking Dead was in danger — but that's pretty typical for the hit AMC show. The only person that was in mortal danger by the end of the episode was Carl, who will give his final performance in the midseason premiere.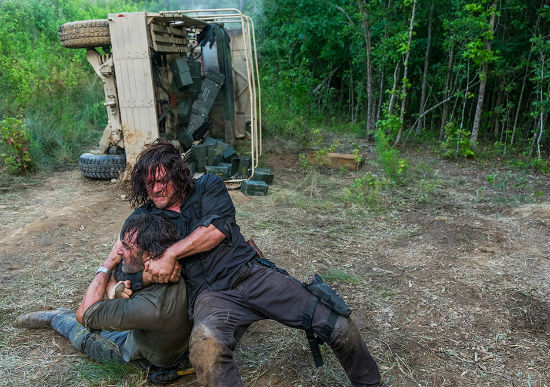 So far, Daryl seems solidly in place for the rest of season eight, and Norman Reedus, who brings life to the beloved character on the same small, as well as Andrew Lincoln (who plays Rick) have both signed contracts for season nine. So for now it looks like you can expect more from the tough-and-tumble Daryl through the rest of the season and at least partially into the next.
Though Daryl's fate beyond that is uncertain, you can count on the fact that if the creative team ever does kill off the character, fans will riot.