'Star Wars' looks set to finally take a huge step from the galaxy far, far away into the progressive future that most of its fans have been demanding it enter. That's because the new 'Star Wars' novel, Leia: Princess Of Alderaan, features an exchange between Laura Dern's character Amilyn Holdo and Princess Leia that heavily suggests the former is something other than heteronormal.
Set before 'Star Wars: A New Hope,' the revelation was made between a young Leia and a young Amilyn when the duo were discussing their taste in partners. You can read the full exchange below:
"A pair of pretty dark eyes." Then Amilyn thought about that for a moment. "Or more than a pair, if you're into Grans. Or Aqualish, or Talz. Or even – "
"That's all right!" Leia said through laughter. "It's just humanoid males for me."
"Really? That feels so limiting."
"Thank goodness it's a big galaxy."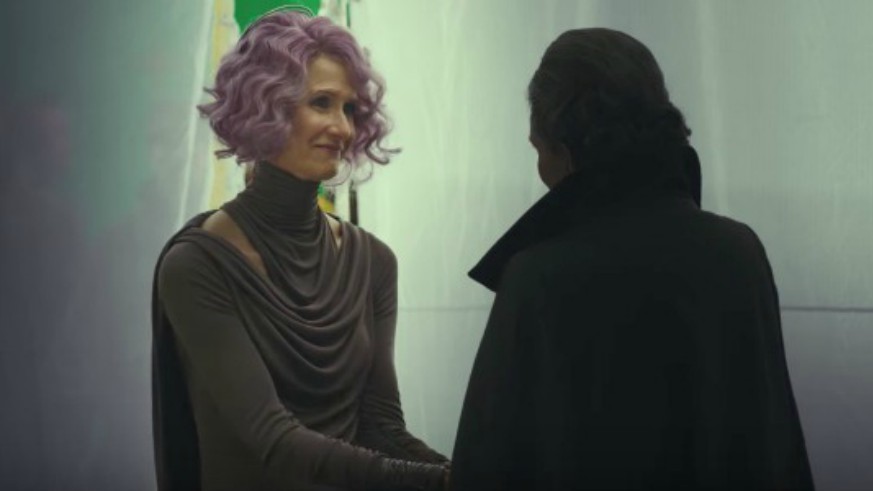 The above suggests that, rather than being simply bisexual as some have commented, Amilyn Holdo is either pansexual or omnisexual, as her attraction clearly isn't restricted by gender. You could even go one step further and argue that because Amilyn calls dating a humanoid "limiting" she's attracted to other species, too. 
While the above exchange (via Screen Rant) doesn't confirm that Amilyn Holdo is the first LGBTQ 'Star Wars' character, it certainly teases that possibility. In fact, this dialogue is much more realistic than if she had overtly come out and declared herself to be LGBTQ, especially since she is talking to one of her old friends.
The big question now is whether Amilyn's sexuality will actually be explored, or at least referenced, in 'Star Wars: The Last Jedi.' The calls for 'Star Wars' to introduce an LGBTQ character have become louder in recent years. Some would insist that the franchise already did just that in 'The Force Awakens,' as the dynamic and spark between Finn (John Boyega) and Poe (Oscar Isaac) was so intense that it immediately ignited rumors and endless amounts of fan fiction about the pair.
We'll finally learn whether the franchise has actually introduced an LGBTQ character when 'Star Wars: The Last Jedi' is released on December 15.