The President Donald Trump handshake woes continued during his trip to Poland when the Polish first lady denied an expectant Trump to greet Melania instead.
While standing on a stage in Poland, the Trumps greeted Polish President Andrezej Duda and his wife, Agata Kornhauser-Duda, in a televised meeting Thursday. The commanders in chief exchanged a traditional handshake, but as Trump let go of Duda's hand and readied to move on to shake Kornhauser-Duda's hand, he was left hanging.
It could be fitting considering the Duda's have a whole Claire and Frank Underwood vibe — you know, the power couple from Netflix's "House of Cards." They're not really the kind of people that would waste time waiting for their turn to shake your hand either.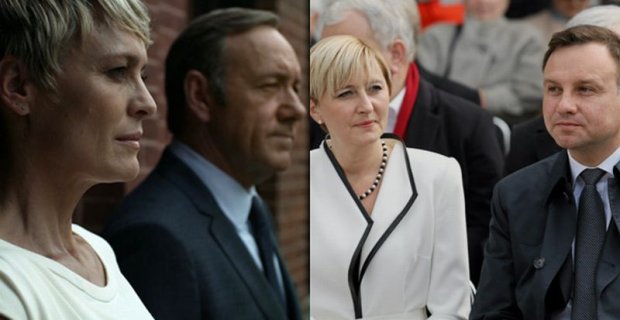 Kornhauser-Duda instead marched past Trump and headed over to exchange greetings with first lady Melania as Trump, hand outstretched, looked on. Awkward, especially for a president who gained early notoriety for his forceful and aggressive handshakes — French President Emmanuel Macron's knuckles famously turned white after a handshake with Trump at the G-7 conference, a greeting he later characterized as a "moment of truth."
Trump is no stranger to handshake problems or to hand-holding problems — several handshake incidents with high-profile guests (including a few with his wife) have grabbed headlines since Trump took office in January.
During Trump's first trip abroad as president, there was, of course, the hand swat seen around the world when Melania swatted away her husband's hand as the duo disembarked from Air Force One after arriving in Israel. As Trump outstretched his hand to Melania, she appeared to slap it aside with her hand and continue walking.
And how could we forget the White House meeting with German Chancellor Angela Merkel where she appeared to ask Trump for a handshake to no avail. As photographers out of frame repeated "handshake, handshake" and Merkel looked on expectantly, Trump simply sat in his chair with a glazed look in his eyes and didn't respond.
And then there was the 18-second neverending handshake with Japanese Prime Minister Shinzo Abe.