Skin cancer is one of the most common cancers in America. About one in five people are at risk for developing it in their lifetimes. The easiest way to cut down that risk? Wear sunscreen with the right ingredients — and the right SPF — and reapply it frequently.
But the "reapply frequently" part is where many of us go wrong. It's so easy to put it on before you hit the beach or pool, but it's just as easy to forget as you swim or grill will pals. That's why more companies are offering sunscreen pills — just pop a pill and you're protected from the sun all day.
Sound too good to be true? The U.S. Food and Drug Administration says yes.
"Today we sent warning letters to companies illegally marketing pills and capsules labeled as dietary supplements that make unproven drug claims about protecting consumers from the harms that come from sun exposure without meeting the FDA's standards for safety and effectiveness," FDA chief Scott Gottlieb wrote in an alert.
What are sunscreen pills?
According to Sunsafe Rx, one company targeted by the FDA's warning letter, sunscreen pills can provide "natural, healthy, anti-aging protections from UV rays."
And that's just not true. Sunscreen pills — like many supplements — aren't tested by the FDA for effectiveness, leading to wild, unsubstantiated claims that they don't have to prove. By selling sunscreen pills, companies like Advanced Skin Brightening Formula, Sunsafe Rx, Solaricare and Sunergetic are "putting people's health at risk by giving consumers a false sense of security that a dietary supplement could prevent sunburn, reduce early skin aging caused by the sun, or protect from the risks of skin cancer," Gottlieb wrote.
The FDA especially takes issue with user reviews, including comments that the supplements are "basically an oral sunscreen…This would be especially useful for people who have had skin cancer, are at risk for skin cancer…." and that they've "helped … protect me from the harms of radiation."
There are currently no clinically proven sunscreen pills on the market, so the when the FDA "sees companies taking advantage of people's desire to protect themselves from the harmful effects of the sun — we'll step in," Gottlieb added. "There's no pill or capsule that can replace your sunscreen."
What to look for in the best sunscreens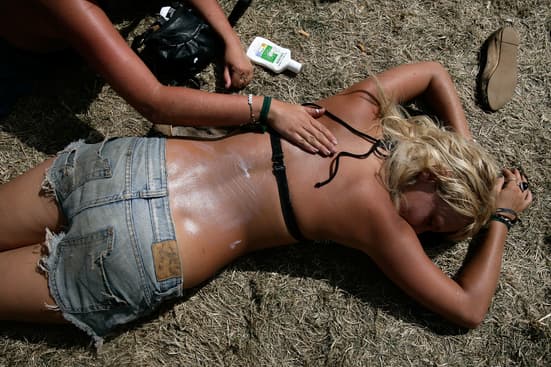 Sunscreen pills don't work, so you have to rely on regular ol' lotion sunscreens to protect you from the sun's harsh rays over the summer months. But, how can you tell which are the best?
"There are two main types of active sunscreen ingredients: chemical and physical," Dr. Dendy Engelman, dermatologist at Medical Dermatology & Cosmetic Surgery Centers and board member for the Skin Cancer Foundation, told Metro.
"Chemical ingredients, like avobenzone and benzophenone, work by absorbing UV, reducing its penetration into the skin," she added. "Physical ingredients such as titanium dioxide and zinc oxide stay on top of the skin and deflect UV rays."
Many of the sunscreens on the market today have both the physical and chemical ingredients, according to Dr. Engelman, but "physical sunscreens may be less likely to cause skin irritation than chemical sunscreens. Products with zinc oxide and titanium dioxide tend to be better tolerated by people with sensitive skin and can usually be found in sunscreens for babies and children."
If you're going to be in the water, Dr. Adrienne Haughton, director of Clinical & Cosmetic Dermatology at Stony Brook Medicine in Commack, New York, says to look for sunscreens with "UVA stabilizers" like helioplex or mexoryl.
These added ingredients "extend the amount of time that the sunscreens are effective," Dr. Haughton told Metro.
However, "it's important to realize that they do not continue to work if they are removed by water, sweat or towel drying," she continued. "For example, Neutrogena waterproof spray sunscreen, which contains helioplex clearly states on the label that it is effective for up to 80 minutes in the water."
Best sunscreens for 2018
There are no shortage of sunscreens on the market, but Dr. Engelman has a few favorites to add to your skincare arsenal — and they can be worn every day, not just on your weekend jaunt to the beach.