You might not know that the Dynasty reboot that starts tonight on The CW is a reworking of an old soap opera from the 1980s of the same name, but you don't need to in order to get excited for the premiere.
The original soap opera ran on ABC from 1981 to 1989, and the newly revamped version, developed by Joshua Schwartz, attempts to pay homage to its roots in the 80s original. Fans of the classic soap starring Joan Collins and Linda Evans might just find something charmingly nostalgic, but totally new, about the Dynasty reboot. For The CW's younger viewers, though, the contemporary version might just be a gateway to revisiting the old original.
Unfamiliar with the soap opera? It's about two families who are firmly within the American elite, the Carringtons and the Colbys. These two wealthy families are constantly feuding, for control, for their fortunes and for their children. Sounds like great soap opera fodder, no?
So what can you expect from the Dynasty reboot?
Dynasty season 1 kicks off tonight, and you can expect a fully modern retelling of the beloved primetime soap. "We've contemporized it but we've also maintained the integrity of the original, so it's very important to us," Elizabeth Gillies, who plays Fallon Carrington (daughter of wealthy patriarch Blake), explained to TV Guide. "I think we're nailing it."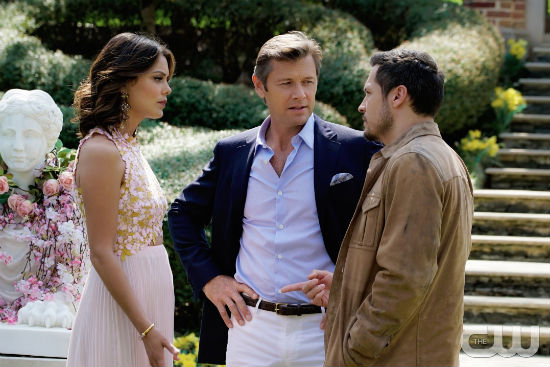 Thankfully, you can expect a much more diverse cast than that of the original. The 80s soap did feature one of the first openly gay characters on TV, but in the Dynasty reboot he's getting a serious male love interest played by Rafael de La Fuente. The show has also replaced two roles that were played by white actors in the original with modernized version of them played by Sam Adegoke, a black actor, and Nathalie Kelley, a Latina actress. Kelley's character got more than just a racial overhaul in the modernization, though. Her character, Cristal — who was Blake's white secretary in the 80s soap — is now a Latina businesswomen who, in Kelley's own words, "hustled her way out of [Venezuela]."
Watch the Dynasty reboot trailer
In case that wasn't enough to get you excited for the Dynasty reboot, the newest from the creator of Gossip Girl, maybe the trailer will whet your appetite for cat fights and more.
When does the Dynasty reboot start?
You can catch the premiere of The CW's Dynasty reboot tonight at 9:00 p.m. EST.
Can I watch the Dynasty reboot online?
You can catch the premiere of the Dynasty reboot through The CW's website or by signing up for a 7-day free trial of Fubo. Just give yourself a little time before the show starts to complete your sign-up so you don't miss a second of the rebooted drama.