Carolyn Janis is worried. Her four-year-old son needs an EpiPen, but a continued shortage at her Connecticut pharmacy means he won't have access to the epinephrine that could save his life.
"I can't even describe that fear of what's going to happen. Is this going to be that one chance that it's going to push him into anaphylactic shock," Janis told WVIT.
She's not alone: On May 9, the U.S. Food and Drug Administration announced "intermittent supply constraints" on EpiPens due to manufacturing delays at Pfizer's Meridian Medical Technologies, the company that manufactures the devices for Mylan.
"Based on the information provided by the manufacturer, the FDA anticipates the EpiPen shortage to be short term," agency spokeswoman Lauren Smith Dyer told Bloomberg at the time.
But that doesn't seem to be the case.
On Monday, U.S. Senator Richard Blumenthal sent a letter to the FDA urging the agency to reveal what they're doing to help EpiPen supply.
"Despite assurances from FDA and manufacturers that shortages are intermittent or isolated, there is solid evidence of widespread unavailability," the senator said.
A spokesperson for Mylan said that EpiPens are "available and Mylan is currently receiving continual supply" but that "supply levels may vary across wholesalers and pharmacies."
That statement seems to contradict a Bloomberg report that revealed more than 400 patients in 45 states who were having difficulties finding EpiPens and other auto-injectors.
Advocacy group Food Allergy Research & Education told Bloomberg that some patients were told they'd have to wait weeks to get EpiPens — and some aren't able to get them at all.
Why are EpiPens necessary?
Experts estimate that more than 15 million Americans have at least one food allergy. Reactions to these foods can range from mild — like hives or an itchy throat — to severe (difficulty breathing). The most severe reaction to a food allergy is known anaphylaxis. Anaphylaxis comes on fast and can be deadly if treatment isn't administered in a short period of time.
Enter the EpiPen.
An EpiPen allows people with food allergies — or someone close to them — to inject life-saving epinephrine. Epinephrine is a chemical that, when injected on the hip or thigh,  works to counteract the effects of anaphylaxis by opening airways in the lungs to reverse low blood pressure, hives, wheezing and more.
EpiPen shortage another blow to patients
The EpiPen shortage comes at a time when patients are still trying to get over a price hike that sent costs for the auto-injector soaring — from $50 to over $600 (or more) for two. In 2016, Mylan said the price of EpiPens "has changed over time to better reflect important product features and the value the product provides," and "we've made a significant investment to support the device over the past years."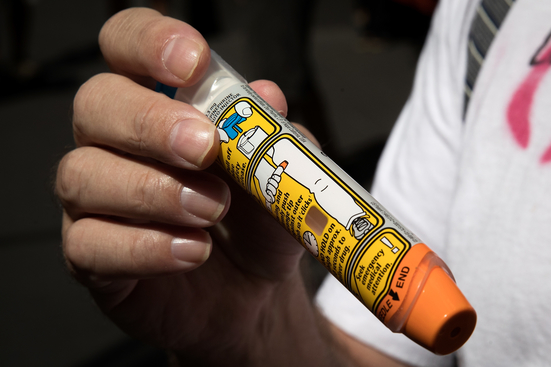 In the letter sent to the FDA, Blumenthal urged the agency to take action.
"In recent years, EpiPen prices have skyrocketed exorbitantly, making them widely unaffordable," Blumenthal said in the letter Monday. "Now, supply delays and shortages are again denying access to this greatly important device."
Mylan recommends that patients who are having trouble finding the injectors can call their customer relationship team at (800) 796-9526.