There's no more beautiful, urgent and eloquent examination of our modern world than Refinery29's annual 29Rooms exhibit. Those may seem like strong words for a made-for-Instagram gallery, but throughout its four years the pop-up has always been about more than escapism.
"We wanted to tap into what your readers are talking about," explains Piera Gelardi, executive creative director and co-founder of Refinery29. "We wake people up, offer moments to pause and reflect, and see them walk away feeling a sense of possibility that they bring back into their lives."
The "immersive cultural festival" that is 29Rooms begins its nationwide journey with a two-week stint in Brooklyn starting Sept. 6. This year's 29 unique spaces created by various artists explore the theme Expand Your Reality, a challenge to unlock your imagination and dream bigger — and to find your place within the world.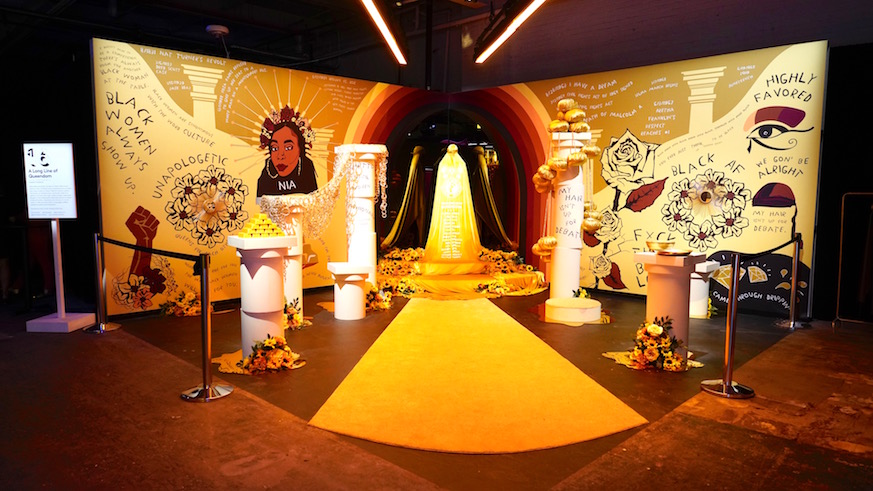 You'll find the trends, of course: With crystals being so hot right now, Instagram star The Hoodwitch created the You Are Magic crystal cave with two sides — rose quartz and obsidian — to celebrate both our light and dark sides, with her own recorded affirmations guiding you along.
Other rooms acknowledge the cultural shifts of the past year: In Light of You is a kaleidoscopic chapel dedicated to the fluidity of gender identity by José A. Roda.
And there's advocacy: The Full Picture looks to be a small theater screening clips from Refinery29's Shatterbox female filmmakers, then the "screen" opens to a pair of directors' chairs on the other side. "We want to show the importance of representation not just in front of the lens but behind it," says Gelardi.
Rooms were also created by "brands that are speaking about the topics we're talking about." We dug the neon cactus oasis by Bai Beverages, the giant red pouffe with a mirrored ceiling is sure to be a hit in the Moxy Hotels Play Room, take a ride on the topiary mule at Smirnoff and Reebok crafted an impressive triple-layer pun with aerial yoga silks about supporting women.
Here's everything inside 29Rooms 2018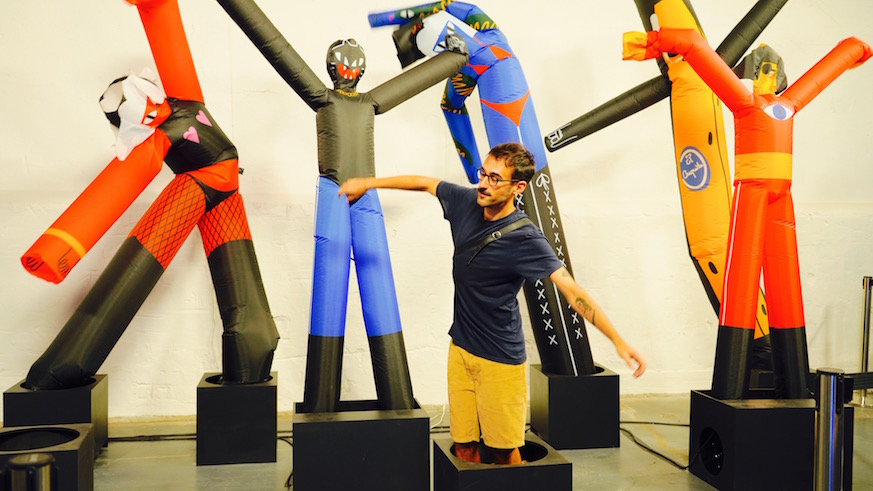 Put down your phones, please
For 29Rooms 2018, there are way more interactive elements than ever before to encourage visitors to put their phones down for a moment and take part in activities.
Before journeying through the diaphanous curtain maze of Between the Sheets by Rupi Kaur, you scoop up a little sand in a small clay bowl, then add it to the sanctuary at the center of the maze. ASMR experience company Whisperlodge created a sensory tunnel that you navigate blindfolded, guided by a recording. Dance your heart out at the Inner Beauty Ball created with House of Yes. An emcee will encourage visitors to sit with strangers inside 29 Questions and get to know each other.
"We're experimenting with phone-free experiences," says Gelardi. "Even 30 seconds of experiencing the space and absorbing the moment is beneficial for us."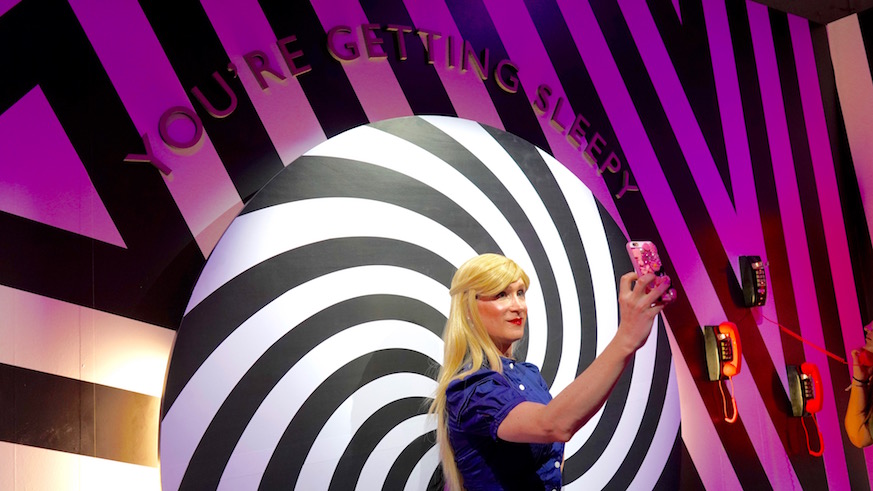 Express yourself
Rather than just being a way for artists to express themselves, several rooms ask you to put your own imagination to work.
There's the silliness of Shake It Out, where you dance among inflatable figures to feel the simple joy of dancing without being judged by the people around you. Artist Carlota Guerrero invites you to have A Conversation with Your Inner Child by writing down a message to them. Feel the creative urge? Step inside this open studio Artists in Residence meant to show that art is a process, with classes led by various artists.
And because we can all use a little more positive energy, add your words or drawings to Love Letter to the World, Cocovan's project that's traveled to 115 countries so far. "People are going to be writing their love letters on these rolls to make the longest love letter in the world: 600 feet long," she gushes.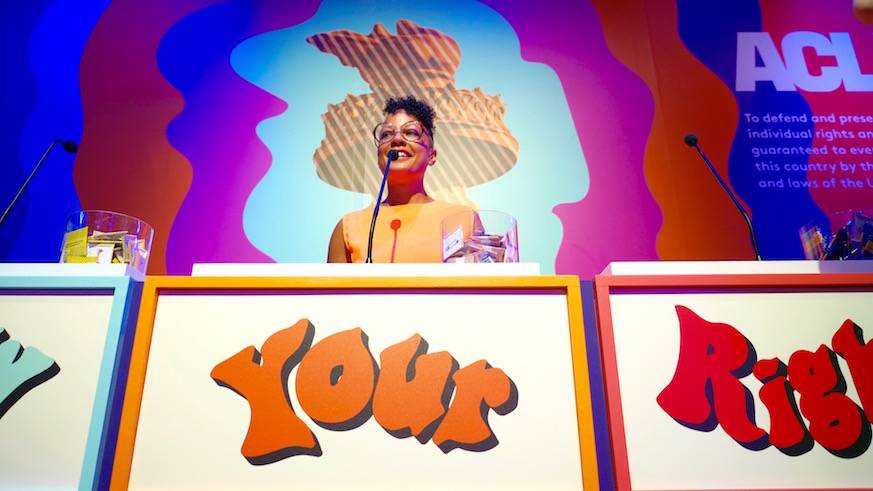 Get woke
Unlike the escapism offered by this summer's endless Instagram galleries, 29Rooms offers creative reminders of how we can make a difference in the real world.
The room that Gelardi feels "brings to life the spirit of 29Rooms" is Know! Your! Rights!, a '70s game show/carnival created by the ACLU designed to teach people their civil rights "in a way that's not a chore but still informative." You can spin a giant wheel, take part in a quiz show and test your activist strength.
With the 2018 elections coming up, Ace the Midterms by Yara Shahidi and eighteenx18 is a high school-style pep rally targeting those just getting the right to vote. "We were looking to make turning 18 and getting the right to vote a rite of passage rather than a chore," explains Gelardi.
Ready to take action? Head over to The Values Stand, created with the NYC Mayor's Office of Media and Entertainment, where instead of a traditional news stand and bodega you are served ways to become engaged in your community. You can even register to vote!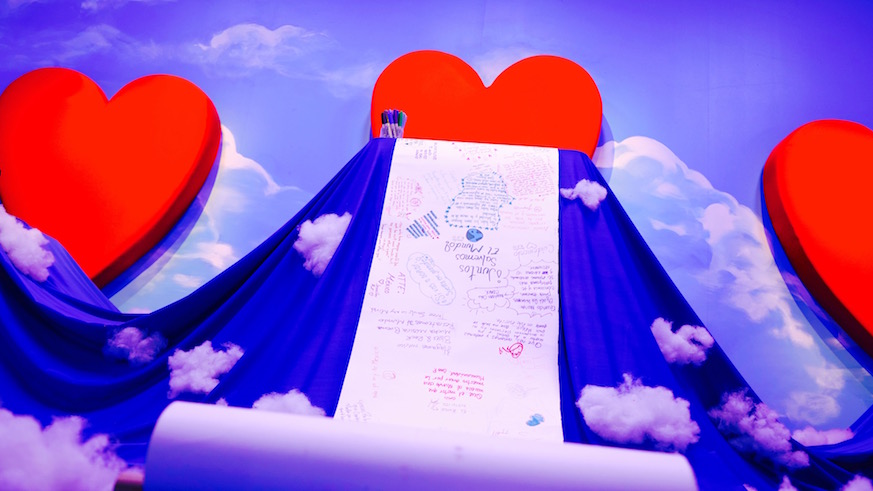 What's new at 29Rooms?
For the first time, 29Rooms will offer a variety of shirts with customizable spray paint designs, plus snacks in case you need a boost while taking all those photos. After dark on Fridays and Saturdays, the new Starlight Sessions brings in a little adult fun with drinks, bites and DJs, plus performances and more surprises. And Mastercard holders get added perks like skipping lines and freebies.
29Rooms is open Sept. 6-9 and Sept. 13-16, from 11 a.m.-10 p.m. at 588 Baltic St., Brooklyn. Tickets are $39.99 for a three-hour session (you're going to need them) of $129.99 for Starlight Sessions. 29rooms.com