A Star Is Born — the fourth remake — is hitting theaters this fall.
Big things are expected from Bradley Cooper, who directs and stars in the film alongside music icon Lady Gaga (real name Stefani Germanotta).
Before this 2018 Warner Bros. depiction of the saga between musician-nursing-an-alcohol-addiction Jackson Maine and shy, artist-on-the-verge Ally, there were three others. The first came out in 1937. It differs from the succeeding films because, as Entertainment Weekly notes, it isn't a musical. Poet Dorothy Parker helped pen the script, and it stars Janet Gaynor and Fredric March as aspiring actress Esther Blodgett/Vicki Lester and fading actor Norman Maine.
Next came the 1954 remake with Judy Garland and James Mason (who stuck with the original character names). The plot is generally the same: one person is more of a burnout; the other's a rising star.
The 1976 rocker remake showcased Kris Kristopherson as John Norman Howard and Barbra Streisand as Esther Hoffman. It depicts them as singers (not film stars) and resembles what the 2018 version promises to fulfill.
The '70s movie, though, features much bigger hair.
A Star Is Born: How will it be different?
Will this reboot be unique enough to stand out from the prior films? One Metro staffer says this is what she's "super excited" about — seeing how they interpret the story.
When speaking to how he's reinventing the classic, Cooper told EW that he wanted the audience to "feel what it would be like if you were the person performing."
As the site describes, he, along with co-writers Eric Roth and Will Fetters, reshaped the story "into an exhilarating, emotional rock epic with electric performance scenes shot at real festivals like Coachella and Glastonbury."
Gaga said during a press conference that working with Cooper brought out her vulnerability, which she admits to having despite her strong front. Before filming, Cooper insisted she take off all her makeup — even the smallest of coverage.
"Completely open," he'd said, according to The Los Angeles Times. "No artifice." This is his directorial debut.
A Star Is Born plot
The official synopsis from the website for A Star Is Born, reads as follows: "In this new take on the tragic love story, [Cooper] plays seasoned musician Jackson Maine, who discovers—and falls in love with—struggling artist Ally [Gaga]. She has just about given up on her dream to make it big as a singer… until Jack coaxes her into the spotlight. But even as Ally's career takes off, the personal side of their relationship is breaking down, as Jack fights an ongoing battle with his own internal demons."
These demons, the synopsis continues, threaten to sabotage their happiness. As Ally grows stronger, Jackson's strength begins to fall.
You can pre-order the soundtrack on the movie's site.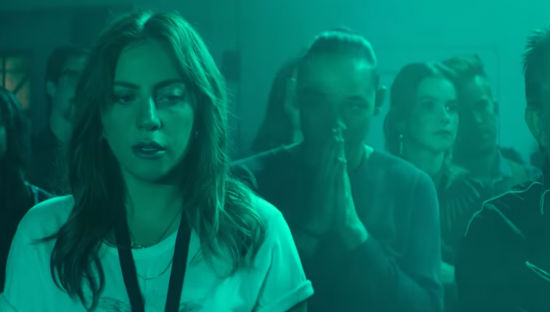 A Star Is Born cast
Gaga is no stranger to the spotlight, though this is her first leading role in a major motion picture — in 2016 she won a Golden Globe for her portrayal of The Countess in American Horror Story: Hotel.
"What's different from Ally than me is that when I wanted to become a singer, I hit the concrete running," Gaga told the L.A. Times. "I really believed in myself that I could do this and that I wasn't going to stop until I made it. …The truth is, when we meet Ally, she's given up on herself. And that's very different from me."
"Her learning curve was insane, just from the first day to the second day," Cooper said of Gaga. "Everybody already knows that she's got a God-given talent as a singer, and she was able to utilize that plutonium to act. If this is something she wants to pursue, I will just have been lucky to have been part of her story as an actress."
Cooper is best known for movies such as American Sniper, American Hustle and Silver Linings Playbook (or, my personal favorite, The Hangover).
In addition to Cooper and Gaga, A Star Is Born cast members include Dave Chappelle as Noodles, Sam Elliott as Bobby and Andrew Dice Clay as Lorenzo.
Singer Halsey announced this week that she has a cameo in the film.
I guess now is a good time to finally tell you guys that I have a little cameo in A Star Is Born! Thank you so so much to Gaga and Bradley for including me. It was an honor to watch both of your talent and dedication on set. ❤️ an all time life highlight for me for sure.

— h (@halsey) September 5, 2018
She described the small part as "humbling and unreal."
I play myself for a very small moment! Which is insane because it means Gaga and Bradley saw me worthy of representing a piece of the current state of music in this film forever. They could have picked any artist. It was so humbling and unreal. https://t.co/GnLTIydTX6

— h (@halsey) September 5, 2018
View additional cast info on the film's IMDb page.
A Star Is Born trailer
View the first official trailer for A Star Is Born below:
A Star Is Born release date
The movie premiered at the Venice Film Festival last month. 
Cooper revealed to EW that people warned him not to take on a new rendition of A Star Is Born — they feared it wouldn't work. "It's like, 'Who's this guy making the fourth [version] of this movie? Shut up already.' But I still could not deny what I felt deep down, and that's why it was this movie," he said. "It sort of ignited something in me."
A Star Is Born hits theaters October 5.