Today, Julie Swetnick alleged sexual misconduct claims against Supreme Court nominee Judge Brett Kavanaugh. This makes her the third woman to do so and comes just ahead of Thursday's Senate hearing.
Ever since the first woman, Dr. Christine Blasey Ford, came forward with her own allegations from 1982, attorney Michael Avenatti — famously known for representing Stormy Daniels — said Ford was not alone in her accounts.
After Kavanaugh's second accuser, Debroah Ramirez, publicized her accusation of sexual misconduct that dated back to when they were Yale freshmen, Avenatti revealed he was working with a client who had similar claims. 
On Wednesday he publicized his client's identity as Julie Swetnick and tweeted out a copy of the affidavit.
"Below is my correspondence to Mr. Davis [Chief Counsel for Nominations for the U.S. Senate Judiciary Committee] of moments ago, together with a sworn declaration from my client," Avenatti posted.
"We demand an immediate FBI investigation into the allegations," he continued. "Under no circumstances should Brett Kavanaugh be confirmed absent a full and complete investigation."
Below is my correspondence to Mr. Davis of moments ago, together with a sworn declaration from my client. We demand an immediate FBI investigation into the allegations. Under no circumstances should Brett Kavanaugh be confirmed absent a full and complete investigation. pic.twitter.com/QHbHBbbfbE

— Michael Avenatti (@MichaelAvenatti) September 26, 2018
In this affidavit sent to the Senate Judiciary Committee, Swetnick claims to have witnessed Kavanaugh, Mark Judge and others spike punch at high school house parties in the early 1980s. This, she says, would "cause girls to lose their inhibitions and their ability to say 'No.'" Certain girls were allegedly targeted and "taken advantage of."
Swetnick also states that she was a victim of a "gang" or "train" rape in 1982, where Kavanaugh and Judge were present — she does not allege that either of them engaged in this assault. (Ford, if you recall, alleged that Judge was present at the time of her alleged assault.) 
"During the incident, I was incapacitated without my consent and unable to fight off the boys raping me," Swetnick writes, continuing on to claim that she told at least two others about the assault shortly after it happened, and that she believed she was drugged "using Quaaludes or something similar placed in what I was drinking."
Kavanaugh, she claims, exhibited a pattern of "abusive and physically aggressive behavior toward girls," and she names "Beach Week" in Ocean City, Maryland as one of these occasions where she witnessed such behavior.
Included in the evidence given to Senate Investigators leading up to Thursday's hearing is Kavanaugh's old calendar from summer 1982. This calendar does appear to be marked with a "Beach Week" event.
Avenatti's client Julie Swetnick says she observed Kavanaugh as a "mean drunk" harassing women at parties, including at "Beach Week" in Maryland.

The 1982 calendar he released today indicates he was at Beach Week. pic.twitter.com/NgJJ4CwE6d

— David Mack (@davidmackau) September 26, 2018
Kavanaugh has disputed all allegations made from Ford, Ramirez and Swetnick. Regarding Swetnick's claims specifically, he reportedly said the following via the White House: "This is ridiculous and from the Twilight Zone. I don't know who this is and this never happened."
.@marthamaccallum joined #TheFive to discuss her exclusive interview with Judge Brett Kavanaugh and his wife, airing tonight at 7p ET on Fox News Channel. https://t.co/QFmLfIwW4R pic.twitter.com/QzymMZa2KV

— Fox News (@FoxNews) September 24, 2018
Judge's lawyer, Barbara Van Gelder, told CNBC, "Mr. Judge vehemently denies the allegations contained in the Swetnick affidavit."
A spokesperson for Senate Judiciary Chairman Chuck Grassley (R-Iowa) said in a statement, "This morning Michael Avenatti provided a declaration to the Judiciary Committee. Committee lawyers are in the process of reviewing it now."
Who is Julie Swetnick? Here's everything you need to know.
Julie Swetnick is a Washington, D.C. resident and grew up in Maryland
Swetnick, 55, identified herself as a Washington, D.C. resident.
She reportedly grew up in Montgomery County, Maryland and graduated from Gaithersburg High School in 1980.
At the time of Swetnick's allegations, Kavanaugh was a student at Georgetown Prep, a private Catholic school also in the Washington suburbs.
Here is a picture of my client Julie Swetnick. She is courageous, brave and honest. We ask that her privacy and that of her family be respected. pic.twitter.com/auuSeHm5s0

— Michael Avenatti (@MichaelAvenatti) September 26, 2018
Julie Swetnick went to college in Maryland
According to Heavy.com, Swetnick attended the University of Maryland where she received degrees in astrophysics and computer science.
Per the affidavit, she was one of the "first 100 women in the world to achieve a Microsoft Certified Systems Engineering Certification."
Julie Swetnick is a U.S. government employee
For much of her career, Swetnick has worked for the federal government.
In Wednesday's affidavit, she notes that she currently holds "active clearances" for her work with the U.S. Department of Treasure, Internal Revenue Service (IRS) and U.S. Mint.
She's had previous security clearances to work with the U.S. State Department, U.S. Department of Justice and Homeland Security.
Swetnick was as an IBM digital analyst, according to Heavy.com. The outlet also detailed that she worked "for Homeland Security as a senior web production manager, for the Department of Justice as a senior production webmaster, the Department of State in the same job, and previously at a number of public and private companies as a web project manager and web professional services engineer."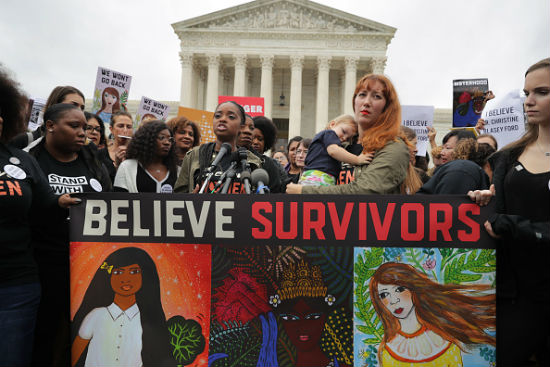 Julie Swetnick: Trump and Women's Groups respond
Trump responded with outrage to claims against Kavanaugh, stating that his accusers are lying. He also called the claims a "con game" by Democrats.
In regards to these new allegations from Swetnick, he tweeted: "Avenatti is a third rate lawyer who is good at making false accusations, like he did on me and like he is now doing on Judge Brett Kavanaugh. He is just looking for attention and doesn't want people to look at his past record and relationships – a total low-life!" (Avenatti's initial response ended with a heated "Let's go.")
Trump tweeted late last week that Ford specifically wasn't being truthful because she stayed silent for so long. As a result, #WhyIDidntReport became a trending hashtag from sexual assault survivors. A national walkout on Monday also took place in support of these women.
The Senate is currently still scheduled to vote on Kavanaugh's nomination this Friday despite calls for its cancellation. Many women's groups are demanding that the Senate Judiciary Committee stop the nomination process. Women's March, for instance, created cancelkavanaugh.com as a resource for those who want to make their voices heard.
Shaunna Thomas, co-founder and executive director of another women's group, UltraViolet Action, said in a statement sent to Metro:  
"We believe Julie Swetnick. These allegations prove that Brett Kavanaugh is a serial sexual predator and should have no place serving on the Supreme Court, or in any other capacity as a judge.

 "Given the mounting allegations of sexual assault and misconduct against Brett Kavanaugh, the upcoming Senate Judiciary Committee hearings should be canceled, and Kavanaugh's nomination must be withdrawn. […]

"Violence against women should have no place in our society and it certainly should have no place on the highest court in the nation."