The royal wedding garnered views from over 29 million Americans last weekend, CNN reported — and that was just on TV. We're sure that live streams from desktops or mobile devices were put to good use that day (no one wants to get out of bed before the sun comes up to turn on the television, especially not on a weekend). Those that tuned in noticed all the glitz, glam and gorgeous faces, one of whose belonging to Prince Harry's cousin. This handsome fellow is 24-year-old Louis Spencer, and social media has dubbed him the world's most eligible bachelor.
Spencer, who shares a first name with Kate Middleton and Prince William's third child, has not been in the public eye nearly as much as his cousin. His full name is Louis Frederick John Spencer, Viscount Althorp.
A viscount, according to the site Debretts, is the fourth rank in British peerage. Spencer is below an earl but higher in rank than a baron. The order goes as follows: duke, marquess, earl, viscount, baron.
In comparison — and as you most likely know — Prince Harry and Prince William are both dukes.
Here Spencer is at the royal wedding with his mother, Victoria Aitken, and two of his sisters, Lady Eliza Spencer and Lady Kitty Spencer. And, yes, he looks quite dashing if we don't say so ourselves.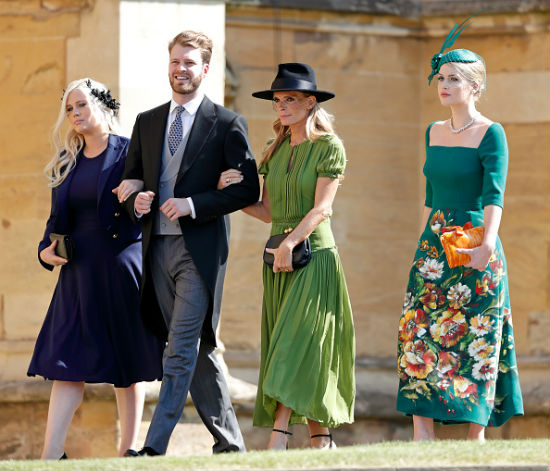 Read on for everything you need to know about the royal cousin everyone can't stop swooning over.
Louis Spencer is the nephew of the late Princess Diana
Spencer's father, Charles Spencer, 9th Earl Spencer, is the brother of the late Princess Diana. He said that walking behind her coffin all those years ago was the "most horrifying half hour of my life."
Spencer's mother, former model Victoria Aitken, was married to Charles from 1989 until 1997. She struggled with heroin addiction and an eating disorder, received treatment and accused Charles of sleeping with "dozens" of women while she was in rehab. Their split was reportedly very public and very messy. Charles remarried twice, and Spencer has a number of half-siblings.
According to The Sun, though he's been referred to as the "royal cousin," Spencer isn't actually part of the royal family, as he's not directly related to the queen by blood. 
Spencer is reportedly close with his cousins, and this wasn't the first royal wedding he attended. Here he is on the day of Middleton and Prince William's nuptials in 2011 (he's the one in the middle with the young-Justin-Bieber haircut):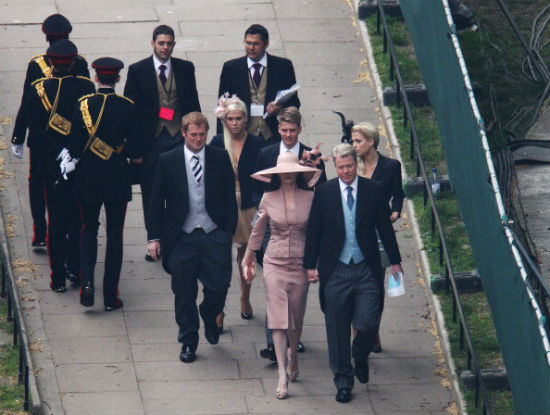 Louis Spencer grew up in Cape Town, South Africa
Like Prince Harry's ex-girlfriend Chelsy Davy, Spencer spent much of his childhood on a different continent. He called Cape Town home and went to Diocesan College. He reportedly studies at the University of Edinburgh.
Reports state that the family moved to South Africa to escape bad publicity due to the parents' failing marriage. Spencer's older sister Kitty, who works as a model, told Tatler magazine, "I am sure that was a factor, but it was more that we went for my birthday for a holiday and we ended up sort of staying. We just all really suited that lifestyle and my parents wanted the opportunity for a really healthy childhood for us."
The Spencer family estate is called Althorp
As Metro UK pointed out, the viscount title is given to the heir of an earl, and Spencer is slated to inherit his family estate, Althorp, that covers 13,000 acres. The home itself was built in 1508 and has 90 rooms, and the family fortune reportedly totals to around $196 million.
Kitty said of the viscount's inheritance in a 2015 interview, "In general, I'm totally pro gender equality. But I'm quite happy that that's [going to be] my brother's responsibility. I just think it's the correct way."
"I wouldn't want it any other way for the Spencers," she said. "And I just know my brother is going to do an impeccable job." 
Louis Spencer is an eligible bachelor
Spencer doesn't have a large social media presence, so it's hard to tell what his relationship status is. Reports, though, rumor him to be on the market — and for all you hopefuls out there, you may have some major competition. 
Nicki Minaj posted an Instagram with Spencer after one of her concerts back in 2015. She wrote, "Check out our wedding photo." 
By the way, Spencer's future wife will be a countess. So, may the odds be ever in your favor. Any takers?
My mom: *sends me Buzzfeed article about Louis Spencer, the cousin of William and Harry*
My mom: Maybe you can find him on Tinder, or something!

— Anna Hubbard (@annamhubbard) May 22, 2018