Riverdale has always seemed like a beast with its underbelly exposed: a fearless, determined town that's forever vulnerable no matter how many times it recovers. Nothing — and no one — is ever 100 percent OK. The second season ended with a bang in May when Archie was arrested for the murder of Shadow Lake resident Cassidy Bullock, Jughead became Serpent King upon FP's resignation and Hiram, who is always scheming, was extra scheme-y. And we need Riverdale season 3 to tie up all the loose ends.
For a refresher of everything that happened in the Riverdale season 2 finale, click through to Metro's summary. It was pretty epic — we promise.
Riverdale season 3 is coming sooner than you think.
Here's everything there is to know about the next chapter.
Riverdale season 3 trailer
The first Riverdale season 3 trailer was released at July's Comic-Con. It included footage from the season 2 finale and a sneak peek of upcoming scenes.
Watch this and the most recent trailer below:
Riverdale season 3 plot
Riverdale season 3 picks up three months after season 2 left off, beginning with Archie's trial and Labor Day weekend, according to The Los Angeles Times.
Bughead (Jughead and Betty) is going strong, and so is Choni (Toni and Cheryl). Camilia Mendes revealed at Comic-Con that Varchie (Archie and Veronica) might run into some problems, but Veronica has Pop's to take her mind off of any tension — she's running the speakeasy she talked about in season 2.
Other love interests to look out for are Kevin and Moose as well as FP and Alice Cooper (Reggie will also reportedly get an "unlikely romance").
Riverdale season 3 will include another musical episode and a flashback episode where the actors playing the Riverdale teens take on their parents' roles, according to Entertainment Weekly.
As the trailer suggests, evil still lurks in the shadows (and out in the open). Take, for instance, the uber-creepy cult from "The Farm" that shows up at the Coopers' house.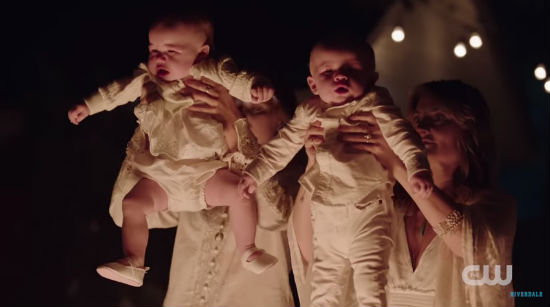 While the Riverdale teens battle the dark secrets their town has always kept, show-runner Roberto Aguirre-Sacasa told fans during Comic-Con that this third season will tackle regular high school issues (so we'll get some normalcy amid the chaos). 
"It's junior year; it's the first time they're thinking of college, and we're going to try to infuse this season with a lot more high school stuff," Aguirre-Sacasa said. "We're going to talk about the SATs, applying to colleges, advisers, extra-curriculars, etc."
Riverdale season 3 cast
The cast of Riverdale went back to Vancouver to start filming season 3 in July.
All our favorites are returning: KJ Apa as Archie Andrews, Cole Sprouse as Jughead Jones, Lili Reinhart as Betty Cooper, Camilia Mendes as Veronica Lodge, Madelaine Petsch as Cheryl Blossom, Vanessa Morgan as Toni Topaz — and the list goes on.
New characters will join this group of familiar faces. Rumors pegged Holly Marie Combs (from Pretty Little Liars and Charmed) as Jughead's mom. But, according to Entertainment Weekly, Gina Gershon locked down the part. 
Jughead's little sister, Jellybean, will also join the cast of Riverdale season 3. She will be played by Trinity Likins. We won't see her or Gershon until the winter episodes of the show. 
Edgar and Evelyn Evernever, a father/daughter pair from "The Farm," are new to the storyline as well. Penelope Ann Miller will play Ms. Wright, the District Attorney dead set on convicting Archie of murder.
Mark Consuelos, who plays Hiram Lodge, announced in August that his 21-year-old son Michael will be portraying the younger version of his character in the flashback episode.
Riverdale season 3 release date
Riverdale is coming back to The CW on Wednesday, October 10, at 8:00 p.m. ET.
Get ready — this beast is still kickin' and ready for whatever trouble comes its way. Are you?