The National Eating Disorders Association puts on NEDA Walks every year in over 90 cities nationwide. The NYC NEDA Walk has raised $1.2 million for advocacy and research initiatives since it first began in 2009. And the 10th annual event — the 2018 NYC NEDA Walk — is taking place this Sunday.
The goal of this year's NYC NEDA Walk, sponsored by the always-body-positive Aerie, is to raise $125,000 in support of the non-profit's eating disorder prevention programs and grants for clinical research. 
Claire Mysko, CEO of NEDA and accomplished author, tells Metro that "NEDA is committed to advancing eating disorders research on innovative treatment and prevention through our Feeding Hope Fund."
Funds raised through NEDA Walks go towards expanding the non-profit's Helpline [800-931-2237] and screening efforts, too. "Since launching our validated online screening tool in 2017, 300K screens have been taken," Mysko says. "We know that early intervention produces better treatment outcomes."
The organization is also building a national body acceptance movement through The Body Project, "a program that gives girls and young women the tools to resist unrealistic appearance ideals and negative body talk," and developing a pilot version for boys and men called "More than Muscles."
Last year, 1,000 people attended NYC's NEDA Walk, and around 1,400 are expected this time around. Here's everything to know about the 2018 NYC NEDA Walk.
When is the 2018 NYC NEDA Walk?
The 2018 NYC NEDA Walk is Sunday, October 7.
Check-in is at 9:00 a.m. ET. The opening ceremony begins at 10:00 a.m., and the walk will end around 11:30 a.m., when there will be prizes and closing remarks.
Where is the 2018 NYC NEDA Walk?
The walk will start and finish at Foley Square (111 Worth St, New York, NY 10013) — view more details on the NYC NEDA Walk route below.
A NEDA news release further explains to attendees that Foley Square is located "between Lafayette, Duane, Centre and Worth Streets in downtown NYC, across from the Court Building, and features a large sculpture fountain as its showpiece."
2018 NYC NEDA Walk registration and check-in
To register for the 2018 NYC NEDA Walk as an individual or with a team, click through to nedawalk.org/register.
Online registration closes on Friday, October 5, at 3:00 p.m. ET, but you can still sign up for the walk upon arrival at Foley Square this Sunday.
NEDA notes that attendees should allow ample time for check-in.
"Please proceed to the check-in tables upon arrival for your wristband and tee shirt voucher," the organization directs. "You will be able to turn in any check or cash donations, and registration will be open for those who still need to sign up to walk. We accept cash, check, and credit card donations."
NEDA Walk shirts will be given out on a first-come, first-served basis, and water and snacks will be provided to attendees. Restrooms are also available in Foley Square.
2018 NYC NEDA Walk route
The 2018 NYC NEDA Walk will start at Foley Square and proceed towards the Brooklyn Bridge, over the bridge (via pedestrian path) and back to Foley.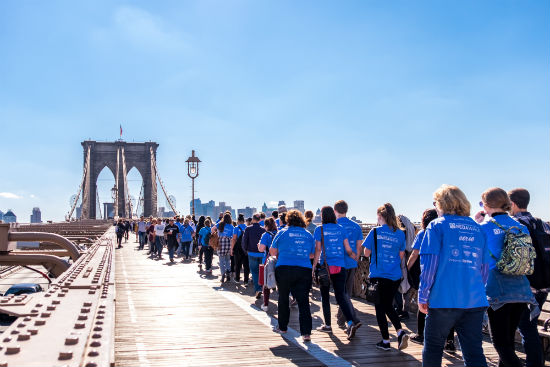 NEDA notes that the full walk is about 3 miles, but attendees can opt out any time.
2018 NYC NEDA Walk transit info
NEDA ecourages taking the subway to Foley Square on the morning of the walk. "Subways 4, 5, 6 and J, Z stop right at Chambers Street side of the City Hall/Brooklyn Bridge stop," NEDA states.
There are parking garages near the walk, such as Central parking at 101-117 Worth St, or Icon Parking at 95 Worth St. On-street parking will be limited.
2018 NYC NEDA Walk guest speakers and activities
This NYC NEDA Walk will feature a "Love Your Selfie" station and an area to write cards for people receiving eating disorder treatment, among other activities.
Special guest speakers at the event include NEDA brand ambassador and 28-year-old global Aerie "Role Model" Iskra Lawrence.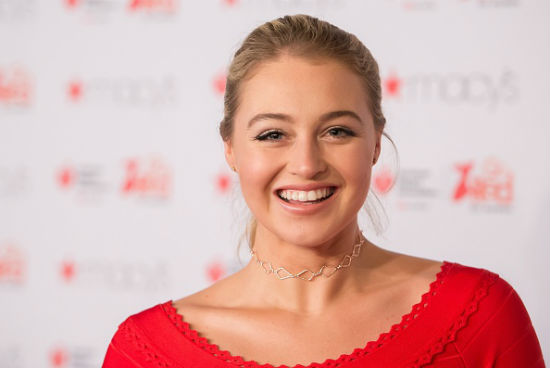 There will be performances by Boston-area singer Alli Haber and BLACKOUT, a New York-based a cappella group.
For more information about the 2018 NYC NEDA Walk, click through to nedawalk.org/nyc2018 or the walk's Facebook event page.
For a full list of NEDA Walks across the country for fall 2018 and spring 2019, head over to nedawalk.org.
2018 NYC NEDA Walk: Why walk?
"NEDA Walks are wonderful opportunities to celebrate the power of uniting our voices as a community of people who understand that everyone knows someone who has struggled with an eating disorder," Mysko tells us.
The NEDA Walk website states that 30 million Americans struggle with an eating disorder in their lifetime. Walking to raise money for NEDA's research and program efforts will benefit those affected as well as their loved ones. 
"Despite their severity and prevalence, eating disorders receive less than $1 in research funds per affected person, compared to an average of $70 for other major mental illnesses," Mysko says. "That's why walks like these are so important."
If you can't make the walk, Mysko suggests signing up for action alerts on NEDA's website to get involved in future events, conferences and trainings. You can also follow the organization on social media and donate to the cause at nedawalk.org/donate. 
Eating disorders are "often shrouded in silence and secrecy," Mysko continues. If you're concerned about a loved one, she points to NEDA's How Do I Help page as a resource because "the most important thing you can do is educate yourself about eating disorders."
"The NYC Walk," she concludes, "is an important event that allows us to bust myths, confront stigma and raise the profile of eating disorders as a serious public health issue in a city that has made mental health issues a priority."