After seven Sons of Anarchy seasons, the FX biker drama came to a close. Yes, Jax dies (sorry if you're still recovering). But, there's good news for SOA fans: a sequel is right around the corner. Mayans MC, from co-creators Kurt Sutter and Elgin James, will air in September.
The next chapter focuses on the Mayans MC charter on the California-Mexico border (SAMCRO's rival) and will pick up a few years after the SOA season 7 finale.
Here's everything we know about Mayans MC.
Mayans MC plot
The logline from FX reads as follows:
"Set in a post-Jax Teller world, Ezekiel 'EZ' Reyes (JD Pardo) is fresh out of prison and a prospect in the Mayans M.C. charter on the Cali/Mexi border. Now, EZ must carve out his new identity in a town where he was once the golden boy with the American Dream in his grasp."
Entertainment Weekly (EW), which did a review of Mayans MC, writes that the club members "earn their living smuggling heroin for the Galindo Cartel." 
Sutter told the crowd during a Comic-Con panel in July that the format is "centered on the journey of one man and surrounding him with complex and interesting characters that not only reveal his life but also his relationships to everyone and everything around him." Vague, but that's how SOA went.
As Sutter admits, that's how it "always" goes.
Mayans MC trailer
The Mayans MC trailer, released in July, is below:
Mayans MC cast
The main character, as described above, is EZ Reyes, an ex-con who's thrown back into the motorcycle club. He's played by JD Pardo.
EW describes him as, "a college kid-turned-convict with a heart for poetry and a photographic memory." 
"It was one of those things where I knew what I wasn't looking for, and then I saw JD read and there was something interesting and commanding in what he was doing," Sutter said of Pardo at the Comic-Con panel. 
Pardo, in turn, said that he had an "honest conversation" with the co-creator about "what he wanted the character to be. I told [him], 'If you give me this opportunity I will not let you down, I will not let FX down, I will not let the fans down.'"
Sons of Anarchy ratings hit an all-time high for FX during the final season, and according to Deadline, the show grew nearly 200 percent in viewership since it first aired in 2008. Mayans MC is expected to live up to what FX CEO John Landgraf called an "epic ride."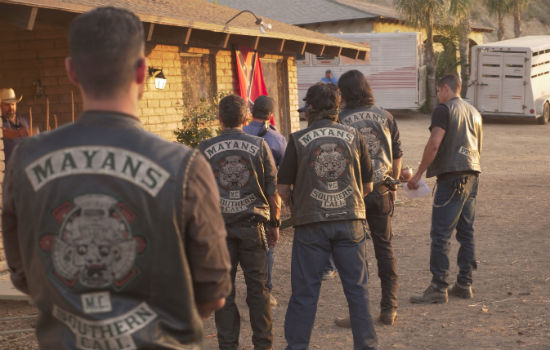 EZ's older brother, Angel, is played by Clayton Cardenas. Danny Pino will portray Miguel Galindo, son of Galindo Cartel founder Jose Galindo. EW describes him as a "Cornell grad with impeccable suits and a taste for torture." (Dreamy.)
The Sons of Anarchy sequel also stars Edward James Olmos as family patriarch Felipe Reyes. Emilio Rivera will return as Marcus Alvarez, founder of the Mayans, whom he played in SOA. Sutter promised fans that familiar faces from SOA will reappear in Mayans MC. 
Olmos said Mayans MC is "going to move the needle," because of its mostly-Latino cast.
"We're more than 22 percent of the population and less than 4 percent of the images onscreen," he explained. "We are in a very difficult time. This thing is going to shoot us right through the roof." For more information on the cast, click through to FX.
Mayans MC release date
The first season of Mayans MC will reportedly consist of 10 episodes. This Sons of Anarchy sequel will premiere on FX September 4 at 10:00 p.m. ET.
Get your leather ready.