Are there many other TV families quite as iconoic as the Brady Bunch? Sure you could aruge that either the The Simpsons or even The Conners are on the same level at this point. But had there been any other fictional versions of the American family that had set the template as well as the Brady's to discuss the minute things that family units address with each of their members on a daily basis. Sure, it may not have been as ugly or truthful as shows like All in the Family. But that's neither here nor there. Next year, the surviving cast of the Brady Bunch will be reuniting for a brand new series on HGTV entitled A Very Brady Renovation. This will mark the first time in 15 years that the entire original cast will be together in this iconic house to take a walk down memory lane and make some much needed renovations alongside some of HGTV's most recognizeable stars. 
The show is destined to be one of the biggest shows in HGTV's history, and for good reason. "What's so exciting about this project is that we are creating one of the most iconic homes from many of our viewers' childhoods," said Loren Ruch, senior vice president, HGTV programming and partnerships in a press release. "It will be the first time in history that the house from all of our memories will be created in a real brick and mortar location. It is certain to be a trip down memory lane."
Here is everything we know so far about this special Brady Bunch reunion.
A Very Brady Renovation cast
All of the the Brady siblings will be returning to the old house including Barry Williams (Greg Brady), Maureen McCormick (Marcia Brady ), Christopher Knight (Peter Brady ), Eve Plumb (Jan Brady), Mike Lookinland (Bobby Brady) and Susan Olsen (Cindy Brady). The Brady's will be paired with HGTV hosts Jonathan and Drew Scott (Property Brothers), Mina Starsiak and Karen E Laine (Good Bones), siblings Leanne and Steve Ford (Restored by the Fords), Jasmine Roth (Hidden Potential) and Lara Spencer (Flea Market Flip). 
A Very Brady Renovation release date
There is no exact date yet. But, according to a press release from HGTV, A Very Brady Renovation will air sometime in September of 2019. 
A Very Brady Renovation trailer
There is no trailer for A Very Brady Renovation yet, but feast your eyes on this production photo of the original cast all together in front of the famous Brady house…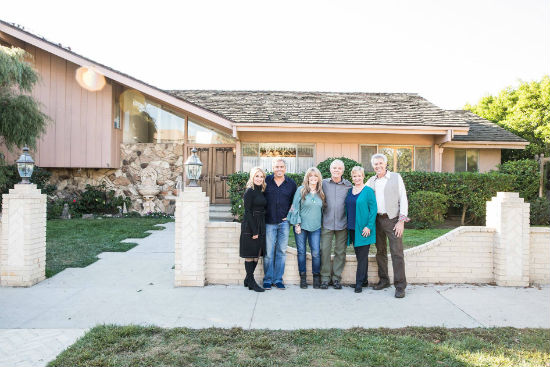 Photo Credit: HGTV