It's no secret that, as of late, MoviePass isn't doing too hot. At the end of July, it ran out of money and had to borrow $5 million to turn the service back on. Customers will soon be limited to three movies per month, and the company had fans and foes asking, can MoviePass survive? (We even wrote an obituary.) Despite it all, MoviePass Films has announced its first movie.
MoviePass Films will make its debut as a production company with 10 Minutes Gone starring Bruce Willis.
Wait, MoviePass Films?
MoviePass' parent company, Helios and Matheson Analytics, acquired Emmett Furla Oasis Films (EFO Films) in May. MoviePass Films was then launched as Helios' original content production subsidiary.
"Since we began disrupting the movie industry with our unprecedented low cost movie theater subscription service, MoviePass, we have envisioned owning and developing our own content and using the power of our several million subscribers to bolster the success of our films," MoviePass CEO Mitch Lowe said in a statement of MoviePass Films.
"I believe this partnership with Emmett Furla Oasis Films will accelerate those efforts," Lowe concluded.
Even before this, Helios' movie investment subsidiary, MoviePass Ventures, which was announced at the 2018 Sundance Film Festival and is dedicated to "supporting independent filmmakers and distributors," acquired interest in John Travolta's Gotti film and American Animals.
As MoviePass continues towards an uncertain future (at least for subscribers), Helios points to MoviePass Ventures and MoviePass Films as important sources of revenue.
With MoviePass Films' first production underway soon, here's everything we know about 10 Minutes Gone.
10 Minutes Gone plot
10 Minutes Gone follows "the story of a man who loses 10 minutes of his memory after being hit by a stray bullet during a bank heist gone wrong," states a news release. "He must put the pieces of his broken memory together in order to find out who sabotaged the job and took the money, all while being pursued by a powerful crime boss … hell-bent on recovering the cash."
Willis plays the "pissed off crime boss," according to Deadline.
10 Minutes Gone trailer 
Production for the film will start in September, so a trailer is still a ways away. 
Check back in with Metro — we'll be updating this as soon as one is released.
10 Minutes Gone cast and crew
Brian A. Miller will direct this first MoviePass Films movie. Kelvin Mao and Jeff Jingle wrote the script.
Lydia Hull and MoviePass Films CEOs Randall Emmett and George Furla are producers, and executive producers will include Ted Farnsworth (another MoviePass Films CEO), Ted Fox, Barry Brooker and MoviePass CEO Lowe.
Michael Chiklis and Kyle Schmid are set to star opposite Willis in 10 Minutes Gone, reports Deadline. 
The cast will also include Meadow Williams, Swen Temmel, Sergio Rizzuto and Tyler Jon Olson.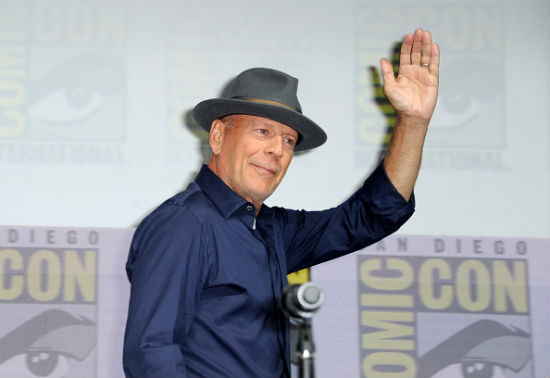 10 Minutes Gone release date
The release date for 10 Minutes Gone is still unknown. But, production will reportedly start September 10 in Ohio.
In a statement, Willis said he was "excited to be working with producers Randall Emmett and George Furla again with their new venture MoviePass Films."
If you can't keep up, we don't blame you. For the latest on MoviePass subscription updates, click here. It'll be a bumpy ride, but loyal customers don't quit — and if all goes well for this new production company, maybe MoviePass won't be plagued by an expiration date.