Outlander Season 4 promises to bring us more of the sexy, time travel goodness we've come to expect from the series based on the books by Diana Gabaldon.
The fourth season will move our beautiful heroes to America, with Jamie (Sam Heughan) and Claire (Caitriona Balfe) having crash landed in Georgia at the end of Season 3 after a hurricane threw them overboard. Naturally.
Here's everything we know so far about the upcoming season.
Outlander Season 4 Premiere Date
The fourth season of Outlander — which is based on Gabaldon's Drums of Autumn — will premiere in Fall 2018. There's no official premiere date yet, but showrunner Ronald D. Moore is hoping to keep things consistent. "The hope is that we would be on the air regularly in the fall," Moore told Entertainment Weekly last year. "The goal is to try to be on the air again next fall."
Outlander Season 4 Trailer
Here's the teaser trailer for Outlander Season 4, which was released in December.
Outlander Season 4 Cast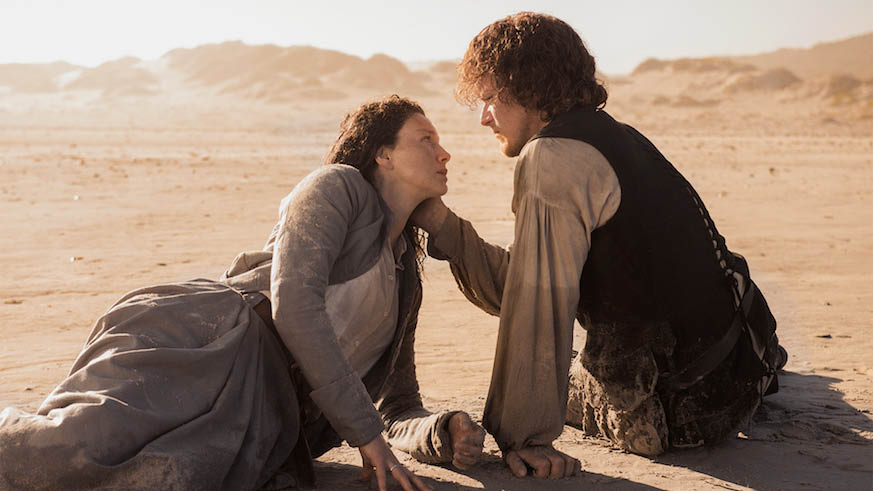 There are a few new cast members joining Outlander in the fourth season. Maria Doyle Kennedy — who you may remember from The Tudors or Orphan Black — will play Jamie's Aunt Jocasta, the younger sister of Colum and Dougal. She just so happens to live in North Carolina — and she looks very familiar to Jamie.
"She sounds and looks like his mother," Heughan told the Hollywood Reporter. "Jamie really is a family man, so for him this is a huge moment."
Writer and executive produce Toni Graphia added, "Jamie's aunt, she's a MacKenzie. We can remember that she's Dougal's sister so we can say that you'll see that 'MacKenzie personality' there." Expect her to take no guff.
There's a new villain in town, too: Stephen Bonnet, played by Downtown Abbey alum Ed Speelers. And Heughan says he's worse than Black Jack Randall, if you can imagine such a thing. "It's hard to top Black Jack but we have with Bonnet," Heughan said to THR. " People are going to hate him. He's so charming, so you kind of like him, but you find out later down the line that he does some really terrible things. He's a great new villain."
Executive producer Matt B. Roberts adds that with Bonnet, you never know what you're going to get. "Stephen Bonnet is a pure psychopath and a narcissist whose day-to-day is, 'What's going to pleasure me?' He's also a chameleon. He can act like anybody and fit into any situation, and that's what makes him so different." Yikes!