Good ol' Preacher: The AMC show ended its last season with quite a bang. Tulip is dead (or is she?) and Jesse, Cassidy and Tulip's lifeless body are headed back to where Jesse grew up. So what's next? Here's everything we know about the third season of Preacher.
Preacher Season 3 Release Date
Preacher will return for a 10-episode run on Sunday, June 24 at 10pm. Executive producer Seth Rogen made the announcement on last night's episode of Talking Dead. The upcoming season will find Jesse Custer (Dominic Cooper) back home at Angelville, the Louisiana plantation where he was raised. There, Jesse, Tulip (Ruth Negga) and Cassidy (Joseph Gilgun) will "find old grudges and deadly obligations." Sounds fun!
Preacher Season 3 Cast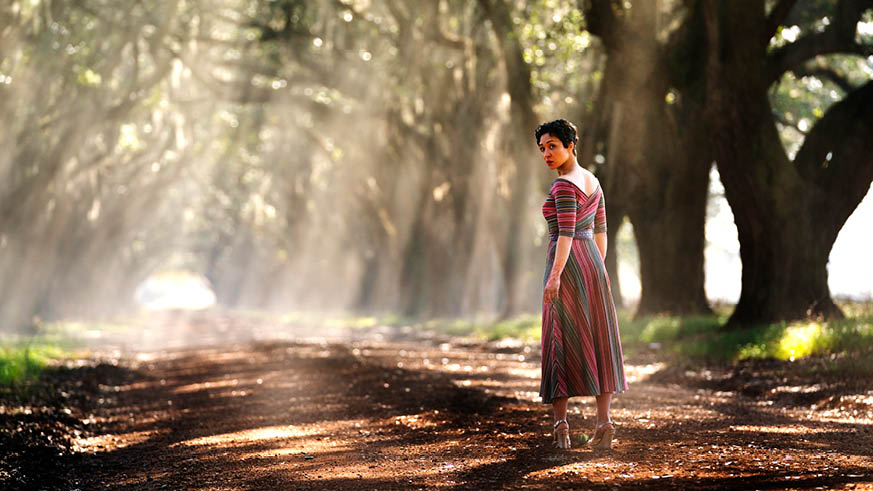 Ruth Negga as Tulip in Preacher season 3. AMC
A press release from AMC confirms stars Cooper, Gilgun and Negga will return — so yeah, Tulip ain't dead. Also returning? Ian Colletti as Arseface; Graham McTavish as the Saint of Killers; Julie Ann Emery as Featherstone; and Malcolm Barrett as the hapless Hoover. Betty Buckley will join the cast as Gran'ma, aka Marie L'Angelle, Jesse's super evil grandmother; Jeremy Childs as Jody and Colin Cunningham as TC, Marie L'Angelle's sadistic right-hand-men; and Liz McGeever as Jesse's mother. Per AMC —
Tony winner Betty Buckley (Supergirl, Split) joins the cast as a series regular playing "Gran'ma," a spiritist with true powers, who can cast spells and even bring back the dead (for a price). Pay the fee or pay with your soul to feed Gran'ma's thirst for eternal youth. She is weathered, tough, and mean, but also intelligent beyond measure. She's Jesse's only living family and she loves him.

Buckley will be joined by a trio of recurring guest stars. Colin Cunningham (Falling Skies) plays "TC," a man born of the bayou and the loyal caretaker and soldier for Gran'ma. Weaselly and wiry, he'll gladly tell you about his perversions whether you ask him or not. While he seems like the friendliest guy you'll ever meet, don't make the mistake of turning your back on him.

Jeremy Childs (The Last Castle, Nashville) is "Jody." Massive and intimidating, Jody is the enforcer for Gran'ma and the only man Jesse's never beaten in a fight. He's nobody's fool, and not someone to cross.

Liz McGeever (Star, Nashville) will play "Christina." Capable and efficient, Christina has a face that lures customers in for her family business. Christina hides it well, but she hates her job and has dreams and aspirations outside of her current life – but suffers to protect her child.
From the photos provided by AMC, looks like Pip Torrens will return as Herr Starr, too. 
Preacher Season 3 Trailer

Pip Torrens as Herr Starr in Preacher season 3. AMC
No trailer yet, but we'll update when one is on the horizon — most likely late spring.