Stormy Daniels: a name that has been spinning headlines faster than a spider spins its web (for the record, it takes about an hour). But, in terms of Daniels' huband, Glendon Crain, we haven't heard much of anything (perhaps you didn't even know she had a husband). 
Crain is Daniels' third life partner. Before him, she was married to fellow porn industry stars Pat Myne and Michael Mosny (Mike Moz), each for two years.
According to Rolling Stone, Daniels, 39, and Crain, 41, have been together since 2009. They tied the knot in 2010 and currently live with their 7-year-old daughter in Fortney, a suburb of Dallas, Texas. Their doormat reportedly reads, "What the hell do you want?"
"No one would ever know that we have this whole other existence together," Daniels told The Daily Beast in 2012. "We have this smart, amazing, beautiful daughter that is awesome. The three of us go to Gymboree class for music. He [Crain] is great with our daughter because he has no problems doing anything with her that I do. He will take her to the bathroom in a restaurant and change a dirty diaper."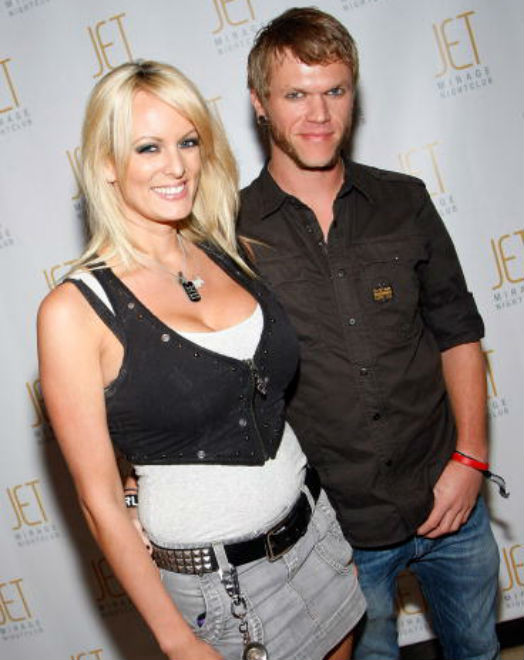 Here is everything you probably didn't know about him.
Glendon Crain is also known as Brendon Miller
Crain's screen (or professional) name is Brendon Miller. He's also gone by "Biscuitz," and his full birth name is Glendon Miller Crain, according to Dallas News.
He was a porn star too
Crain, from Kansas City, appeared in over 40 adult films, most of which involved Daniels, Heavy.com reports. He even played The Joker in a porn parody of "The Dark Knight."
Crain is a drummer
Crain's Instagram bio reads, "Drummer for that band that you've heard of, that band you haven't heard of, and that band you will never hear of."
In 2016, he went on tour with music group Red Tide Rising and the following year filled in as a drummer for part of Drowning Pool's Make America Rock Again tour (he also worked as their stage manager, he told an Instagram user).
Crain formerly drummed in the heavy-metal bands Loser, Godhead (or gODHEAD) — credited as the group signed to Marilyn Manson's now-defunct label Posthuman Records — and Hollywood Undead.
Daniels got the longtime musician drums for Christmas 2017.
Crain has performed on the same stage as big stars
According to his IMDb profile, Crain has performed on stages shared by Linkin Park and Katy Perry, who has been included in Warped Tour lineups usually dominated by punk and rock bands.
"A lot of times you'd just find me hanging over the crowd [or] stage-diving and throwing myself into the pit," Perry told USA Today in 2015. "I was very involved in that kind of lifestyle."
Crain and Daniels share a love of horses
You may not have known this either, but they're both big horse lovers. Daniels, a rider since childhood, competed in equestrian events up until January after news broke about the hush money from Trump regarding their alleged 2006 affair, The New York Times reports.
According to Dallas News, Crain and Daniels own several horses together.
Crain has stayed mum about his wife's alleged Trump affair but seems to be posting positive vibes on social media amid the continued legal drama. Just last week, he tagged Daniels in an Instagram meme that read, "When you find someone who is equally insane as you are," along with the caption, "Love you Babe!!!"