Demi Lovato was hospitalized Tuesday afternoon after an apparent heroin overdose, though a source "close" to the singer said her hospitalization isn't for heroin.
Reps for the Los Angeles Fire Department told People that they "transported a 25-year-old female patient to a local hospital," with the Police Department confirming that they responded to an emergency at 11:40 a.m. at a home on Laurel View Dr. 
TMZ published purported audio of the emergency call that revealed the patient — presumably Lovato — was unconscious when emegency personnel arrived and NARCAN was used. NARCAN is a drug used to block the effects of opioids.
Lovato celebrated six years of sobriety in March. She went into rehab in 2010 for mental health treatment and drug and alcohol abuse after a "violent encounter" with a friend. 
"The final [intervention], everyone was like, 'We are no longer going to leave, we are leaving.' That was the moment when I thought, 'Okay, I really need to get help and get sober.' This time I knew … I had hit rock bottom and I just needed to do this for myself," she told Jonathan Ross of decided to enter rehab.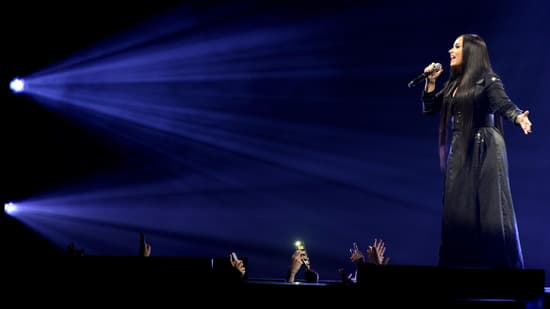 She lived in a sober living facility for a year after rehab and has since been open about her struggles with sobriety.
"I knew that I had a lot of life ahead of me but one of the main reasons of getting sober was so that I could be around my little sister because my mom and dad [said I couldn't be around her] if I was doing stuff," she added to Ross.
But in June, she revealed a relapse in her song Sober.
"Tonight I took the stage, a new person with a new life. Thank you to everyone who has supported me throughout this journey. It will never be forgotten," she tweeted after playing the song for the first time in Portugal.
Fans, friends support Demi Lovato on Twitter
Fans took to Twitter in droves to send their well wishes to the singer after her hospitalization, including some of her celebrity fans.
I love @DDLovato so much. It breaks my heart that she is going through this. She is a light in this world, and I am sending my love to her and her family.

— Ellen DeGeneres (@TheEllenShow) July 24, 2018
 

My rock, my world, my inspiration, a woman who taught me how to love myself and be proud of who I am. A woman that is strong and incredibly loved and her name is Demi Lovato. My heart is with you, and I'll hope you'll be okay. Addiction is a horrible disease. #DemiLovato pic.twitter.com/tSgY3jT5yq

— Amy Stevenson. (@AmyStev50422617) July 24, 2018
 

praying for @ddlovato and her health. When I was 14, she was an idol to me in how she spoke so openly about mental health. And now she continues to inspire thousands of young men and women with her body positivity messages. Addiction and mental illness doesn't discriminate. :broken_heart:

— Lili Reinhart (@lilireinhart) July 24, 2018
 

We love you @ddlovato #PrayForDemi

— Shawn Mendes (@ImHighKeyShawn) July 24, 2018
 

It doesn't matter what fandom you are in, if you like her or not, Demi Lovato is a human and she needs everyone by her side. #PrayforDemi :heart: pic.twitter.com/he7pWicdkj

— andrea,, 74 (@cjscurls) July 24, 2018
 

i've always had so much respect for demi lovato, for being what she is after everything she had to go through. what her soul needs right now is support, and i hope she gets plenty. she's strong, she will always stay strong no matter what, and she's in my thoughts. #prayfordemi

— 슙국 (@sucreyoongi) July 24, 2018