President Donald Trump fired FBI Director James Comey on Tuesday, saying that Comey is incapable of leading the agency.
"Today, President Donald J. Trump informed FBI Director James Comey that he has been terminated and removed from office," a statement tweeted by White House spokesman Sean Spicer read. "President Trump acted based on the clear recommendations of both Deputy Attorney General Red Rosenstein and Attorney General Jeff Sessions."
"The FBI is one of our nation's most cherished and respected institutions, and today will mark a new beginning for our crown jewel of law enforcement," Trump said in a statement.
Statement from @WhiteHouse @PressSec on @FBI Director pic.twitter.com/EdBRntMim5

— Sean Spicer (@PressSec) May 9, 2017
Comey reportedly found out he lost his job from televised reports while visiting the FBI in Los Angeles.
The firing came as Comey was leading the investigation into whether or not Trump and his colleagues colluded with Russia to influence the outcome of the 2016 election. Trump has repeatedly called the investigation a "hoax."
Comey was one in a line of officials who were investigating Trump that Trump has fired. Sally Yates, former acting attorney general, was dismissed in January after she refused to defend his travel ban on citizens from seven Muslim-majority countries. Preet Bharara, the former U.S. attorney, refused to resign after Sessions asked for the resignations of 46 federal prosecutors.  
"I did not resign," Bharara tweeted on March 11. "Moments ago I was fired. Being the US Attorney in SDNY (Southern District of New York) will forever be the greatest honor of my professional life."
Yates, Bharara and Comey were all part of investigations into Trump or his appointees.
"While I greatly appreciate you informing me, on three separate occasions, that I am not under investigation, I nevertheless concur with the judgment of the Department of Justice that you are not able to effectively lead the bureau," Trump said in a letter to Comey released by the White House.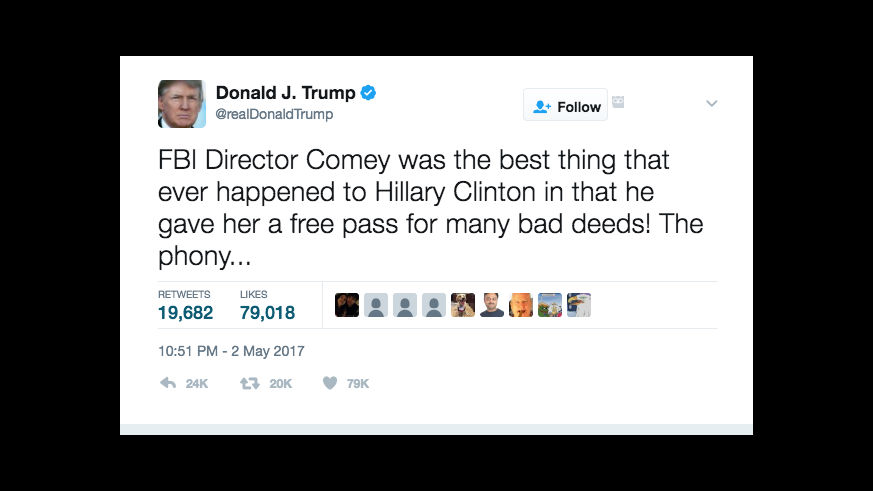 Earlier on Tuesday, a report suggested that Comey had exaggerated the number of emails from Hillary Clinton's friend and aide Huma Abedin to her husband Anthony Weiner's laptop. Instead of "hundreds and thousands," it appears to have only been a handful of emails not marked classified.
The termination comes on the heels of a two-page letter the FBI submitted to the Senate Judiciary Committee correcting Comey's testimony. Only "a small number" of the thousands of emails found had been forwarded. Most of the others were backed up from electronic devices, CBS reported.
Comey told the Senate Judiciary Committee last week that it makes him "mildly nauseous" that he might have impacted the 2016 election. "But honestly, it wouldn't change the decision."
Here's the letter President Trump sent to FBI Director James Comey regarding his… https://t.co/uqiFtk2y7s by #monterocnn via @c0nvey pic.twitter.com/OGZgnETPj9

— Patricia Hernàndez (@Pather1402) May 9, 2017
A memo from Rosenstein stated that Comey was "wrong to usurp the attorney general's authority on July 5, 2016, and announce this conclusion that the case should be closed without prosecution."
"It is not the function of the director to make such an announcement," the memo continued. "At most, the director should have said the FBI had completed its investigation and presented its findings to federal prosecutors."
Comey, 56, was nominated by President Barack Obama for the post in 2013. The FBI director serves a 10-year term.
Metro reached out to Clinton's press contact but has not received a response.
"It's a very unusual situation," Scott Pelley says. "The FBI director is appointed to a 10-yr. term in order to insulate him from politics." pic.twitter.com/taPZmnvTSw

— CBS News (@CBSNews) May 9, 2017
Democrats respond
Democrats denounced Trump's move, which some compared to the "Saturday Night Massacre" of 1973, when President Richard Nixon fired an independent special prosecutor investigating the Watergate scandal.
"Today's action by President Trump completely obliterates any semblance of an independent investigation into Russian efforts to influence our election, and places our nation on the verge of a constitutional crisis," said Rep. John Conyers, senior Democrat on the House Judiciary Committee.
Conyers and other Democrats renewed their calls for an independent commission or a special prosecutor to investigate Russian influence in the 2016 election.
Kellyanne Conway on Sen. Schumer calling the firing of FBI Director James Comey a 'cover up': "He's wrong" https://t.co/WSOZ3MimVl

— Anderson Cooper 360° (@AC360) May 10, 2017
Senate Democratic Whip Dick Durbin went to the Senate floor on Tuesday to urge the White House to clarify whether the FBI investigation of Russian interference in the presidential campaign would continue now that Comey has been fired.
"Any attempt to stop or undermine this FBI investigation would raise grave constitutional issues," Durbin said. "We await clarification by the White House as soon as possible as to whether this investigation will continue."
Who will replace Comey?
According to the White House's statement, the search for a new FBI director begins immediately. 
"It is essential that we find new leadership for the FBI that restores public trust and confidence in its vital law enforcement mission," Trump said in Comey's termination letter.
Until Trump appoints a new head of the FBI, Deputy Director Andrew McCabe will serve as acting director. No names for a permanent replacement have been officially announced, but speculation swirls around a few key players:
— Former New York City Mayor Rudy Giuliani serves as an "informal" advisor on cybersecurity to the White House. He spoke out as a Trump supporter during the campaign and was pegged as a likely candidate for secretary of state.
— South Carolina Rep. Trey Gowdy is a member of the tea party movement who first endorsed Sen. Marco Rubio before endorsing Trump when he officially became the Republican party nominee. There is an online petition calling for Gowdy, who served as House Benghazi Committee chairman, to replace Comey. In 2015, Trump named Gowdy as a possible nominee for attorney general.
— New Jersey Gov. Chris Christie ran for president in 2016 and criticized his opponent Trump but has since endorsed him and was named to his transition team. Christie was thought to be a contender for a Trump cabinet position, but said he wanted to finish out his term as governor. In March, Trump tapped Christie to chair a committee to fight the opioid crisis in America.
— Former NYPD Commissioner Bill Bratton serves as vice chairman of the Homeland Security Advisory Council.
— Milwaukee County Sheriff David Clarke said during the campaign that he would "do everything" he could to ensure Trump won his seat in the Oval Office. Clarke also interviewed for a cabinet position after Trump was elected.
Whoever the replacement is, he or she will have to be approved by 51 members of the Senate. 
MORE: Earlier Tues., @PressSec was asked if POTUS still had full confidence in Comey; "Spicer deferred on that question," @MajorCBS reports. pic.twitter.com/F8Jqs3dXkV

— CBS News (@CBSNews) May 9, 2017
Reuters contributed to this report.