The flu killed over 80,000 people during the 2017-2018 season, and the 2018-2019 season has already taken a life (a child) this month. On Wednesday, the FDA announced some good news: it approved the first flu pill in two decades.
Sold under the name Xofluza and generically known as baloxavir marboxil, this single dose, fast-acting flu pill is designed to reduce the duration of influenza in two days if taken within 48 hours of the onset of symptoms.
It will be sold in the U.S. by Genentech, a member of Roche Holding AG, and according to The New York Times, it was invented by Japanese company Shionogi.
Prior to the FDA's approval, Xofluza was tested in two clinical trials involving 1,832 patients. In both trials, patients treated with the flu pill recovered more quickly than those who received a placebo. In one trial, there was no difference between Xofluza and another flu treatment, which the Times reports was Tamiflu, also sold by Roche (taken as two pills a day, for five days).
How does this flu pill work?
When taken within the first 48 hours of symptoms, Xofluza offers relief in just over two days (on average, patients recovered in 2.3 days).
The Times reports that Xofluza works by "blocking an enzyme the virus needs to copy itself," which Genentech identifies as polymerase acidic endonuclease. The pill has reportedly been shown to work against both A and B strains of influenza and is also expected to work against bird flus.
Genentech notes there is no evidence that Xofluza works for other infections besides the flu.  
A spokesperson from the FDA tells Metro that there are five other antiviral drugs for the flu approved by the Administration: oseltamivir (Tamiflu), zanamivir, peramivir, amantadine and rimantadine.
"The latter two drugs are not currently recommended for treatment of influenza," the spokesperson says. "Xofluza is a single dose taken orally, which is different than other currently FDA-approved treatments for flu. Patients should talk to their doctors about which treatment is right for them."
#FDAapproves new drug to treat influenza: https://t.co/0AaIooGG3n. pic.twitter.com/MJhUecbsWD

— U.S. FDA (@US_FDA) October 24, 2018
Who can use this flu pill?
Patients over 12 who have experienced flu symptoms for no more than 48 hours can take this flu pill.
"It is not known if Xofluza is safe and effective in children younger than 12 years of age or weighing less than 88 pounds," reads a safety notice on the Xofluza website. Further research is underway to see whether the flu pill is safe and effective for children.
Before taking Xofluza, Genentech cautions that you should tell your health care provider about all of your medical conditions, including if you're pregnant (or plan to become pregnant) or if you're breastfeeding, as it's unknown whether or not the flu pill passes into breast milk. It's also unknown whether or not the medication can harm an unborn baby. 
You should not use Xofluza if you're allergic to baloxavir marboxil or any ingredients in the flu pill (croscarmellose sodium, hypromellose, lactose monohydrate, microcrystalline cellulose, etc.).
Can you take this flu pill with other drugs?
"In the clinical trials used to test the safety and efficacy of Xofluza, there were no tests of patients taking both Xofluza and another flu treatment concurrently," the FDA spokesperson says. "Xofluza can be taken with ibuprofen, but should not be taken with dairy products and certain supplement such as calcium."
They continue on to say that patients should talk with their health care provider or pharmacist about other medication or supplements they may be taking.
The Xofluza website states that, besides dairy products and supplements, consumers should avoid taking calcium-fortified beverages, polyvalent cation-containing laxatives and antacids with the flu pill.
According to Bloomberg, there are plans to test Xofluza in combination with other anti-flu drugs.
Side effects of this flu pill
Side effects in patients taking Xofluza include diarrhea, bronchitis, nausea, headache and common cold symptoms.
People are encouraged to report side effects to Genentech by calling 1-888-835-2555, or to the FDA through fda.gov/medwatch or 1-800-FDA-1088.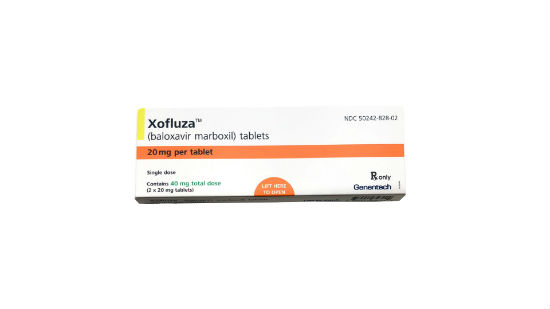 Xofluza: How to get it
As with Tamiflu, you need a prescription to get Xofluza.
"Patients will need a prescription in order to purchase it from a licensed pharmacy," the FDA spokesperson says of the one-time dose flu pill. "It cannot be purchased over the counter."
Genentech told the Times that the pill will cost $150, but the company will offer coupons that lower the price to $30 for patients with health insurance and $90 for those who are uninsured.
Xofluza will be available in the U.S. in the coming weeks. 
Genentech could not immediately verify specifics of that timeline, though they do confirm that patients can get Xofluza at retail pharmacies throughout the U.S. and Puerto Rico. 
Should I still go get a flu shot?
Yes. The FDA spokesperson tells us that annual vaccination is still the "primary means" of controlling and preventing flu outbreaks.
"Flu season is already well underway, and the U.S. Centers for Disease Control and Prevention recommends getting vaccinated by the end of October," the spokesperson continues.
"While the flu vaccine is a crucial first step in preparing for flu season and preventing illness, Xofluza is an important new treatment option if you do get sick," Serese Marotta, chief operating officer of Families Fighting Flu, said in a statement per a Genentech news release.
Genentech notes, though, that you should talk to your health care provider before you get a live flu vaccine if you've taken Xofluza.
Visit xofluza.com for more information, and go conquer flu season without fear.