As the east coast is being pummeled by some of the coldest weather we have seen all winter, many of us are finding ways to cope through it all. But whether you find yourself gazing at some photo of a tropical destination you have pinned to your cubicle at work or catching yourself watching reruns of beach themed travel shows when you get home, there is no substitute for an escape during these brutal months. Luckily, United Airlines has introduced a brand new direct flight from Newark Airport to sunny Palm Springs, California, just in time to thaw out for a little while this winter.
There is no place like Palm Springs, California
With the whole flight lasting just a little over six hours long, any shred of the travel blues will melt away from your face as you walk out into the inviting open-air layout of the Palm Springs International Airport. Located about 100 miles from Los Angeles, this oasis in the desert has a little bit of something for everyone. But, once you've snapped out of your wonderment as you walk by all of the natural palm trees, what can you do to make the most of your stay in this unique city? Here are some things you will need to check out during your stay in Palm Springs.
Where to stay? The Parker Palm Springs
Just a 10-minute drive from the airport, the Parker Palm Springs resort and hotel lies hidden back from the street behind a barricade of lush vegetation. With famed designer and author Jonathan Adler acting as the hotel's main creative director, guests will be transported deep into his world. And, oh, is it a great world to get lost in.
While walking the 13-acre compound, you will be able to freely pick oranges and grapefruit from the trees providing shade to the hotel's three different pool areas. For food and drinks, the Parker is home to some of the best restaurants and most forward-thinking cocktail bars the city has to offer. Whether it's steak and scallops for dinner at the dark and sophisticated Mister Parker's restaurant, or small bites cocktails, and local natural wines at their speakeasy bar, Counter Reformation, the Parker has you covered. And if all of this relaxation sends your alignment all out of whack, you can book a massage at the nautical-themed spa and pool area The Palm Springs Yacht Club.
We haven't even talked about the rooms! Guests will be able to stay in a variety of different rooms including their basic yet luxurious Estate rooms to their private two-bedroom housing unit known as the "Gene Autry".
For availability on rooms, head over to parkerpalmsprings.com.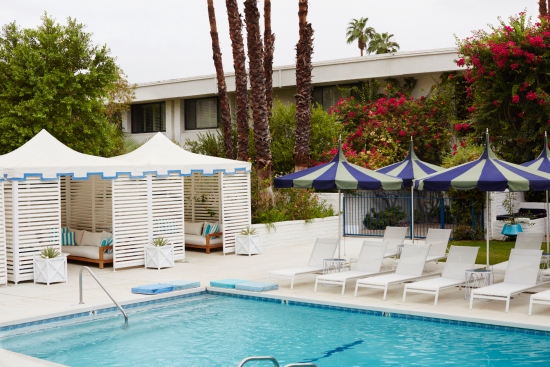 The Silicon Valley Pool at the Parker Palm Springs. Photo: Palm Springs Convention and Visitors Bureau. 
Palm Springs Architectural Tour
One of the most fascinating bits of history about Palm Springs, is that in the mid 1900s it was viewed as a refuge for Hollywood studio actors and stars. This was because the city had put a ban on paparazzi from bothering its local residents. This freedom to just blend in with the scenery led to international stars such as Frank Sinatra, Elvis Presley, and Liberace to call this quirky desert town their home.
With the famous bowtie-shaped architectural style to allow pedestrians to view the surrounding San Bernardino, Santa Rosa, and San Jacinto mountains with no obstruction, homes in Palm Springs have a vibe that is all their own. Visitors can book their own immersive architectural guided tours with the Modern Tour hosted by Michael Stern, the author of the book "Julius Shulman: Palm Springs, and the Director and Producer of the film "Julius Shulman: Desert Modern"
For booking information, head over to moderntour.com.
Palm Springs Aerial Tramway
As we mentioned before, Palm Springs rests in the bottom of a valley that is surrounded by several different mountain regions. While, at ground level, the desert terrain of the area gives Palm Springs its famous charm, by scaling to the top of these mountains you will find a different climate altogether. But how will you get up there?
The Palm Springs Aerial Tramway is the world's largest rotating tramcar and the quickest way for visitors to scale up to the cliffs of the Chino Canyon. The ten-minute ride will bring you up to an elevation of 2,643 feet giving you access to hiking trails and picturesque views of the city. Word to the wise, just remember to bring some warmer clothes as the peaks are generally 20 degrees cooler than the valley below.
For more information on the Aerial Tram, visit pstramway.com.
The Living Desert Zoo & Gardens
Once you've come back down from those tall heights, the Palm Springs Living Desert Zoo & Gardens is the perfect place for the entire family. This botanical garden and zoo focuses on conservation and preservation of animals and wildlife from North America and Africa. Guests can take guided walking and safari tours and even sign up to ride camels and even feed the giraffes. Let me tell you from experience, the joy you will feel coursing through your body after feeding a giraffe out of the palm of your hand is hard to beat. For a unique "night out" experience, older guests can enjoy a beverage as they tour The Living Desert for their Brew at the Zoo event on Feb. 9.
For more information on tours and events at the Living Desert Zoo & Gardens, head to livingdesert.org.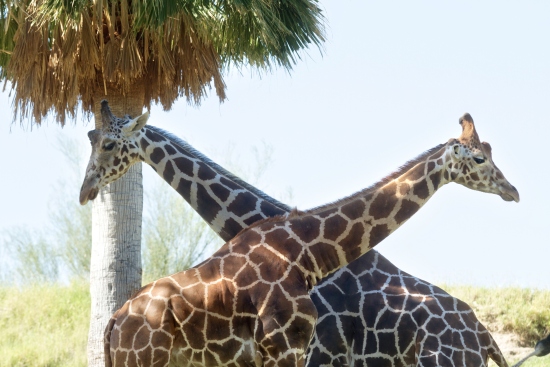 Feed the Giraffes at The Living Desert Zoo & Gardens. Photo Credit: Scott Baxter. 
Right now, United Airlines is offering direct flights from Newark to Palm Springs until the end of April. Just in time for you to make it out for the Coachella music festival which will be held a short 45-minute drive away! Round trip flights start at $197, so book yours today!
For more information on flights, head over to United.com.