Emotional support animals provide therapeutic benefits to people struggling with their mental health. These companions come in many forms, but airlines have cracked down on policies regarding which types — cats, dogs, what have you — can fly on planes. 
On Tuesday, police had to remove a woman who boarded Frontier Airlines Flight 1612 with an emotional support squirrel, the Associated Press reports.
The flight was scheduled to travel from Orlando to Cleveland Tuesday night and was delayed two hours.
The passenger had reportedly noted in her reservation that she was bringing an emotional support animal on board but failed to indicate what kind of animal it was. Rodents, the airline says, are prohibited from flying. (This includes squirrels.)
A policy change to Frontier Airlines guidelines states that flights will only allow emotional support dogs or cats. They do not accept "unusual or exotic animals including but not limited to rodents, reptiles, insects, hedgehogs, rabbits, sugar gliders, non-household birds or improperly cleaned and/or animals with foul odor."
The policy change, effective November 1, was announced prior to Tuesday's incident. You can view this policy on emotional support animals via flyfrontier.com.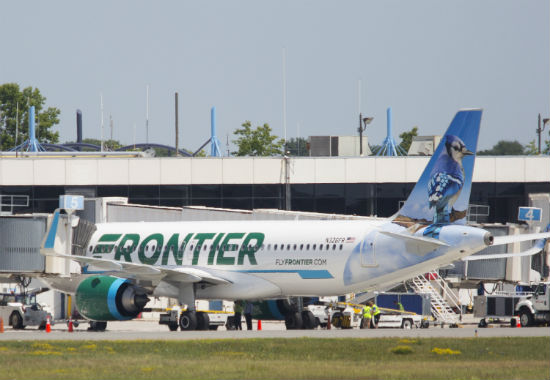 Watch: Frontier Airlines passenger gets escorted off plane with emotional support squirrel
"On flight 1612 from Orlando to Cleveland yesterday evening, a passenger boarded the aircraft with a squirrel saying it was an emotional support animal," a Frontier Airlines spokesperson tells Metro. "The passenger noted in their reservation that they were bringing an emotional support animal but it was not indicated that it was a squirrel. Rodents, including squirrels, are not allowed on Frontier flights."
"The passenger was advised of the policy and was asked to deplane," the spokesperson continues. "When she refused to deplane, Orlando Police were called and everyone was deplaned so police could deal with the passenger. Police eventually escorted the passenger off the aircraft and returned her to the main terminal."
They confirm, "Prior to this incident, on October 1st, Frontier announced a new policy for emotional support animals and trained service animals that brings us into alignment with the rest of the airline industry."
Watch police escort the passenger and her emotional support squirrel back into the airport:
— Julia Papesch (@julia_papesch) October 10, 2018
Emotional support animals: How about a peacock?
Back in January, a passenger was denied access to her scheduled United Airlines flight out of Newark when she tried to bring an emotional support peacock on the plane. (The peacock's name was Dexter, as all peacocks should be named, and he passed away in July.)
"This animal did not meet guidelines for a number of reasons, including its weight and size," a United spokesperson told CNBC. "We explained this to the customer on three separate occasions before they arrived at the airport."
According to esaregistration.org, the official registration site for emotional support animals, "any animal that provides therapeutic value" can qualify. However, dogs and miniature horses are the only companions that can legally act as service animals, which are "specially trained to perform a task to help someone with a disability."
The Department of Transportation states that under the 1986 Air Carrier Access Act, airlines are required to accommodate passengers with disabilities, including those who depend on service and emotional support animals.
Airlines are not required, however, to accommodate snakes, reptiles, ferrets, rodents or spiders registered as such companions. Southwest, for instance, revamped their guidelines on emotional support animals in August to prohibit "exotic or unusual" creatures.
Individual airlines may also exclude animals that are too large/heavy, cause disruption on board or pose a direct threat to passengers.