It's funny how something as trivial as baseball can force a human being to sit down and attempt to compartmentalize their life. 
After all, it's just a game, which is a statement 12-year-old… or 19-year-old Joe Pantorno would have wrung my neck for. 
But on Sept. 13, as a teary-eyed and overwhelmed David Wright sat in the media room at Citi Field and told us that he was likely going to hang up the cleats after this season ended, that was exactly what I was forced to do. 
While working in this particular business has forced me, a 26-year-old Long Islander (which is the most stereotypical combination to make an irrepressibly opinionated)  to put bias aside, myself and countless millennials still have a few precious links to our childhood and teenage years. 
Considering we're a nostalgic bunch (just ask any kid born from 1988 to 1991 about growing up in the 90's), David Wright manning third base for the New York Mets is one of those last links to the adolescence of countless Mets fans.
One that even I can't help but to take pause, appreciate and reminisce about. 
The early 2000's was such a period of transition for Mets fans, especially the younger ones. 
Mike Piazza, the first real superstar many of us got to see play for the Mets, had been slowed by the unforgiving passage of time, though it was seemingly accelerated from years behind home plate. 
His decline and eventual departure was the first real example of an athlete's mortality that we had ever seen. This was a hero to the masses, a giant, a champion that was seemingly invincible. 
Naturally, it left us wondering if we would ever have another talent that could represent and encompass the  loyalty and values of a fan base of the often-dysfunctional franchise
Luckily for the Mets, David Wright softened the blow of Piazza's end in New York as he accepted the torch of stardom and ran with it.
A Virginia native miraculously having grown up a Mets fan only to play for his favorite team? That's unheard of for the franchise dubbed as the little brothers of the Yankees in New York. 
His loyalty was also unheard of in today's game. After bursting onto the scene and helping the Mets get to within one game of a National League pennant in 2006, Wright remained true to the team that drafted him after a pair of collapses in 2007 and 2008 followed by an uncontrollable spiral to ineptitude.
There will be pessimists that will say a nice, big contract had something to do with it. They might be right. But that's not David Wright.
He was a Met through and through and a champion of the underdogs that are Mets fans. 
Sure, the Yankees had Derek Jeter. But we had David Wright.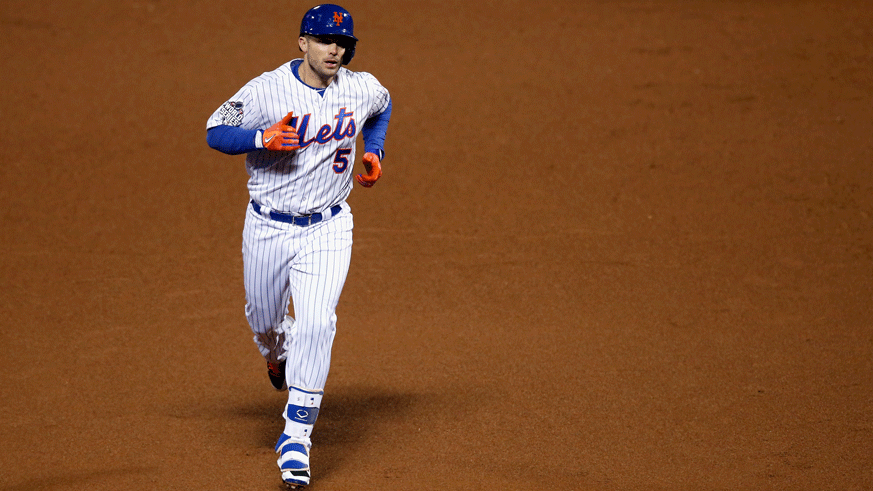 I wore my No. 5 Mets jersey on my first day of high school, on my first-ever real date, the last time I was at Shea
Stadium,
when I found out I got into college, birthday parties. 
Mets fans wanted to grow up to be like him, both on the field and off.
There were eight years without a playoff berth, six years with losing records, yet Wright continued to represent the organization that some will argue was deserving of saintship. 
 There was even a time when he looked destined to wind up in Cooperstown with a Mets cap on his Hall-of-Fame plaque. Seven All-Star appearances, the franchise leader in hits, doubles, runs scored and RBI in his first 11 seasons. That's a good start. 
But the baseball gods have a warped, unfair sense of humor as injuries starting in 2015 robbed Wright of the second half of his career, one that would have only further solidified his status as one of the greatest Mets of all-time.
Even as he was hobbled by surgeries on his back, his neck, his shoulder, Wright never seemed too far away. He showed us what perseverance and determination looked like as doctors and pundits alike never expected him to get back on a ball field.
Yet there he was hitting a home run in Game 3 of the 2015 World Series. There he was making rehab starts down in the minors. Here we are, ready to see him trot out to the hot corner at Citi Field one more time on Saturday night against the Miami Marlins.
We were prepared to say goodbye to him two years ago. 
We were prepared to say goodbye to him last year. 
We get to say goodbye to him on Saturday. 
There is a line from Ogden Nash's poem 'Line-up For Yesterday" that I re-worked for David Wright as I only saw it fitting:
"W is for Wright,

 

The pride of Citi Field,

 

His record pure gold,

 

His courage pure steel."
Thank you, captain, and congratulations on a brilliant career.