Snow, hail, icy wind — if you're not into the realities of winter, there's a way to escape them all inside a pop-up indoor garden with plants from all seven continents that's totally free to visit.  
Summer in Winter brings some of the biggest and brightest blooms of summer into a botanical garden inside the Gallery at Cadillac House in SoHo. A winding grassy path leads you through an enchanted landscape where the fauna of 37 countries and all seven continents come together.
Among the highlights of the 1,000-square-foot garden are ferns from Australia, medicinal plants from the Amazon basin, succulents native to Southern Africa and flowering plants from the Caribbean. The mixing and matching of the world's plants celebrates diversity by giving all natural beauty the same importance.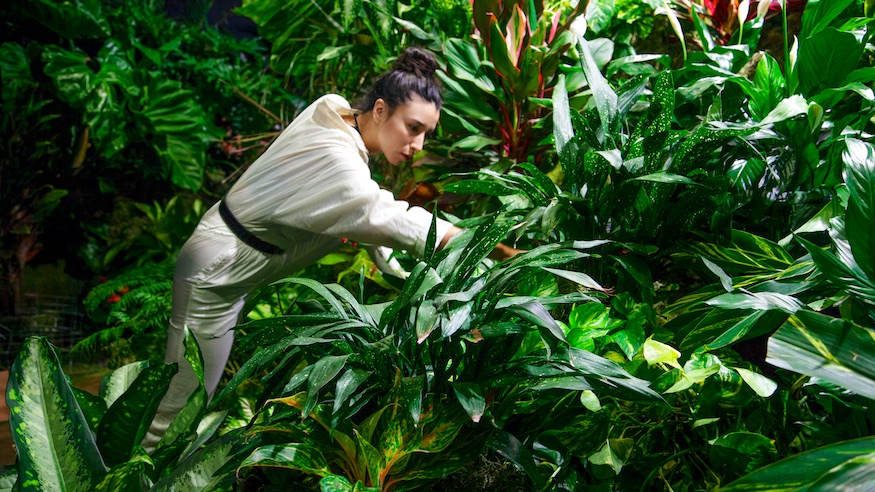 Summer in Winter "is a reminder that even in our darkest season, our raw creativity can trump misplaced priorities," according to curators Cecilia Dean and James Kaliardos at Visionaire. "Summer in Winter is a 1,000 square foot environmental challenge against the urban status quo — an alternate reality where the dreamers win."
The garden of seven continents was created by landscape design firm Studio Lily Kwong — you may remember her turning a section of the High Line into a floral hedge maze in actual summer 2017. Kwong, who studied urban design at Columbia University, was also named one of Forbes' 30 Under 30 in 2018.
Though primarily a showroom for cars (plus a great little cafe), Cadillac House has become a hub of fashion and art in the South Village, hosting exhibits like what made Richard Avedon one of the most beloved photographers in the ad business to installations like an all-pink Japanese rock garden. Exhibits are always free.
Summer in Winter is open now through Jan. 16, 2019, Mon-Fri 8 a.m.-7 p.m. and Sat-Sun 10 a.m.-5 p.m. Cadillac House is located at 330 Hudson St.