Hope you didn't fill up on theater during Broadway Week, because from Sept. 24-Oct. 7 it's time for 2-for-1 tickets to more than three dozen more productions during Off-Broadway Week 2018.
The NYC & Company promotion spans 38 musicals and plays that offer something different from the main drag. "Without a doubt, Off-Broadway projects are a little bit more cutting-edge — I'd tell you they're a little bit cooler — than what lands on Broadway," says Terry Byrne, president of The Off-Broadway League. "You can see from the list of shows that it's amazingly eclectic. You have great diversity offered Off-Broadway from artists to material, that's really why I love it."
There's certainly plenty of everything from girl power and grit for Off-Broadway Week 2018. Looking for something that couldn't be more relevant? Check out the smartly funny India Pale Ale, a play about the daughter of a traditional Punjabi family in Wisconsin deciding to leave town and open a bar. And there's the Western musical Desperate Measures — can we please keep up the trend of setting Shakespeare plays to song?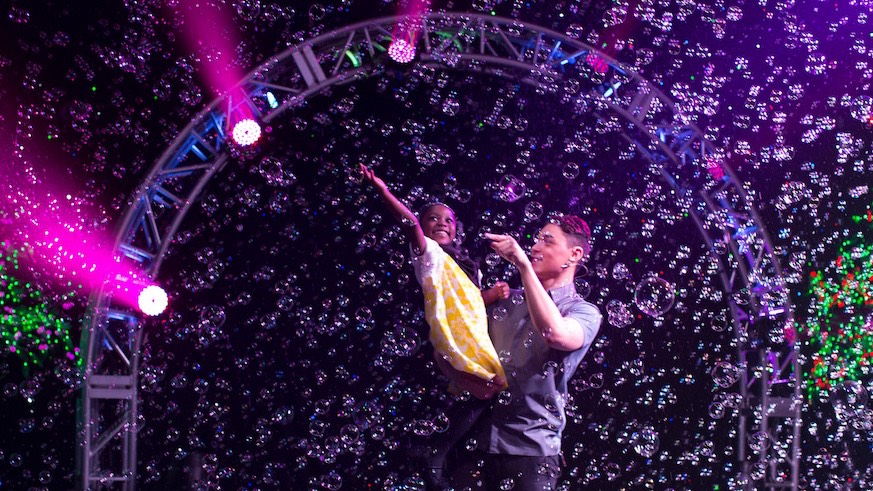 Here's the full list of shows offering 2-for-1 tickets during Off-Broadway Week 2018
Asterisks mean the show is new for Off-Broadway Week 2018; tickets are available now.
Apologia*
Avenue Q
Because I Could Not Stop: An Encounter with Emily Dickinson*
Black Light*
Blue Man Group
The Book of Merman*
Desperate Measures
Drunk Shakespeare
El Coronel No Tiene Quien Le Escriba
Final Follies*
Gazillion Bubble Show
Gloria: A Life*
I Was Most Alive with You*
The Imbible: A Spirited History of Drinking
India Pale Ale*
Jersey Boys
The Marvelous Wonderettes
Midnight at The Never Get*
Monday Night Magic*
Naked Boys Singing
NEWSical The Musical
Neurosis: A Musical That Gets in Your Head*
On Beckett*
Perfect Crime
Popcorn Falls*
Puffs, Or: Seven Increasingly Eventful Years at a Certain School of Magic & Magic
Renascense*
Sakina's Restaurant*
Sistas the Musical
Sleepy Hollow the Musical**
Smokey Joe's Cafe: The Songs of Leiber and Stoller*
Stomp
Tennessee Williams's A Lovely Sunday for Creve Coeur*
This One's for the Girls
Trainspotting Live*
The True*
Vitaly: An Evening of Wonders*
What the Constitution Means to Me*