Something old, something new, something borrowed, something blue. 
And I'm not talking about a wedding. 
One of the hardest teams to try and predict heading into the 2018 NFL season is the New York Giants. 
A team coming off a dreadful 3-13 season that was riddled with injuries, a porous defense, and a heinous offensive line are locked and reloaded heading into Week 1 against the Jacksonville Jaguars. 
On paper, at least, this looks like a team that could very well be in the thick of the NFC playoff picture as the season progresses as new general manager Dave Gettleman and head coach Pat Shurmur look to create a quick turnaround at the Meadowlands. 
To do that, they took a page out of every bride's checklist when preparing for their big day. 
There are some things old, some things new, some things borrowed, making something Big Blue: 
New York Giants: Something Old
Eli Manning and his football mortality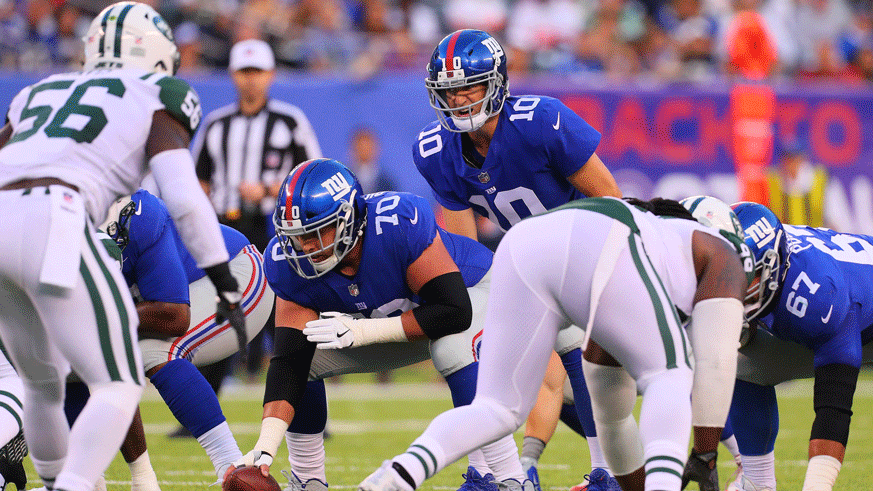 At 37 years old, the greatest quarterback in Giants franchise history is on his last legs, though his career might have been shortened a few years after playing behind the worst offensive line in football last year. 
It was a disastrous year for the old, wily veteran. Not only did he have to deal with constant pressure from opposing defenses that forced him to resort to a series of dink and dump passes, he saw his Odell Beckham Jr., Brandon Marshall, Sterling Shepard, and Dwayne Harris all hit the injury list. 
He was still able to put up 3,468 yards and 19 touchdowns despite a crumbling support system and an unceremonious benching by the inept former head coach Ben McAdoo.
Marshall and Harris are gone but Beckham and Shepard are back to full health while second-year tight end Evan Engram continues to develop into one of the more dangerous threats at his position.  
Could this be Manning's last shot at glory under center with the Giants? It might very well be if things don't work out this year. 
Some things new:
A shiny new toy named Saquon
That horrendous 3-13 record came with a consolation prize and man, is it a big one. 
With the second-overall pick of the 2018 NFL Draft, the Giants selected running back Saquon Barkley, considered by many to be the best overall talent of the class. 
The Penn State product has the dual-threat capabilities of a Le'Veon Bell and has even been described as a better version of Ezekiel Elliott.
He can beat an opposing defense with any running style possible, whether it's with finesse or power and once he's in the open field, kiss him goodbye. 
There should be no restrictions for Barkley come Week 1after he was hampered for most of the preseason with hamstring issues, which will give Manning a security blanket in the backfield and the Giants a legitimate run game for the first time in quite a while. 
New year, new deal, new Odell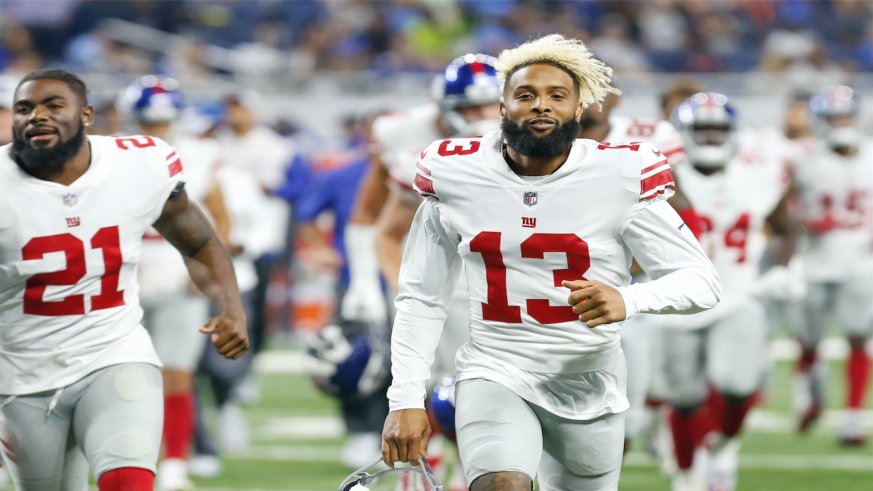 Odell Beckham Jr. has officially been paid as an offseason of exponential growth culminated in a five-year extension worth $95 million. 
A few months ago that might have been hard to believe considering he was threatening to hold out until he got an extension. That was quickly met by Giants management taking trade calls for the explosive wide receiver. 
Since then, Beckham has done and said all the right things, attended every single team activity and is suddenly giving off leadership vibes. 
That was
an unheard
of concept at the beginning of the 2017 season. 
Back to full health after a broken ankle robbed him of 12 games last year, Beckham will look to continue building on a young career that is already ranking him among the greats in Giants lore. 
In fact, a 1,011-yard 2018 season would already put Beckham in second-place on the Giants' all-time receiving yards list behind only Amani Toomer. 
Something borrowed:
A new line of protection
Gettleman made it a priority to fix the Giants' offensive line in order to provide legitimate protection for Manning while opening things up for Barkley. 
While they are unproven now, it is certainly a different-looking unit. 
Gettleman brought in veteran left tackle Nate Solder, a two-time Super Bowl champion with the New England Patriots. His arrival allowed the team to move the struggling Ereck Flowers to right tackle in an attempt to resurrect his young career. 
Patrick Omameh was signed shortly after, the Giants becoming his fourth team in five years in the NFL. He started 13 games with the Jacksonville Jaguars last year as they came one game short of a Super Bowl appearance. 
The last piece of the puzzle came in the form of Will Hernandez, who was selected in the second round of the draft out of UTEP. The left guard is known for a mean streak which is only going to add some much-needed tenacity to the line. 
NFC East Prediction
The Giants are obviously trending in the right direction and are a bit of a wild card. With the third-best defense in the NFC East behind the Eagles and Cowboys, I think there will be a lot of pressure on Manning, Beckham
and
Barkley to try and outscore their opponents. 
That being said, expect the Giants to be in the thick of the NFC East hunt this season and could possibly nab a Wild Card berth. 
Philadelphia Eagles: 12-4
Dallas Cowboys: 10-6
New York Giants: 9-7
Washington Redskins: 4-12