The New York Giants spent much of the offseason attempting to get better along the offensive line, making three key additions to the unit. Free agent left tackle Nate Solder, guard Patrick Omameh and rookie Will Hernandez will be counted on to improve one of the league's worst units last year.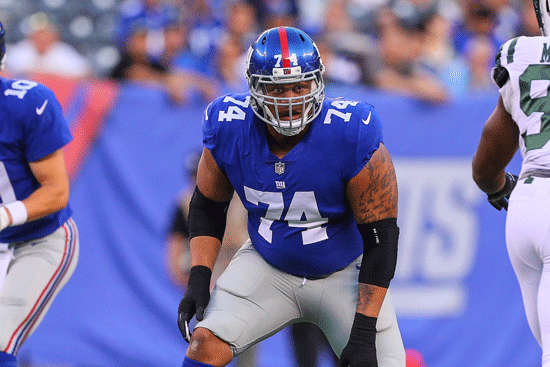 The Giants will be better. But not much better according to one analytics site.
Pro Football Focus ranked the Giants offensive line as No. 26 in the league last summer heading into the season, referring to them as "probably one of the most heavily criticized units in the entire NFL." The Giants didn't exactly do a great job as a unit and lived up to PFF's preseason analysis a year ago.
Quarterback Eli Manning had one of the fastest release times in the NFL – by design – so as to avoid what was an inevitable collapsing of the pocket on nearly every down. The running game was decidedly average as well, in part due to talent and in part due to deficiencies along the offensive line.
The Giants looked to improve this unit. While Solder is flawed, he is an upgrade at left tackle and allows former first-round pick, Ereck Flowers, to move to right tackle, where he should presumably be better and face fewer elite pass rushers. Omameh is solid as well, with PFF calling him the No. 36 guard in the league last year (again, an improvement for the Giants). That isn't elite but it is better for the Giants.
In Hernandez, the Giants got an aggressive interior lineman who plays to the whistle. Being able to add him in the second round after many analysts saw him as a potential late first round pick is a good thing for the unit's overall depth.
So after all these moves, the Giants surely jumped up in Pro Football Focus' evaluations? Well, according to analyst Michael Renner, they did move up but not by much. Renner ranks the Giants at No. 25, a whopping one spot improvement over their similar analysis a year ago:
"After making Nate Solder the highest paid tackle in football and drafting Will Hernandez in the second-round, the Giants offensive line has to be better than last year. Neither of those guys are sure-fire miracle workers though as Solder himself gave up 51 pressures a season ago (Ereck Flowers has averaged 58 a season for his career)."
The rest of the NFC East is clearly ahead of the Giants along the offensive line. The Philadelphia Eagles (No. 1), Dallas Cowboys (No. 2) and the Washington Redskins (No. 12) are all ranked considerably higher than the Giants.