The Miami Heat are reportedly making veteran point guard Goran Dragic available on the trade market prior to the start of the 2018-19 season, according to AZ Sports' John Gambadoro. 
Preparing for the fourth season of a five-year, $85 million extension signed back in 2015, the 32-year-old has been one of the more offensively-talented point guards in the game, though he's often overshadowed playing with the Heat. 
Over the past three years, he's averaging 17.3 points and 5.5 assists per game, numbers that would provide a legitimate upgrade to many teams' backcourts around the league.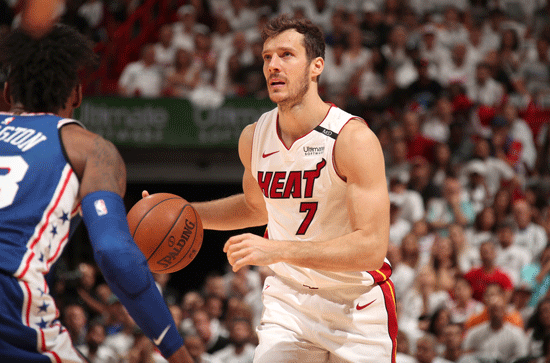 Obviously, it will come at a steep price, though. According to Ashish Mathur of AmicoHoops, the Heat "would gladly" deal Dragic for a first-round draft pick. 
While it remains to be seen if an interested party would be willing to pay such a toll for two years of Dragic, there are a couple of teams who could use him immediately in their backcourt. 
Who could trade for Goran Dragic?
Phoenix Suns
A deal to Phoenix would provide a homecoming of sorts for Dragic, who spent parts of six seasons with the Suns during two separate stints. 
While he averaged 12.3 points and 4.5 assists during his tenure there, he put up the best season of his career in Phoenix during 2013-14 campaign when he put up 20.3 points and 5.9 helpers per game. 
The Suns need to revamp their backcourt after trading away Brandon Knight to the Houston Rockets for Kyle Anderson. For now, they are poised to trot out Elie Okobo, De'Anthony Melton and Isaiah Canaan on opening night. That doesn't necessarily strike fear in a loaded Western Conference. 
Suns management though might not be so willing to inquire about Dragic after comments he made in 2016 about the organization. 
"It feels like they're always changing something, Dragic told Michael Lee of Yahoo Sports. "They're not like Miami, San Antonio, those teams that are really loyal when they find something."
Orlando Magic
The combination of D.J. Augustin and Jerian Grant, talents that will struggle to get you 10 points and five assists per night, isn't going to do it for the Magic in a weaker Eastern Conference.
But they do have the trade chips available to pique Miami's interest. Nikola Vucevic is reportedly on the trade block to make room for rookie center Mo Bamba. However, he would be thrown into a bit of a logjam in Miami's frontcourt alongside Hassan Whiteside and Kelly Olynyk, so a trade involving Vucevic would be somewhat puzzling. 
In Orlando tough, Dragic would be the floor general of a young team that has promising big men in Bamba, Aaron Gordon and Jonathon Simmons. A veteran presence with the ability to score as well as scan the floor could be vital to their development.