Grand Central opened in 1913, but it didn't exist as the station we know and love today until Oct. 1, 1998 when a $200 million renovation brought in the first retail shops, food stands and restaurants. For the 20th anniversary of this transformation, many of them are rolling back prices to what they were in 1998.
The one-day throwback includes the recently renovated secret bar The Campbell, the iconic Grand Central Oyster Bar & Restaurant, newcomer Doughnut Plant and Li-Lac Chocolates, all selling various items priced as they were in 1998 — that works out to about a 35% discount on today's prices. Check out the full list of participating vendors at the bottom of this post.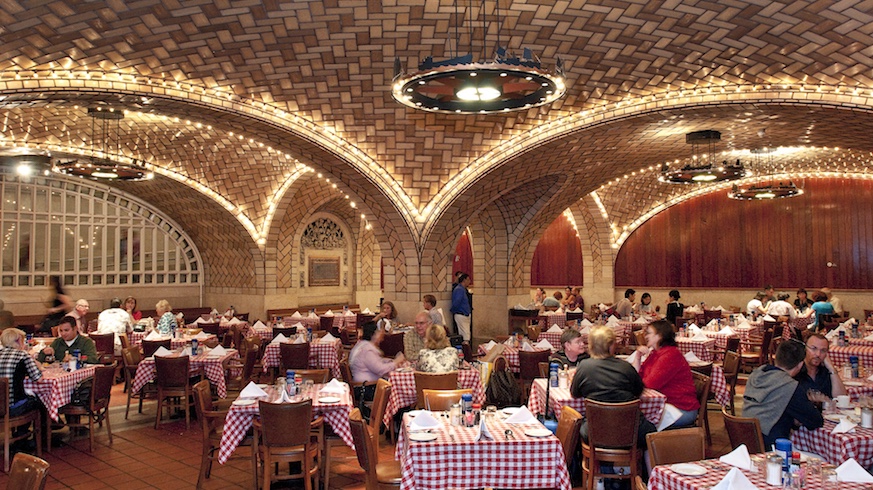 Morning commuters will also be treated to live '90s tunes from 7:30-9:30 a.m. Collectors, be on the lookout for special Grand Central-themed Rubik's Cubes, which will be given out at various locations around the terminal on Oct. 1.
Want even more cheap eats? Sept. 25 and 27 is Taste of the Dining Concourse, with free tastings from 2-3 p.m. at participating restaurants on the Lower Level Dining Concourse.
The throwback fun is ongoing all over the station. Through Oct. 15, check out Details & Light, an exhibit of historic photographs of the station at Cafe Grumpy (located in the Lexington Passage). And from Sept. 24-Oct. 5, visit Vanderbilt Hall for Saving Grand Central, which traces the station's history from its construction in 1903-13 to the Municipal Art Society's preservation campaign in 1978 and the 1998 restoration that turned the station into the dining and shopping hub it is today (not to mention adding air conditioning and heating!)
Here are the Grand Central vendors offering 1998 prices on Oct. 1
Art Bird & Whiskey Bar: Buttermilk Fried Chicken Sandwich, $6 (originally $11)
Café Grumpy: 12 oz. cup of brewed coffee, $1.75
The Campbell Bar: Cosmopolitan, Old Fashioned, Gin Martini or Margarita, $11.70
Central Cellars: discounts on various bottles
Central Market: BLT: $5+tax (originally $7.95)
Central Watch: Batteries for $9.95 (up to $25 value)
Ceriello Fine Foods: USDA Prime Dry Aged NY Strip Steaks: $18.99/lb (originally $28.99/lb)
Doughnut Plant: Apple Cinnamon and Banana Pecan yeast doughnuts: $2
Frankies Dogs On The Go: New Yorker (hot dog with caramelized onions and sauerkraut): $2.75+tax (originally $4.45)
Grand Central Oyster Bar & Restaurant: New York Cheesecake slice: $5.50
Hale and Hearty Soups: Small soup for 98¢ with any purchase
Leather Spa: Shoe shines: $3 (+tip)
Li-Lac Chocolates: Legendary Fudge: $2.44 per piece
Moleskine: New York City Notebook: $13.37 (originally $19.95)
Murray's Cheese: Brillat Savarin French Triple-Creme cheese: $18.99/lb (originally $26.99/lb)
Pescatore Seafood Co.: Canadian Salmon Fillet: $12.99/lb (originally $21.99/lb)
PIQ: Scented Macaron Zippered Coin Purses: $2.99 (originally $8.95)
Shiro of Japan: 30% off Chirashi Bowls, California Rolls and Crazy Rolls
Zaro's Family Bakery: Zaro's Chocolate Chip Cookie: $2.44 (originally $3.75)
How Grand Central was saved from demolition
This year is also the 40th anniversary of the U.S. Supreme Court decision that saved Grand Central from the same fate that brought down the original Penn Station. Back in 1978, the Penn Central Railroad owned the station and was looking to make the property more lucrative as railroad ridership declined by turning it into an office tower.
That plan was heavily opposed by a group of concerned citizens including first lady Jackie Kennedy Onassis. The city's Landmarks Preservation Commission also stepped in, but it took a Supreme Court ruling to keep the terminal.
Besides adding the new storefronts and climate control, the 1998 renovation by the Metropolitan Transportation Authority included cleaning the iconic constellation ceiling and all the marble in the station.