A new plaque in Greenwich Village honors Elizabeth Blackwell, the first woman in the United States to receive a medical degree and the founder of the New York Infirmary for Women and Children.
The Greenwich Village Society for Historic Preservation unveiled the plaque this week at 58 Bleecker St., the site of the "first hospital for, staffed and fun by women." Blackwell opened the infirmary almost exactly 161 years ago on May 12, 1857.
"We are proud to honor this pioneering woman and the groundbreaking work she did to help other women, children and the poor throughout New York City," said Andrew Berman, executive director of the Greenwich Village Society for Historic Preservation, in a statement.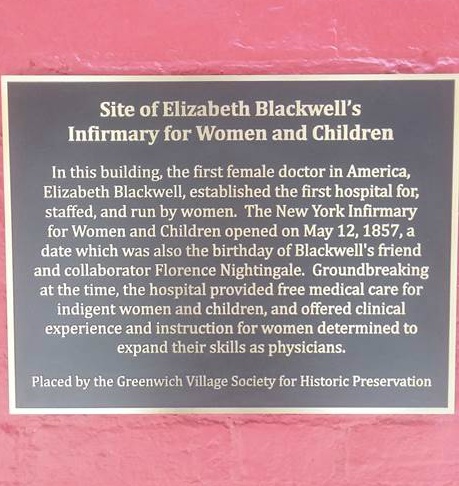 "Blackwell not only blazed trails and broke down barriers for women, but she established medical practices and protocols which are used to this day, and which have improved or saved the lives of countless people," he continued. "We all owe her a great debt of gratitude, and now whenever one passes the corner of Bleecker and Crosby streets, we will be reminded of her incredible legacy."
Blackwell was born in England and came to New York to attend Geneva Medical College, where she became the first female doctor in America. After practicing in Europe, she came to New York City in the 1850s and opened a clinic known as the New York Dispensary for Poor Women and Children. She then established the infirmary in 1857, which lasted more than a century.
At the plaque dedication ceremony on Monday, Blackwel's great-great-niece, as well as digital archivists, women's studies experts and practicing clinicians honored Blackwell. Dr. Judy Tung, chair of the department of medicine at New York-Presbyterian Lower Manhattan Hospital, said that Blackwell's infirmary eventually evolved into New York-Presbyterian, and cited Blackwell's achievements as the reason she is a doctor today.