If you're a Grey's fan, chances are you already know there's a Grey's Anatomy spinoff coming.
Yes, that's right, you're getting even more from Shonda Rhimes. This currently unnamed Grey's Anatomy spinoff will be second dreamed up by the master herself off of her wildly popular medical drama. Although Private Practice, which starred Kate Walsh's character Addison Shepherd, ended after a six season-run, the main series did just sign Ellen Pompeo for another couple seasons. That means the Grey's Anatomy spinoff will have some additional momentum from the main drama for at least a couple years.
The new Shondaland creation will center around firefighters, making the Grey's Anatomy spinoff at least somewhat medical in nature, so you can expect characters to be putting out more than one type of fire throughout the episodes. Read on to find out all we know so far about the Grey's Anatomy spinoff, which we'll update as more information becomes available:
Grey's Anatomy spinoff release date
If you haven't been tracking news about this Shonda Rhimes show since it started way back in 2005, but you're curious about the Grey's Anatomy spinoff, then we have some good news: the first episode isn't all that far away. For die-hard Grey's fans, it might feel like ages, but even in context of typical small screen seasons, the Grey's Anatomy spinoff is rapidly approaching.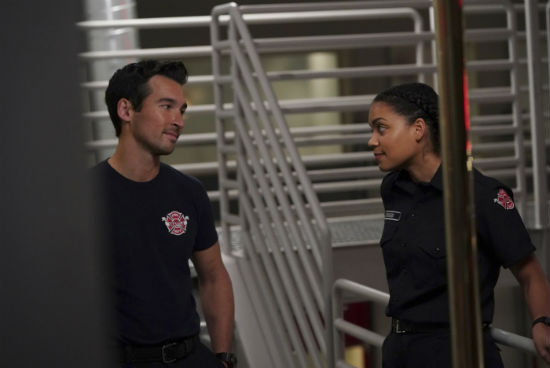 You'll be able to catch the first episode of the (still unnamed) Grey's Anatomy spinoff in March 2018. Thursday, March 22 is already slated as when the Grey's Anatomy spinoff premiere will air, although we don't suggest banking on this date until a little closer to launch. There is currently no title for the premiere episode.
Grey's Anatomy spinoff premise
Long-time fans of the medical drama already know the answers thanks to an episode that teased the switch over of Jason George's character, but the Grey's Anatomy spinoff centers around firefighters. The firefighters, also based in Seattle, see plenty of drama on and off the clock, and the series — in true Shonda Rhimes fashion — will follow all of it, from the new recruits on up through the ranks.
Grey's Anatomy spinoff cast
As you can imagine with its approaching release date, the Grey's Anatomy spinoff has already signed actors for at least some of the major characters of the new series. Jaina Lee Ortiz, who you might know from Fox's crime drama series Rosewood, is apparently tapped for the female lead role in the new Shondaland show. The show staff is staying tight-lipped about any other details.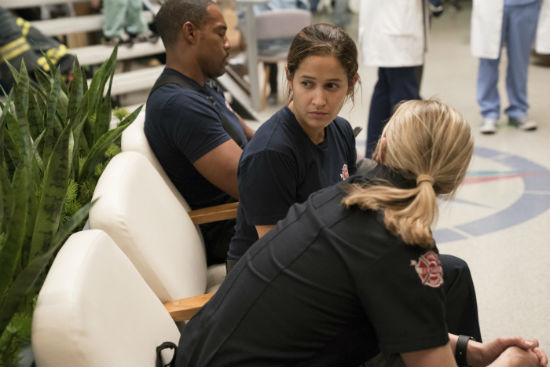 You can also expect to see Jason George, who you might have already known was leaving the main series for the Grey's Anatomy spinoff. George will play the same character, though, and Grey's already eased fans into this new role as they saw him go full-out firefighter in episodes of the main series. (Does this mean some Bailey crossover? We can only hope so!)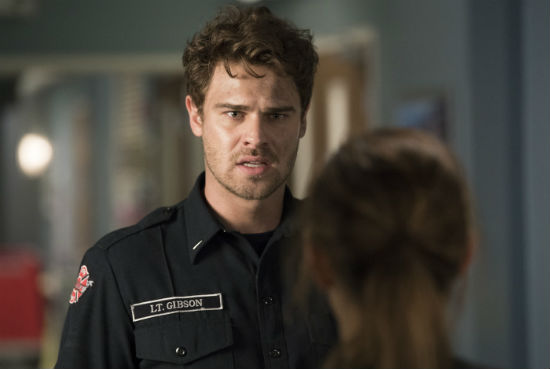 Then you can expect a full firehouse full of differing personalities, from Grey Damon's charismatic but impulsive Lt. Jack Gibson to Danielle Savre's Maya, a former Olympic athlete and female firefighter with a dark sense of humor. You'll see Miguel Sandoval as tough Capt. Pruitt, Okieriete Onaodowan as the ladies' man Dean, Jay Hayden as the fun and openly gay firefighter, Barrett Doss as the insecure Victoria who covers up her vulnerability with humor and pranks and Alberto Frezza, the reformed troublemaker-turned-cop Ryan.
Grey's Anatomy spinoff promo
Although you'll have to check back for an official Grey's Anatomy spinoff promo, which we'll post when it's made available, Jay Hayden did post a video to social media that has a glimpse of a couple of the actors on set for the first day of filming. Check it out below:
The Grey's Anatomy spinoff series is written by Shondaland alum Stacy McKee, who also serves as showrunner. Check back with Metro US as more information about the new drama, based in Seattle, is released.
Did we mention that Meredith Grey will make an appearance? That, too. Check out the sneak peek of the Grey's Anatomy spinoff below, which features your fave, Meredith, acting as a bridge between the two dramas.