Music, color, glitter and rainbows — if these sound like the ingredients for a good time and you're under the age of 10, then Dreamworks' Trolls The Experience is officially open for playtime.
The wildly popular 2016 film and current Netflix series have spun the Trolls you probably had on your childhood dresser into their own new universe for kids today. Trolls the Experience is an interactive gallery that not only transports you inside their world but gives you a very important job to do: help Poppy pull together a Best Day Ever Celebration.
"We have made it more than just a museum and more than just a place to take pictures and have those social media moments," says James Shea, show director and creative development for Feld Entertainment, which created the gallery. "We've turned it into a show that we are depositing you as a guest in the center of, and you're actually going to be embarking on a journey."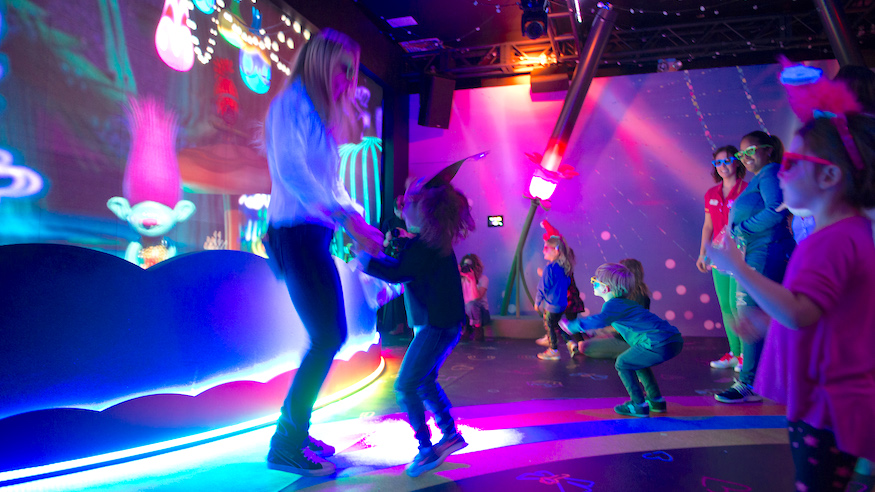 What's inside Trolls the Experience
To do that, of course, you first must to embrace your inner Troll, so the fun begins with a trip to the Hair We Go Salon. The standard makeover includes colorful hair clips and temporary tattoos, but a $50 upgrade gets you a full face of Troll makeup done by a professional makeup artist and a giant wig to match.
Then you step onto the rainbow path and the fun begins. There's Branch's Musical Mashup, where kids create their own custom beats, collecting floating gems in the Caterbus, a detour to Critter Creek and a trip to the Bergen Tree to see where the Trolls live. Along the way, guides called Poppy Party Pals bring the story to life (and help with taking photos, of course). 
After making sure everything is checked off the list — and collecting a handful of trinkets along the way to keep — you arrive at Poppy's party, where kids don Glitter Goggles to dance alongside their favorite Trolls with the help of holographic and 3D technology.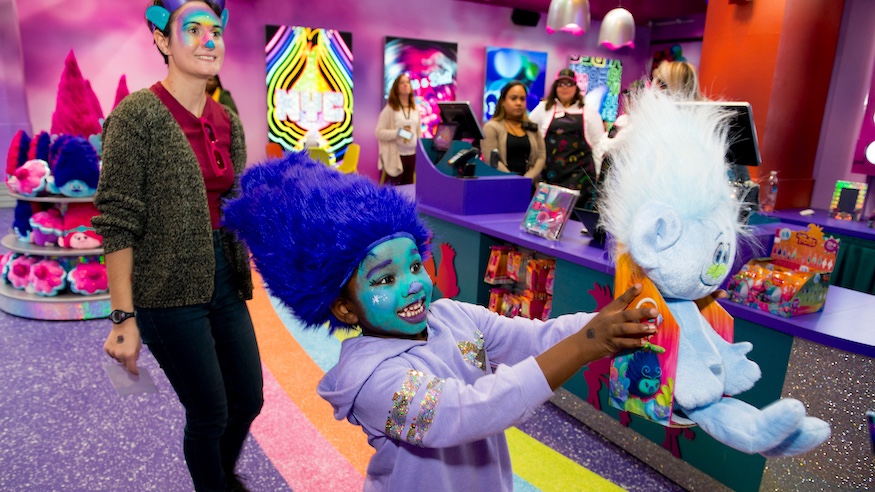 The 90-minute experience ends with a special treat: Trolls outpost of our own City Bakery, where you'll find exclusive (read: rainbow-colored) versions of some of their most popular treats including a pink edition of their popular hot chocolate. And the cafe actually open to anyone with a sweet tooth, even without a ticket to the rest of the gallery.
Feld Entertainment is better known for big spectacles like Disney On Ice and Marvel Universe Live! So while creating their first interactive gallery wasn't a totally new experience, they needed the time to fine-tune what they hope will be a bonding experience for parents and kids.
"Feld Entertainment has been doing live touring family entertainment for years now, and we want to bring that same feel and positive message that really encourages families to do something together," says Shea. "We don't want this to be a passive experience."
DreamWorks Trolls The Experience is open daily 9 a.m. to 8 p.m. now through May 12, 2019 at 218 W. 57th St. Tickets start at $40, trollstheexperience.com.