Plastic straws are so 2017. This year, it's all about metal straws — and for good reason.
Plastic straws are everywhere today, and they contribute to the over 8 million tons of plastic waste that get discarded every year — many into our lakes, streams and oceans. Plastic doesn't break down like other organic matter, turning them into a hazard for both the environment and wild animals. That's why more and more companies are ditching them for alternatives.
Metal straws are touted as a replacement for plastic ones because they can be washed and reused. There are dozens of metal straws for sale on Amazon, but if none of those tickle your fancy, we have something for you: Metal straws from Tiffany & Co.
You can get metal straws at Tiffany & Co?
That's right: The iconic jeweler Tiffany & Co. is now selling straws in its Games & Novelties category. The cheapest of the Tiffany metal straws is the Sterling Silver Crazy Straw that retails for $250 — with complimentary shipping, too.
"Tiffany artisans transform utilitarian items into handcrafted works of art. Designed in sterling silver with a Tiffany Blue enamel accent, this whimsical straw is a fun and festive addition to the home," reads the product description on the Tiffany's website.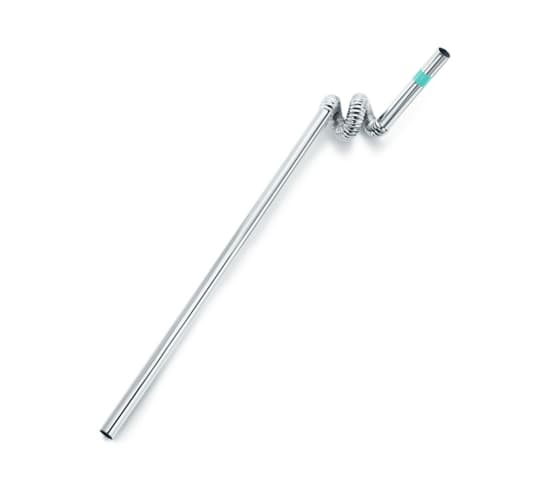 Metal straws are also available in rose gold vermeil ($350) and gold vermeil ($350). If crazy straws aren't your favorite, you can also opt for ones adorned with a monkey or ladybug ($425 each), both made with sterling silver.
Aren't these straws a little much?
It might seem like paying anywhere from $250 to $425 for metal straws is a little extra, but think about it: It's the ultimate status symbol that shows you not only care about the environment, but want to look good while doing it.
And if you have the money, why not? It'll surely last a lot longer than a cheap one shipped over from China — and it'll definitely last longer than paper straws.