Every good son or daughter should try to go out of their way a little bit to hang out with their mother on Mother's Day. After all, she has been your biggest cheerleader since you were barely coherent and lord knows you don't call home as much as you should. So what are the best ways to keep her happy on this special day? Might we suggest a group outing to one of the Mother's Day movies 2018?
A card simply won't cut it. (C'mon, guys, it's $5.) A dinner would be nice, but will the food ever be as good as what she could make back home? You need to find a special event that will show her that you care but will also get you in the clear for those quiet awkward silences that could give her an opportunity to unleash her worries about all the things you should be doing in your life. How about going to the movies? Well, here at Metro, we decided to provide you with the definitive list for Mother's Day Movies 2018 so you could sit quietly in the dark without having to hear about how you should go on a date with Debbie from next door. It's a nice thought, Mom. But let's make this day about you for a change.  
Mother's Day movies 2018

[Photo Credit: STX Films]
I Feel Pretty
Starring: Amy Schumer, Rory Scovel, Michelle Williams, Emily Ratajkowski 
Directed by: Abby Kohn, Mark Silverstein 
Written by: Abby Kohn, Mark Silverstein 
Length: 1 hr, 50 min
Rotten Tomatoes: 34%
Fans of Amy Schumer's commentary on her brilliant show on Comedy Central "Inside Amy Schumer" will be thrilled to see her new film "I Feel Pretty." The movie tackles the ridiculous beauty standards that women have to try to reach every day as Schumer's character slips and hits her head during a Soul Cycle session and comes to thinking she is absolutely gorgeous. There will be plenty of moments where your mom will cackle out loud proclaiming "Oh my gosh, she's bad!" and slapping your hand as it lays on your chair's armrest.  
Mother's Day Movies 2018: For the mother who is convinced that their special boy or girl could be on the cover of a magazine.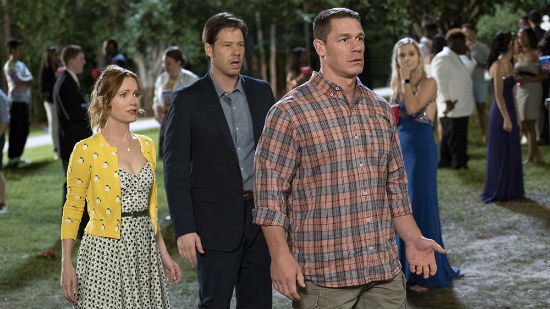 [Photo Credit: Universal Pictures]
Blockers
Starring: John Cena, Leslie Mann, Ike Barinholtz, Kathryn Newton, Geraldine Viswanathan   
Directed by: Kay Cannon 
Written by: Brian & Jim Kehoe
Length: 1 hr, 42 min
Rotten Tomatoes: 82%
This raunchy coming of age comedy will strike a chord with your dear old mother. After all, the journey that the parents in this movie go through is something she probably wishes she could have done while you were in high school: stopping their children from losing their virginity after prom. You will catch yourself looking over at your mother lasered in on the screen as she is whispering things like "yeah, go get them" and "lousy disrespectful kids". Just make sure you are the one holding the popcorn before her white-knuckle intensity sends those buttery kernels hurdling towards the floor. 
Mother's Day Movies 2018: For the mother who just wants her kids to "wait until college".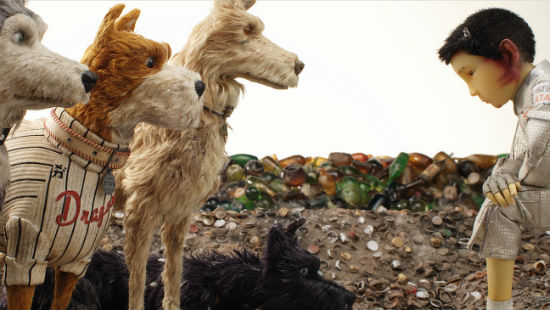 [Photo Credit: Fox Searchlight Pictures]
Isle of Dogs
Starring: Bryan Cranston, Bill Murray, Jeff Goldblum, Edward Norton, Koyu Rankin, Greta Gerwig 
Directed by: Wes Anderson 
Written by: Wes Anderson, Roman Coppola, Jason Schwartzman, Kunichi Nomura 
Length: 1 hr, 41 min  
Rotten Tomatoes: 90%
Wes Anderson always knows how to mine the cutest and quirkiest laughs from his films. The kinds that make you let out more of a pursed-lipped pop and gasp rather than uproarious gut-busting laughs. Like finding out a typo someone wrote leads to a double entendre. With his animated features, he dials up the "twee" factor to the tenth degree and this year's "Isle of Dogs" is no exception. Your mom will be overcome with the cuteness up on the screen and want to race home to hug your family labrador as soon as the credits roll. 
Mother's Day Movies 2018: For the mom who "just wants to watch something nice for a change".  
 

[Photo Credit: Paramount Pictures]
A Quiet Place
Starring: John Krasinski, Emily Blunt, Millicent Simmonds, Noah Jupe 
Directed by: John Krasinski 
Written by: Bryan Woods, Scott Beck, John Krasinski 
Length: 1 hr, 30 min 
Rotten Tomatoes: 95%
This might be a stretch, as "A Quiet Place" is certainly one of the scariest movies to hit theaters in recent memory, but, hear me out! The whole movie kind of highlights the importance of a tight family unit as the John Krasinski and Emily Blunt's characters teach their children how to survive in a world where mysterious monsters hunt down anything that makes even the smallest noise. Think about it. They are teaching their children to become respectful and responsible young adults. And plus, Emily Blunt's birthing scene is a great example of the strength of motherhood. What's a mother not to love about that? 
Mother's Day Movies 2018: For the mom who believes that good parenting will go a long way. Example: not being devoured by monsters. 
Avengers: Infinity War
Mother's Day Movies 2018: I dunno … maybe your mom will be into seeing the Avengers save the galaxy against the evil super-villain Thanos?