Though November seems far away, the debate over which Masschusetts ballot questions voters will see then has stretched on. It seemed as if voters would have a long list of topics to weigh in on, but the state has officially narrowed it down: Secretary of State William Galvin assigned this week the official Massachusetts ballot questions and their assigned numbers, which voters will decide on Nov. 6, 2018.
Voters across the state will weigh in on three Massachusetts ballot questions this November. Here's what they are:
Massachusetts ballot question 1: Patient-to-Nurse Limits
Voting "yes" on Question 1 on the November ballot would limit the number of patients that could be assigned to each registered nurse in Massachusetts hospitals and other health care facilities. 
The exact ratio of patients to nurses would depend on the facility and unit, and hospitals would face fines for violating those ratios.
This question is expected to pit the state's health care industry against the Massachusetts Nurses Association. More than 75 percent of Massachusetts nurses believe that registered nurses (RNs) are assigned too many patients to effectively care for at one time, according to the association, and 90 percent of RNs say they don't have enough time to "properly comfort and care for patients and families due to unsafe patient assignments."
"This has been a long time coming, and nurses have been advocating for a YES for patient safety for decades," said Donna Kelly-Williams, RN at the Cambridge Hospital Birth Center and president of the Massachusetts Nurses Association, in a statement after the announcement that the question would appear on the ballot. "As an active bedside nurse, I see it every day on the hospital floor and I hear it every day from my colleagues across the state. It's time for hospital executives to put patient care over profits."
Back in April, though, the Massachusetts Health & Hospital Association, voiced concerns about required ratios, saying it would cost hospitals almost $1 billion a year in hiring nurses.
Massachusetts ballot question 2: Commission on Limiting Election Spending and Corporate Rights
If Question 2 is passed by voters, it would create a commission that looks into the effects of political spending across the state and which would recommend changes to that practice.
The commission, if created, would recommend amendments to the Constitution "to establish that corporations do not have the same Constitutional rights as human beings and that campaign contributions and expenditures may be regulated," according to Galvin's office.
This effort is backed by the American Promise initiative, which is leading campaigns across the country to appear on multiple state ballots. The initiative aims to add a 28th amendment to the Constitution essentially overturning the 2010 U.S. Supreme Court decision in Citizens United v. the Federal Election Commission.
Massachusetts ballot question 3: Transgender Anti-Discrimination
Question 3 asks whether the Massachusetts's Transgender Anti-Discrimination Law should still be in place. The law, which was passed in 2016, provides protections to the transgender community by banning discrimination on the basis of gender identity in places of "public accommodation," like bathrooms, restaurants and parks.
A "yes" vote on the referendum would keep the current law in place and a "no" vote would repeal it.
The effort to repeal the law is backed by groups like Keep MA Safe and the Massachusetts Family Institute, which claim the law is dangerous to children and raises privacy and safety concerns.
Freedom for All Massachusetts, a coalition working to uphold the nondiscrimination law, says this ballot question will put "the eyes of the nation" on Massachusetts.
"For two years our transgender friends, coworkers, and neighbors in Massachusetts have been protected from harassment and discrimination because of this law," said Matt Wilder, Freedom for All Massachusetts spokesperson, in a statement. "Despite our opponents' best attempts to scare voters, the facts are on our side. There has been no uptick in public safety incidents as a result of this law, and in fact, this law has made our communities safer. Equipped with the facts, we know Massachusetts voters will choose dignity and fairness on election day and vote 'Yes' to uphold this critical law."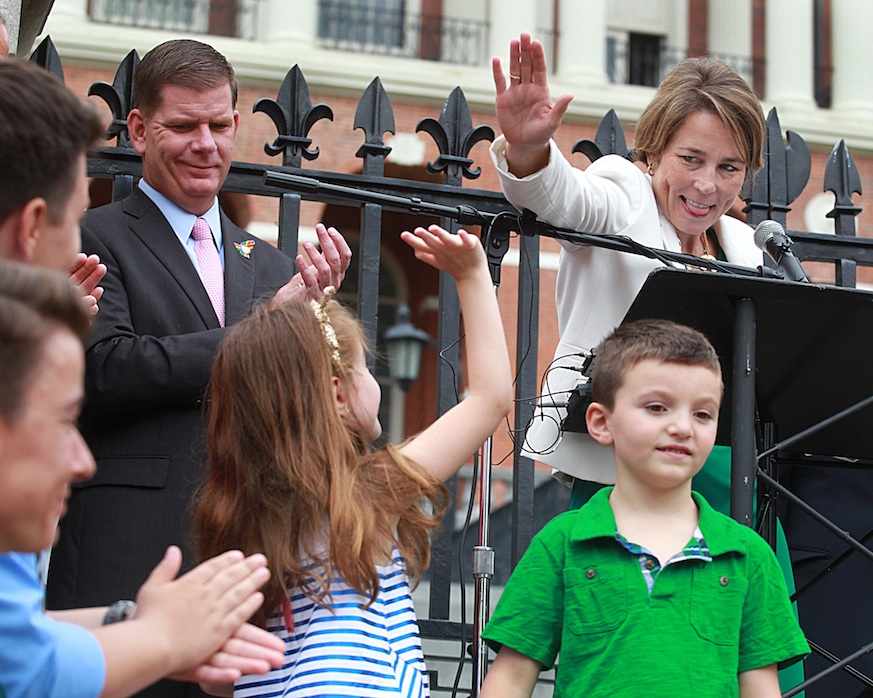 Attorney General Maura Healey gives a high five to Ella Lemay, whose brother, Jacob (right) is transgender, on the steps of the Massachusetts State House, July 11, 2016 as politicians, including Mayor Martin Walsh, left, and advocates, transgender people and their families celebrated the transgender protection law on the steps of the Massachusetts State House. Photo: Getty Images