What's better on a hot summer day than ice cream? How about free ice cream — specifically, from Toscanini's Ice Cream, which boasts on its storefront that it's been declared the "world's best ice cream" by the New York Times.
Bostonians and Cantabrigians and other ice cream lovers around the Greater Boston area have long known Toscanini's Ice Cream as a go-to spot to satisfy their sweet tooth any time of the year — but free ice cream tastes even better, right? Now located at 159 First St. in Cambridge near the Massachusetts Institute of Technology, Toscanini's has been serving up seriously delicious ice cream, coffee and tea since September 1981.
Along with a Best of Boston win, the New York Times has praised Toscanini's Ice Cream in multiple articles over recent years, even recommending it on two different "36 Hours In Cambridge, Mass." articles, so you know it's a must-visit shop. Bon Appetit also gave Toscanini's a shout-out in a list of the site's 11 favorite artisanal ice cream brands and flavors.
Out of 168 flavors, BA staff put Toscanini's Banana Pudding ice cream in the number three spot. The Cambridge shop is also well known for quirky flavors like B3 (brown butter, brown sugar and chunks of fudge brownie), bourbon gingersnap and saffron and cardamom kulfi.
How to get free ice cream at Toscanini's
July is National Ice Cream Month, and to celebrate, Toscanini's Ice Cream is teaming up with JetBlue Card to offer free ice cream for a limited time.
JetBlue cardholders in the Boston area can get a scoop of free ice cream when they stop by Toscanini's Ice Cream in Kendall Square from July 26 to July 31.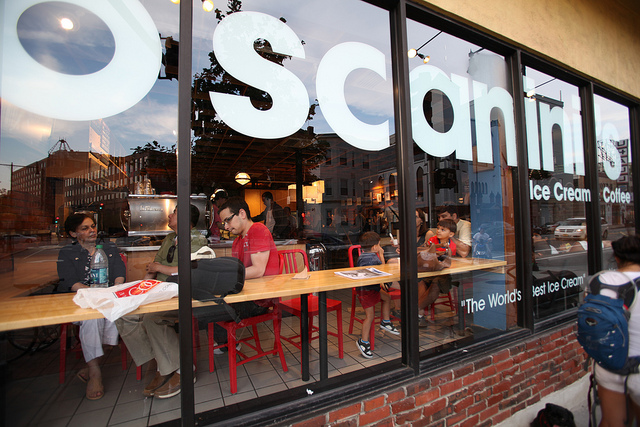 Toscanini's Ice Cream storefront boasts that the New York Times once called it the "world's best ice cream." Photo: Mad Ball/Flickr Creative Commons
If you remember Toscanini's Ice Cream being in Central Square, not Kendall Square, here's why: The shop's Central Square location, which was at 899 Main Street, temporarily closed back in January due to construction, but the company couldn't take away its treats from Cantabrigians completely, so the 159 First St. location was up and running right after.
Toscanini's Ice Cream in Kendall Square is open every day from 11 a.m. to 11 p.m., always offering 32 flavors, so head there during the last weekend of July to get your free scoop. Those flavors change daily, but Toscanini's Ice Cream signature flavors like B3 and burnt caramel are always available. 
And if you're not a JetBlue cardholder, you can still get free ice cream if you come with a friend who has such a card. A JetBlue cardholder and one guest can each get one small ice cream (retail value of $4.50 before tax per small cup) and can get up to two flavors in that cup. Plus, you can redeem this free ice cream once per day during the promotion period from July 26 to July 31. If you don't eat dairy, sorbets will be available as well, a spokesperson said, and sprinkles are also free.