When it comes to fashion, it can seem as if the body is meant to fit the design.
Nowhere is that more obvious than the corset, the French undergarment invented in the 1500s made to cinch the waist to as small as 18 inches and give the bustline a boost.
But the reason why ladies wore corsets isn't so much about class, or even creating a distinctive look, explains Emma McClendon, curator of a new exhibit called The Body: Fashion and Physique at the Fashion Institute of Technology's free museum.
"There's an inherent difference in how we view the woman's body compared to today," she says. "It's a very 19th century idea that the woman's body is so weak that she needs support around it at all times."
Knowing this makes the two most disturbing garments among the 60 on display slightly less horrifying: a corset to be worn during pregnancy, and a child's corset.
"These look very freakish to us, to put it bluntly, but what we have to understand is neither of these corsets is about looking thinner or nipping in your waist," explains McClendon. They also do not contain the usual boning.
"It's really about the belief that the female body is inherently weak and in order to have good posture needs to have a support."
(This, of course, ignores the fact that conceiving, growing and delivering a baby is by far the most physically demanding thing you can ask the body of either gender to do. Women's work, am I right ladies?)
Corset myths are just one of the topics tackled in the exhibit, open now through May 5, 2018. It spans 250 years of how women's (and to a lesser extent, men's) bodies have been contorted, enlarged and shrunk in the name of fashion by clothing.
The pieces span haute couture by Roberto Cavalli to Lane Bryant's fashionable basics, even a dress from heroin chic model Twiggy's own clothing line, as well as dozens of illustrations and videos.
Garments more than a century apart are often placed facing each other to wink at clashing or repeating styles.
There's the barely-there black lace dress by LaQuan Smith, a version of which was worn by Kim Kardashian while pregnant, facing the maternity robe women in the 1800s would wear while confined to their home once their bodies were deemed "too grotesque" to be in public.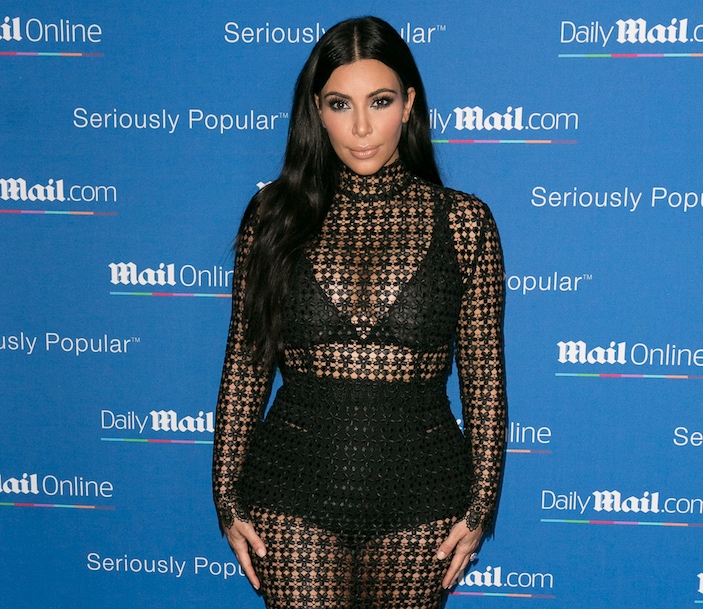 Kim Kardashian in Laquan Smith, June 2015. Credit: Getty Images
Fashion plates of men and women whose heads are drawn wider than their waists juxtapose with a video of an advertisement by Global Democracy in 2011 exposing how much Photoshopping is done to models' bodies and calling for magazines to disclose when an image is digitally altered.
The exhibit does end on a hopeful note: The final two pieces were created for a breast cancer survivor and a wheelchair-bound woman, two bodies that designers are just learning how to dress.
Of course, there are still many conventional bodies waiting to be clothed. It was just in 2016 that actress Leslie Jones couldn't get a designer to make her a dress for the Ghostbusters premiere (though that may or may not have been a timing issue). After complaining on Twitter, Christian Siriano stepped up to create a stunning red gown for her, which is featured in the exhibit.
As Siriano told Refinery29, "We should just try to make every woman feel great about themselves, because there's enough crazy hate going on in the world."  
The Body: Fashion and Physique is a free exhibit open now through May 5, 2018 at the Museum at FIT, 227 W. 27th St.