Interactive dining is the big trend in restaurants, and it doesn't get much more hand-on than Zauo NYC, the first U.S. outpost of the famous Japanese chain where diners catch their own fish.
Zauo NYC, opening Oct. 15 at 152 W. 24th St. in Chelsea, is a celebration of the ocean's bounty and a chance to get close to it in a way not many city dwellers get to. Along with wave motifs on the walls, lobster net chandeliers and porthole windows, the restaurant has three pools spread across two floors where diners use a fishing pole or net to grab what will turn up on their plates.
We got to visit Zauo NYC on a preview night last week — here's what to expect.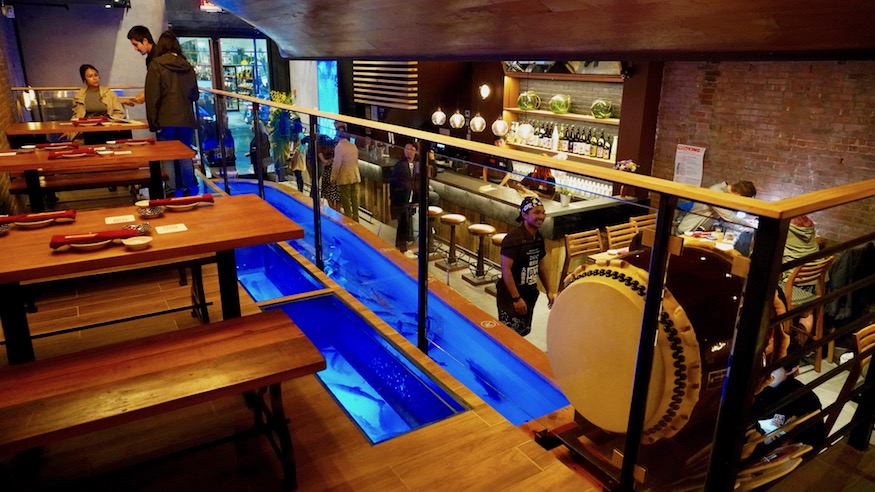 What it's like to eat at Zauo NYC
The first thing you see when entering Zauo NYC is the main fish pool and the giant ship suspended overhead, a signature piece of every Zauo location.
With your menu comes an extensive instructional folder of the fishing process, with notes on each species and the four styles of preparation: grilled, sashimi, simmered in soy sauce and tempura, with prices ranging from $38 to $125. You can choose up to two preparations per fish, and one fish is more than enough for one person. Its carcass can also be turned into miso soup on request.
Anglers must sign a waiver for possible injury or property damage, then receive a "fishing license" which doubles as a loyalty card — you get a surprise gift on your fifth visit.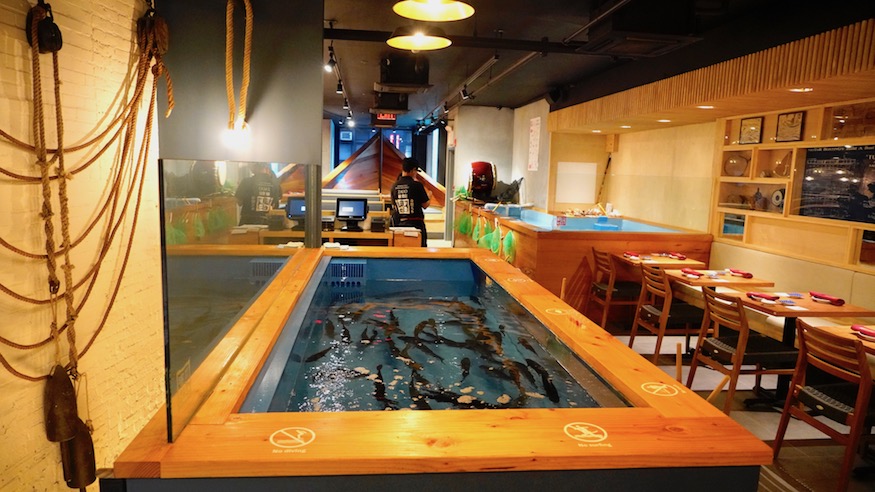 Note that you won't go hungry if you don't want to fish. Zauo NYC has plenty of appetizers, sushi (including tuna and salmon), soups, noodle and rice dishes, though the menu is almost entirely seafood-focused.
Guests who do want fresh fish are encouraged to catch it themselves — your meal is anywhere from $6 to $15 more expensive if you don't catch it yourself.  
The restaurant is still awaiting approval for a liquor license; until then, there's plenty of sake, wine and beer.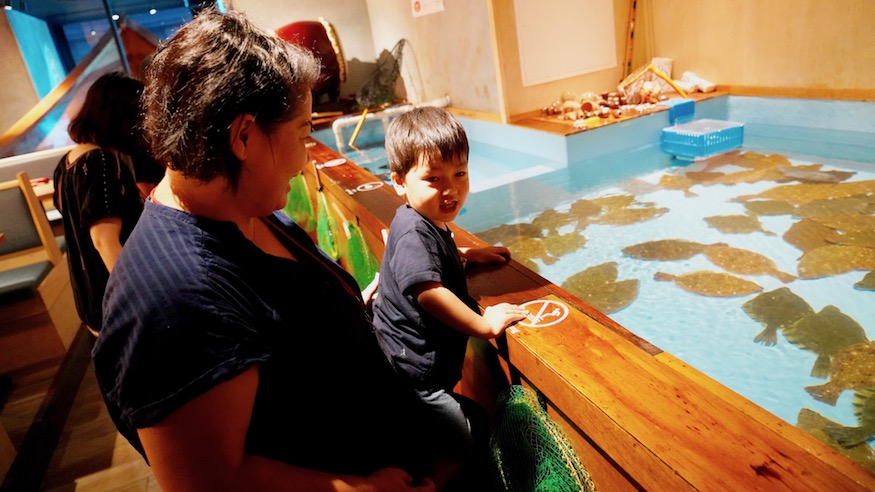 How the fishing works at Zauo NYC
Licensed guests are escorted to their chosen tank. Our options were rainbow trout, salmon trout, striped bass, fluke, flounder, rock fish, lobster, abalone and botan-ebi (Japanese prawns).
Anglers are given a child-size fishing pole which is baited for them by a Fish Attendant and dangled, not cast, in the pool. Theoretically, you choose the fish you want to eat. In reality, as with real fishermen, you have to eat what's biting — there's no catch and release. On my outing, I had to jerk my bait away from several zealous rainbow trout while the striped bass kept passing it by. Eventually, I deputized an attendant to use his net to snag one.
When the catch happens, the staff send up a restaurant-wide cheer and bang a taiko drum; you can also get a photo taken with your fish. After this came the only uncomfortable part of my evening: Discussing the preparation options with the attendant as my fish flopped around in a crate by my feet. I nodded distractedly at his suggestions and scurried away. Death is part of any meal involving an animal, of course, but it shouldn't be a slow one.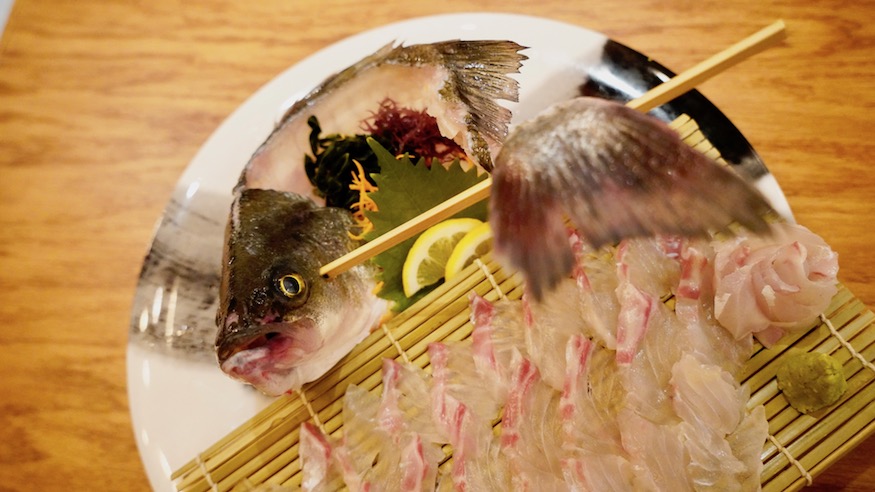 Why we love the idea behind Zauo NYC
Most of us happily trade the difficulties of farm life for the concrete jungle, but this also severs the connection between us and our food. The owners of Zauo NYC believe in changing that by putting you face-to-face with your meal.
Besides the interactive factor, there's a virtuous side to dining at Zauo. Buying fish in many restaurants — with the rare exception like Mayanoki, the East Village's acclaimed sustainable sushi counter — could mean you're eating species that are endangered, mislabeled, caught on boats that use slave labor, or dredged up with nets that destroy habitats and kill many other creatures called bycatch.
For now, Zauo's fish come from farms on the East Coast and California, though the owners are working on the logistics of shipping live fish from Japanese farms. This means some of the Japanese preparations don't entirely suit the American fish — striped bass is a bit too firm and mild for sashimi — but my meal arrived beautifully presented, and both sashimi and simmered preparations were delicious.
Zauo NYC is located at 152 W. 24th St. in Chelsea. Its hours are Mon-Sat from 5-11 p.m.