Kate McClure and Mark D'Amico raised money for Johnny Bobbitt in 2017 after he gave McClure, stranded in Philly, his last $20 to get home. Bobbitt, who served in the military, was without a home himself. But, he never received the $400,000-worth of donations raised for him through the homeless veteran GoFundMe entitled "Paying It Forward." 
Now, he'll get the money he claims the New Jersey couple stole from him. 
GoFundMe and the law firm representing Bobbitt, Cozen O'Connor, announced in a joint statement Thursday, "Johnny will be made whole, and we're committing that he'll get the balance of the funds that he has not yet received or benefited from."
"GoFundMe's goal has always been to ensure Johnny gets [the] support he deserves," the statement continued.
Why was the homeless veteran GoFundMe started in the first place?
Paying It Forward, created on November 10, 2017, amassed donations from over 14,000 people in 10 months' time. McClure originally wrote: "Driving into Philly one night, I made the mistake of thinking that I would be able to make it all the way down I- 95 with my gas light on. Needless to say, I was wrong." That's when she met Bobbitt, a 35-year-old North Carolina native who gave her a 20-dollar bill.
"Johnny sits on the side of the road every day, holding a sign," she wrote. "He saw me pull over and knew something was wrong. He told me to get back in the car and lock the doors. A few minutes later, he comes back with a red gas can. Using his last 20 dollars to make sure I could get home safe."
McClure, 28, and D'Amico, 39, claimed that the money collected in this homeless veteran GoFundMe account would be used for a new home, Bobbitt's "dream truck" (a 1999 Ford Ranger) and everyday costs.
To secure his financial future, they also said they'd set up two trusts in Bobbitt's name with money that "will be wisely invested by a financial planner which he will have access to in a time frame he feels comfortable."
Updates on the Paying It Forward page show pictures of McClure, D'Amico and Bobbitt smiling together, seeming to build a close relationship. Here they are during Christmas: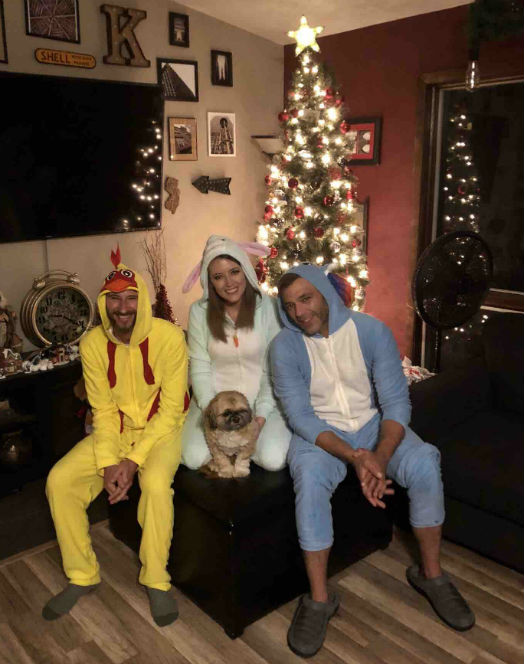 Things, though, turned sour.
Bobbitt accused the couple of misusing the money — spending it on vacations, a new BMW and gambling — and filed a lawsuit against them.
"I think it might have been good intentions in the beginning, but with that amount of money, I think it became greed," he said last month.
Lawyers for Bobbitt and the couple have disagreed on how much GoFundMe money the veteran has received. Bobbitt's legal team claims he only got about $75,000, according to The Philly Inquirer. Chris Fallon, Bobbitt's attorney, told CNN that $300,000 is still owed. 
Ernest E. Badway, McClure and D'Amico's attorney, said Bobbitt got $200,000 in total and claims that money is now gone.
Bobbitt is a recovering drug addict, and four months ago, he wrote on the GoFundMe page that he'd been sober for 30 days. However, according to FOX News, Bobbitt admitted to spending some of the money given to him on drugs and ended up on the street again — and the couple said they would withhold money from him until he proves he's drug-free.
D'Amico reportedly controls the money and told NBC, "Every dollar [Bobbitt's] ever touched was used for drugs."
Homeless veteran GoFundMe: Where did the money go?
What happened to the money in the homeless veteran GoFundMe is unknown.
The donations meant for Bobbitt's trusts were, instead, put into the couple's savings account, D'Amico told The Inquirer. And Bobbitt never got that 1999 Ford Ranger. 
The couple claim they put a used SUV and camper, which Bobbitt temporarily lived in on their land, under their names so that Bobbitt "couldn't sell them," according to The Inquirer. These have since reportedly been sold.
Police opened a criminal investigation and, on Thursday, raided the couple's Bordentown, New Jersey home, towing away their BMW and taking several bags of evidence.
According to the Burlington County Prosecutor's Office, which has been posting updates on its Facebook page, no charges have been filed at this time.
Bobbitt, along with McClure and D'Amico, has been ordered to appear in court on Monday.