Hot felon Jeremy Meeks — who is most famous for being attractive and also a criminal — has gotten someone pregnant. Not very shocking!
Multiple sources have confirmed to Us Weekly that the felon turned runway model and his girlfriend, Topshop heiress Chloe Green, are expecting. The couple were first spotted together in June 2017 when, no big deal, Meeks was still married to his estranged wife Melissa. What a catch!
From there, the 34-year-old and Green, 27, proved their love to paparazzi with constant PDA and public love confessions. Meeks admitted to a paparazzo that July that he and Green were "so much in love!"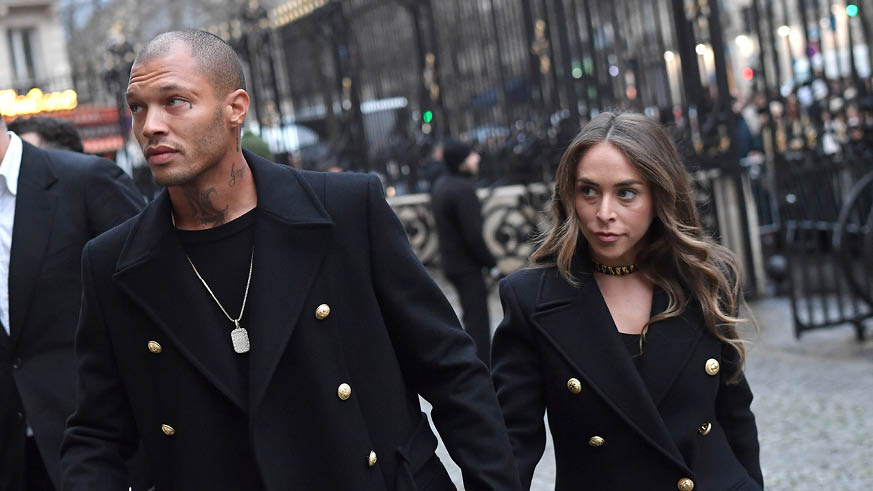 Jeremy Meeks and his gal pal, Topshop heiress Chloe Green. Getty
The two also share tons of photos of each other on Instagram, because as we all know, love isn't real unless you blather about it on social media constantly. Talk about doing the most!
This will be Green's first child. Meeks shares a biological son and two stepchildren with his ex-wife Melissa (with whom he finalized his divorce in October).
For those fortunately uninitiated, Meeks' mugshot went viral in 2014 after he was arrested for possessing an illegal firearm. After the police department in Stockton, California posted his mugshot to Facebook, his oh-so-chiseled cheekbones and pale blue eyes sparked more than 14,800 comments. Nobody seemed to mind that he was like, a violent criminal and former gang member, but whatever!
Congratulations on your future hot baby, y'all. May he or she not grow up to be a violent felon.