The Thailand cave rescue mission was in full force Monday, with eight of the 12 boys being successfully freed from a cave that had trapped them since June 23. But how did the Thailand soccer team get rescued from the cave?
Rescue workers in Thailand started rescue efforts on Sunday, successfully freeing four boys. The Thailand cave rescue mission saw more success early Monday, with four more boys emerging from the flooded cave, where the soccer team and their coach had been trapped for more than two weeks, bringing the total number rescued to eight. Now, the remaining four boys and their coach are still in need of help, but the Thailand cave rescue is a dangerous one, as flood waters threaten their lives and the lives of the daring rescue divers trying to get them to safety.
"As of now, eight people have left the cave," an official involved in the Thailand cave rescue operation told Reuters Monday. The official declined to be identified as he is not authorized to speak to the media.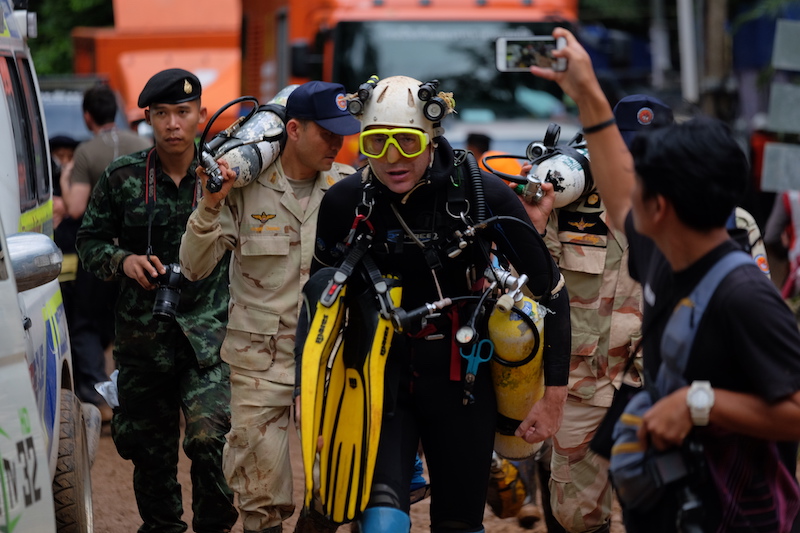 So how did divers pull off the Thailand cave rescue?
The "Wild Boars" soccer team and their coach have been clinging to survival for two weeks. They got trapped on June 23 when they set out to explore the vast cave complex after soccer practice, when a rainy season downpour suddenly flooded the cave's dark tunnels.
On June 2, British divers found the 13, huddled on a muddy bank in a partly flooded chamber several miles inside the cave. The boys were finally guided to safety thanks to 13 foreign divers and five members of Thailand's elite Navy SEAL unit. The boys had to travel through pitch darkness, thick mud and jagged rocks to make their escape, but perhaps the most dangerous leg of their rescue was diving through narrow passageways that were churning with cold water and strong currents. In total, it took rescuers 11 hours round trip to take out each batch of four boys, the South China Morning Post reported.
"It's dangerous to the most experienced divers to go through," one Thai diver told the SCMP. "It's pretty scary."
The dangerous bid to rescue the boys – aged between 11 and 16 – got going again hours earlier on Monday after a break to replenish oxygen supplies and make other preparations deep inside the cave complex. The rescued boys were taken by ambulance to waiting helicopters which flew them to Chiangrai Prachanukroh Hospital.
Authorities have said the entire rescue mission could take three or four days to complete. It is a race against the clock with heavy rain expected in coming days, which would again dangerously flood the tunnels with fast flowing, and rising, water.
The world has been anxiously watching in hopes that the Thailand cave rescue mission would come to a happy ending, with social media users following the story using the hashtags #ThaiCaveRescue and #Thamluangrescue.
Reuters contributed to this report. Stay with Metro as this story develops.