The Conners is set to make its debut on ABC — sans Roseanne Barr — in mid-October. The show will detail life without the matriarch of the family, but not much has been revealed about exactly how they'll write Barr off the show. That hasn't stopped her from telling all — or, at least, her belief on they'll explain her absence.
So, how does Roseanne die on The Conners?
How does Roseanne die on The Conners?
According to the official synopsis of the show, The Conners will "face the daily struggles in life in Lanford in a way they never have before" after "a sudden turn of events."
"This iconic family—Dan, Jackie, Darlene, Becky and D.J.—grapples with parenthood, dating, an unexpected pregnancy, financial pressures, aging and in-laws in working-class America. Through it all, the fights, the coupon cutting, the hand-me-downs, the breakdowns—with love, humor and perseverance, the family prevails."
Actor John Goodman revealed to the Times UK that his character, Dan Conner, will likely be "mopey" on the new show "because his wife is dead."
Barr recently revealed that they'll explain viewers' questions of "how does Roseanne die?" by killing her with an opioid overdose.
"Oh ya, they killed her," Barr told Brandon Straka on his YouTube show, Walk Away. "They have her die of an opioid overdose."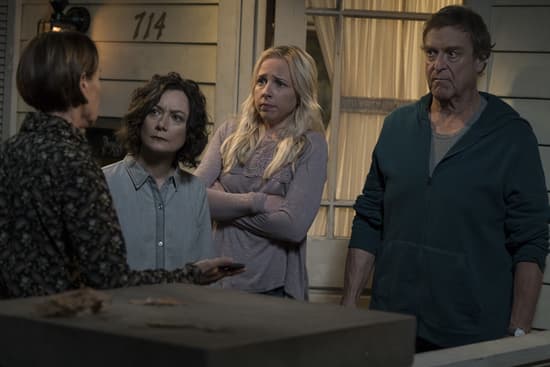 Roseanne was shown taking pills for a knee injury during the show's revival earlier this year.
Barr also said that she thinks the way Roseanne will be written off the show is an insult to fans "who loved that family in that show."
However, Barr has accepted that she now has no control over the show anymore because she was fired for tweets about Obama adviser Valerie Jarrett.
"There's nothing I can do about it," she said. "It's done. It's over."
So, how does Roseanne die on The Conners? Barr said she knows, but we won't know for sure until the show returns to ABC.