Well, the holidays are just around the corner and as a good friend of my father's once told me at a young age around this time of year, this gifting season will soon have us by the throats. I'm sure you have all planned ahead better this time around at making your gift lists for your loved ones. But have you accounted for how much cash you will have to dole out to scratch each name off before it's time to hand them over? Luckily, Amazon is helping out this year by extending their Amazon free shipping service, normally reserved for Prime customers, to everyone from right now until the end of the holiday season.
Enjoy Amazon free shipping this holiday season!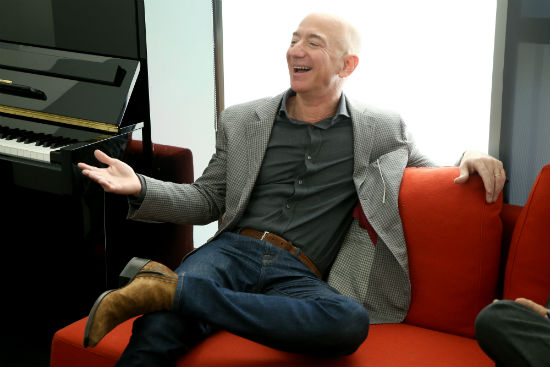 "Let's give them Amazon free shipping! Why not?" J. Bezos. Photo: Getty Images 
"This holiday, customers can enjoy free shipping with no minimum purchase amount on orders that will arrive in time for Christmas, including items from Amazon's expertly curated Gift Guides across electronics, fashion, home, and toys," said Doug Herrington, Senior Vice President of North American Retail at Amazon in a press release. "With hundreds of millions of items available for free shipping to all Amazon customers and more than three million items available with Prime FREE Same-Day Delivery, customers can enjoy the largest selection of items that are fast and free."
With this promotion, customers will be able to enjoy the benefits of Prime members such as same day and two-day Amazon free shipping options on millions of items. This will come in handy if you look at your calendar in the morning to find you only have a couple of days to have that special something shipped to your door.  
Another amazing aspect of this promotion is that customers will also be able to take advantage of Amazon's one-hour grocery delivery and pick up service through Whole Foods. Because you already have enough on your plate with finding the perfect gifts this holiday season to worry about stocking your fridge.
The holidays can be tough. But with Amazon free shipping, who says it has to play out like the movie Jingle All The Way? And if you've never seen that movie, you can get free two-day shipping on a DVD that Arnold classic right now!