Jason Aldean is going to be a dad again! The country singer announced that he's expecting his second child with second wife Brittany Kerr.
"Sup everybody……. guess who is gonna be a BIG brother!" Aldean wrote on an Instagram post. Kerr added the same photo, but captioned it "Here we go again!"
The photo only shows the couple's infant son, but how many kids does Jason Aldean have?
How many kids does Jason Aldean have?
Aldean and Kerr opened up about their struggles to get pregnant in a 2017 interview.
"The IVF was probably harder than the actual pregnancy, for me, because it was just such a roller coaster and so difficult," Kerr told People of her battle with in-vitro fertilization and endometriosis. "It's such high highs and such low lows, and no one really knows that you're going through it all so you have to just put on a game face and pretend that you're not giving yourself shots in your stomach every day, all day."
The struggle was worth it: Aldean and Kerr welcomed their son, Memphis Aldean, in December.
Aldean is no stranger to the delivery room: He has two additional children,  Kendyl, 11, and Keeley, 15, in addition to Memphis and their upcoming child.
The path to becoming a big, happy family hasn't been easy. Aldean was photographed kissing Kerr while still married to first wife Jessica Ussery. He later divorced Ussery and dated — then married — Kerr. According to Us Weekly, Aldean's older daughters viewed their stepmom as "the other woman."
"Jason is working Brittany into Kendyl and Keeley's lives, yet they see her as the other woman," a source told the magazine in 2014. "It's hard. They're important to him."
Ussery also weighed in on the relationship via a 2014 comment on an Aldean fan Instagram account.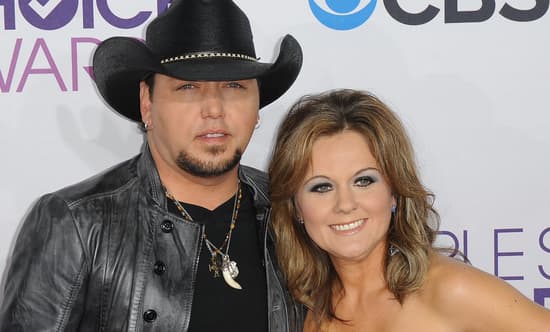 "Had to comment….just sittin back watching God work……They have created there (sic) own mess …..lol….funny …..everyone does have an opinion….people still have morals too, but We know the truth….my kids do…..most importantly God does … this was too funny….happiness isn't made from lies and destruction of innocent people……IDC…I know the whole truth! 20 yrs worth!!" she wrote, according to Nashville Gab.
So really, how many kids does Jason Aldean have?
It seems like everything has settled down and Aldean and Kerr are happy — and busy. The answer to the questions "how many kids does Jason Aldean have?" is four: Two from his first marriage, one son from his second marriage and another to be born either later in 2018 or in early 2019.
And it seems like baby number four was planned, too.
"The sooner the better," Kerr told People in 2017 when asked if they'd have another child. "You're already doing the diaper thing, you're already doing everything. Why don't we just knock it out instead of getting out of that time frame, and then having to start all over again?"