It's official! Cardi B just announced via Instagram that she gave birth to a daughter, Kulture Kiari Cephus, on July 10. Baby Kulture is Cardi B's first daughter, but nowhere near the first child for her husband, Migos' Offset. How many kids does Offset have?
How many kids does Offset have?
Cardi B first revealed that she was both pregnant and married to Offset after showing off her growing stomach on Saturday Night Live. She later revealed to Howard Stern that she was expecting a girl — and Offset picked out the name.
"You know what, I didn't pick the name so if you interview my dude, he'll tell you," she told Stern of what she planned to name her future daughter.
The Bodak Yellow singer should've named her daughter, because it's not the first time Offset — real name Kiari Kendrell Cephus — has experienced the miracle of childbirth. The Migos rapper is father to three other children: sons Kody and Jordan and daughter Kalea Marie.
And Cardi B is ready to add stepmom to her impressive resume.
"Cardi's right by Offset's side, she's ride or die," an "inside source" told HollywoodLife.com. "He wants to get shared custody of his oldest son and she supports him 100 percent. Cardi has a huge heart and she's ready to give love to Offset's kids and be a stepmom."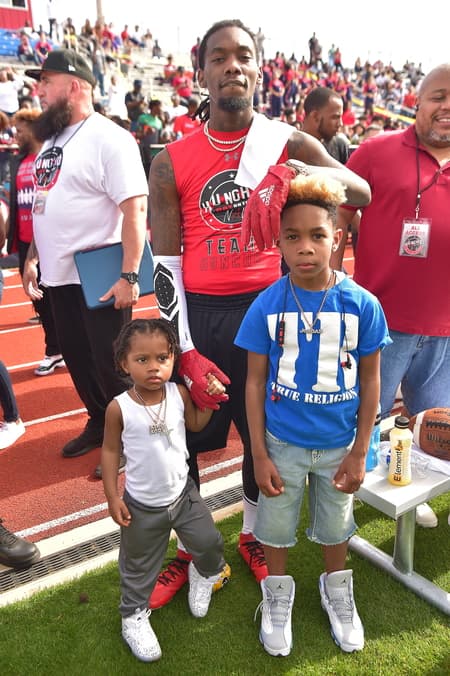 However, the mothers of his children aren't always thrilled with Offset's parenting prowess.
"U have a daughter sir," the mother of Offset's daughter, Kalea, wrote online after the "Stirfry" singer posted photos with son Kody on Instagram. "I try not to be petty because Kalea gone be straight regardless, but it irks my nerves to the core to see people put on when I and THEY know the real…. I tried to be civil, but you see THAT ain't work."
Offset only publicly admitted that he's Jordan's father a few months ago after the 7-year-old's mother, Justine Watson, filed court papers for back child support and legal fees.
In April, another woman, Celina Powell, showed off a paternity test and claimed it was from Offset's unborn baby. The rapper denied he was the father — and later audio recordings proved she faked the test.
So really, how many kids does Offset have?
">"Cardi B would not be marrying Offset if she thought he was a deadbeat dad," the source told HollywoodLife.com. "He takes good care of his other two kids and he's been taking care of his oldest son too, the one that this case is about."
So, the answer to "how many kids does Offset have" is officially now four, not five. That's going to be one big happy family.