If you want to run in Boston, you either have to be a pretty great athlete that makes the race's tough qualifying time, or you can run the Boston Marathon for charity.
Each year, hundreds of runners fundraise for organizations like Dana Farber and the American Red Cross, and 2018, or 122nd year of the Boston Marathon, was no different. More than 260 nonprofits benefitted from those people running the Boston Marathon for charity.
So, how much did the Boston Marathon raise for charity?
This week, the Boston Athletic Association announced that the official numbers are finally in: Boston marathoners raised a total of $36.6 million for charity.
That's a 7 percent increase — or $2.4 million more — from the amount raised in 2017's race, according to the Boston Athletic Association.
"Every year it's gratifying to see the positive impact that the Boston Marathon shares with its surrounding communities," said B.A.A. CEO Tom Grilk in a statement. "Many benevolent organizations are helped by these fundraising efforts, and we're proud to be associated with their good work. And we're very thankful to our friends at John Hancock, with whom we proudly reflect on another great year of fundraising."
Most of the people who ran the Boston Marathon for charity signed up through the B.A.A.'s Official Charity Program or John Hancock's Non-Profit Program.
Runners with the B.A.A. program contributed $19.2 million to this year's fundraising total, and runners who signed up through John Hancock raised $13.1 million. The remaining $4.3 million came from "other qualified and invitational runners," according to the athletic association.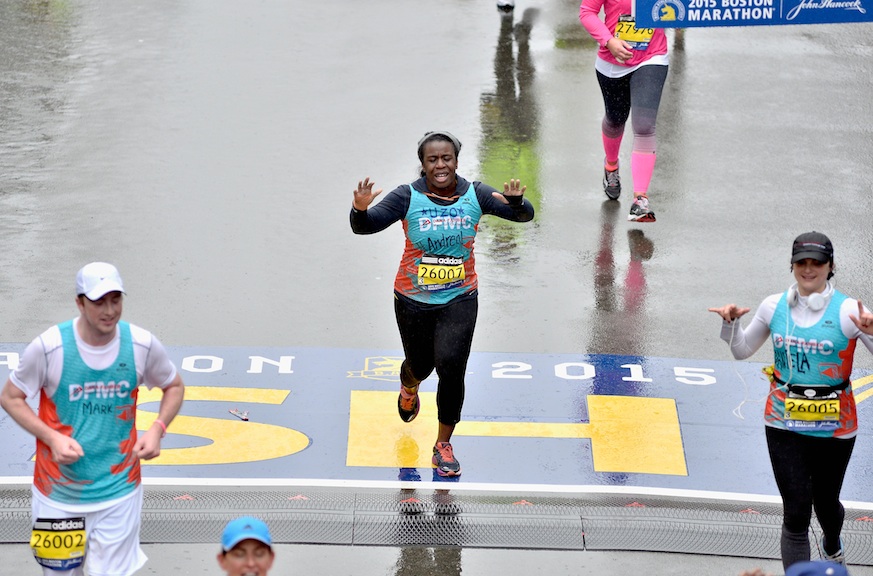 Orange Is the New Black star Uzo Aduba ran the 2015 Boston Marathon to support Bostons Dana-Farber Cancer Institute. Photo: Getty Images
How to run the Boston Marathon for charity
If you're interested in running Boston and helping contribute to this fundraising effort next year, here's what you need to do.
If you want to run on behalf of a specific Boston Marathon Official Charities, you need to reach out to that charity directly. Official charities get a number of bibs to distribute to fundraising runners and you can find them listed at baa.org/races/boston-marathon/charities with links to their marathon contacts.
The 2019 Boston Marathon official charities will begin accepting applications in September, according to the B.A.A., so check in at the charity page then for more information.
Each person who runs the Boston Marathon for charity, at least on behalf of the race's official charities, is required to raise a minimum of $5,000, though some individual organizations may require even more.
If you are a charity looking to connect with the Boston Marathon and be able to recruit runners, you can submit a Letter of Inquiry to the B.A.A., which are received and reviewed on a rolling basis, or you can apply to the John Hancock's Marathon Non-Profit Program.
For John Hancock, applicants must have 501(c)3 status and commit to raising a minimum of $5,000 for each marathon entry the charity receives. Applications for 2019 will be accepted through August 10, 2018.
Over the past 33 years, the official B.A.A. Charity Program and John Hancock's Non-Profit Program have raised more than $333 million in a combined effort. For more information go to baa.org/races/boston-marathon/charities and johnhancock.com/citizenship/boston-marathon.html.